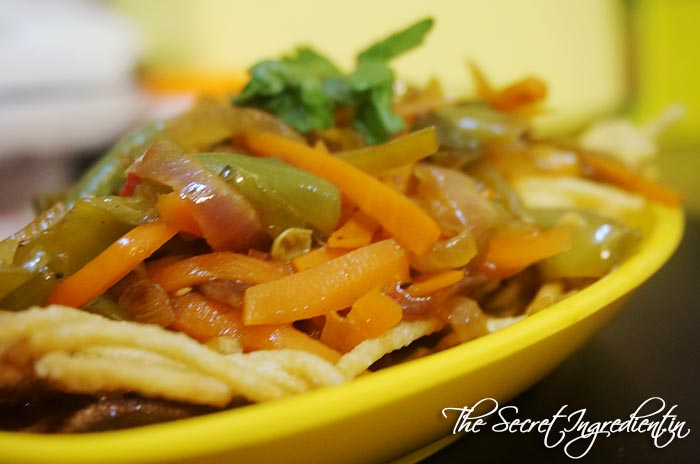 Okay! All this while I thought what they serve in the Indo Chinese restaurants was American Chop suey, because the menu card said so. But its amusing to find out that this particular Chop suey is actually Indianized version of American Chopsuey. Well stop rolling your eyes! Lemme explain again. Chop suey literally means odds and ends or assorted pieces. Its a recipe where all kind of leftovers are put together with noodles. However, supposedly in America some American Chinese started serving this dish with fried noodles. That is what named it American Chop Suey!
Traditionally this dish has a lot of sea food or meat or both but in India since we have a lot of vegetarians the Chinese living in India gave it an Indian look by replacing the meat with vegetables. This adaptation varies and holds good where ever Chop suey is loved like Filipino Chinese Cuisine, German Chinese Cuisine, Canadian Chinese Cuisine and the list is growing.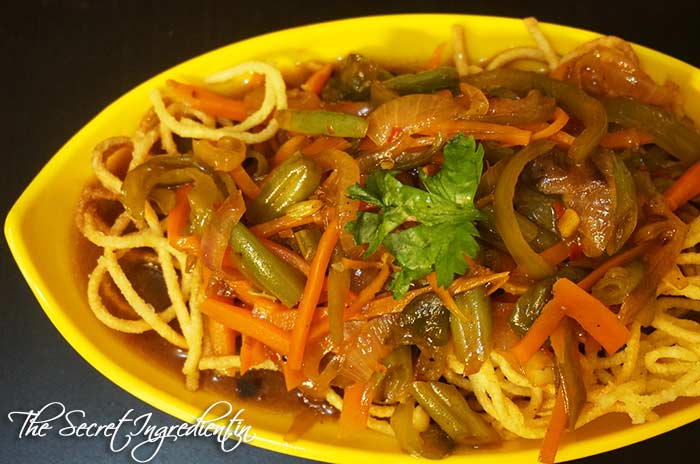 I remember the time I was dating like decade and a half back..(yeah I am ancient!) when me and my then boyfriend who is my husband used to hang out in Dilli Haat. He introduced me to Chop suey. Dilli Haat has some delicious Indo Chinese Food, whenever you get a chance to go do try it!
Well coming back to the topic, in nutshell my husband is a big fan of Chop Suey, hands down. He will religiously order Chop Suey at every Chinese restaurant we go. So one day he was like make Chop Suey for me and I was like whattt!!! I had no idea how to go about it. I mean had a basic idea that its fried noodles with vegetables and sauce. Mr. Google came to my rescue and I read some recipes. When I fried the first batch of noodles they became sticky and laced. It was a disaster. I kept searching and found a video of a humble lady who gave a tip as to how to fry the noodles so that they come out crisp and non sticky. The video is now taken down or the link doesn't work. 🙁 The rest was easy and I came up with this delicious Indo Style Vegetable Chop suey.
Directions:
1. Boil the noodles till al dente. Learn here how to boil pasta perfectly. Drain the water and run them under cold water. Let them rest so that they become little dry.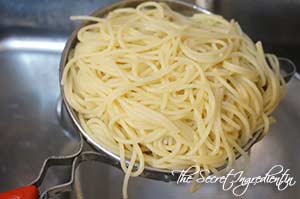 2. Chop some vegetables like carrots, capsicum, green beans, spring onions or normal red onions, whichever you have on hand. Set aside.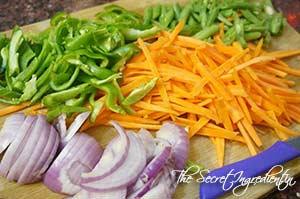 3. In a wok or frying pan add some oil and heat it.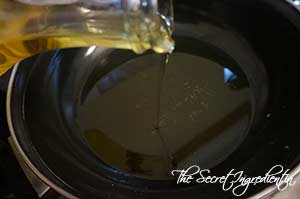 4. Place the boiled noodles in a large plate. and Sprinkle on it some corn flour.

5. Mix gently so that each noodle is coated with corn flour.

6. When the oil is hot add the noodles together into the wok. When one side is fried and turn golden you can flip it using a slotted spatula.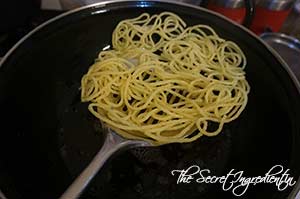 7. Remove them on a paper towel so that extra oil can be absorbed. Keep them aside till we make the sauce for the chop suey.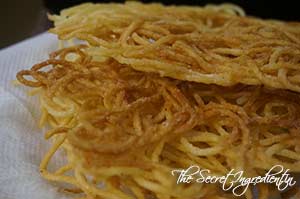 8. Remove the oil from the wok leaving only a tablespoon of it. Add ginger garlic paste and saute for couple of seconds.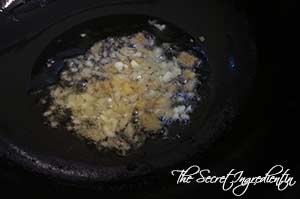 9. Add chopped onions and saute them.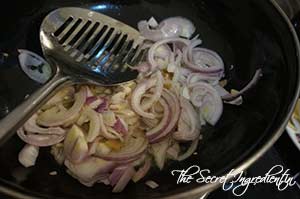 10. Add carrots, beans and capsicum and saute them on high flame till they become a little cooked but still crisp.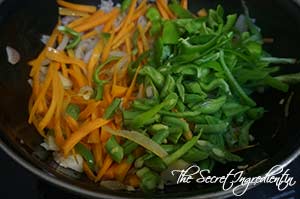 11. Add salt and sugar.
12. Add some black pepper.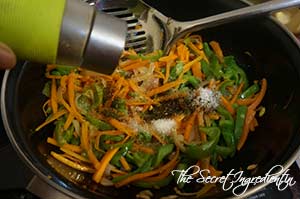 13. Add some Szechuan Sauce. You can make it at home and here is the recipe Szechuan Sauce.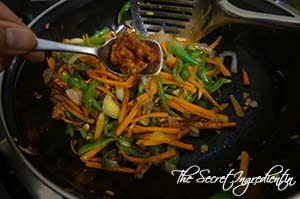 14. Add tomato ketchup and Soya Sauce.

15. Also add white distilled vinegar.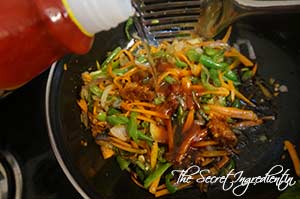 16. Add Water and bring it to a simmer. You can add vegetable stock instead of water or add stock cube with the water.

17. In a small bowl mix cornflour and water. Add this to the wok.
18. Let the sauce thicken up a bit and then switch the flame off. In the meanwhile line the serving platter with fried noodles.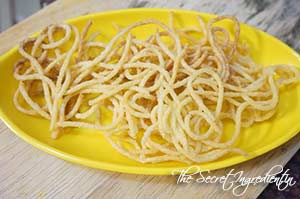 19. Top it with Sauce and Vegetables.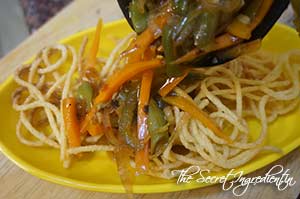 Enjoy 🙂
You can even try other dishes from Indo Chinese Cuisine like Chili Mushrooms, Chili Honey Crisp Potatoes, Hakka Noodles, Szechuan Sauce, Vegetable Momos, Gobhi Manchurian.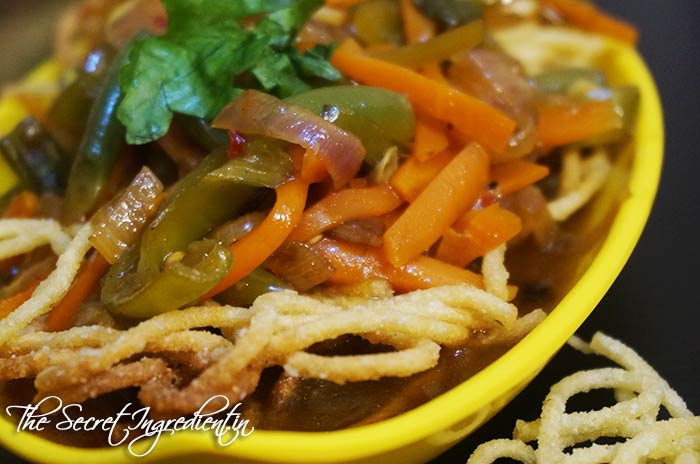 [whohit]Chopsuey[/whohit]
[yumprint-recipe id='119′]