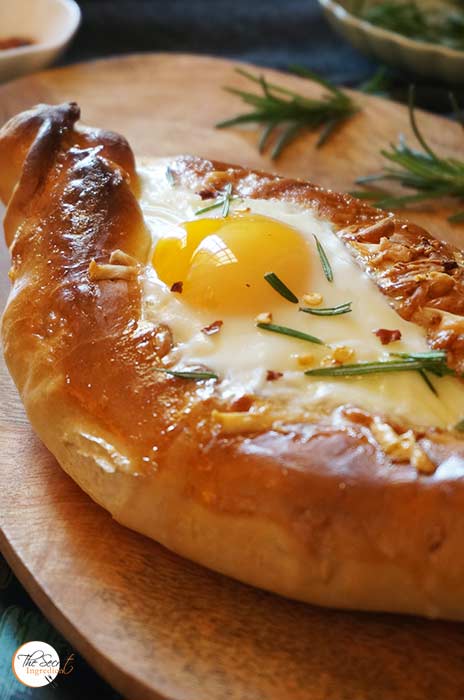 To me bread is a religion and when you are fanatic towards bread baking it becomes obsession. I am finally home after a week after finishing the first leg of a project in Mukteshwar and my son and husband are yearning for a good bread. I decided to make this classic cheesy bread known as Kachapuri. If you are crazy about cheesy bread, this bread is sure to win your heart. This Georgian not just has bread sides filthily loaded with cheese mixture but also has an eggy centre with wiggly yolks. I can actually kill for such a bread. Its important to use right ingredients which actually take a normal dish to awesome level. One such ingredient I had in stock was fresh, organic eggs from Eggee. I had to use them for a dish which does total justice to such nutritious and fresh eggs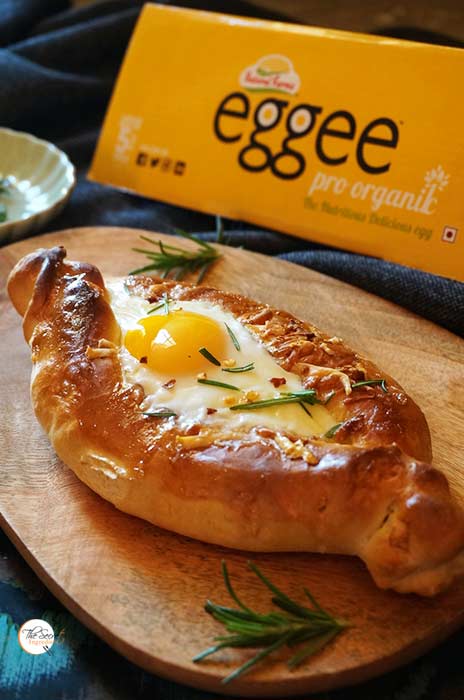 I wasn't surprised as to how this bread looked with that extremely gorgeous yellow yolk. I think it was love at first bite. I love how an ordinary bread dough can be used in so many delicious ways. If you haven't tried other bread recipes on my blog you must check out Vegetarian homemade Pizza, Russian Bublici, Whole Wheat Sandwich Bread, Chinese Black Sesame Steamed Buns, Cherry Focaccia Bread with Rosemary and Sea Salt, Rosemary Garlic Focaccia Bread, Cinnamon Raisin Bread, Beetroot Bread with Garlic and Thyme, Honey Oats Bread, Domino's Garlic Breadsticks.
Directions:
1. In a container take part lukewarm water and warm milk. It should neither be hot nor cold, just hot enough to comfortably put your finger into it . The right temperature of the water is very important for yeast to activate. Put yeast into it.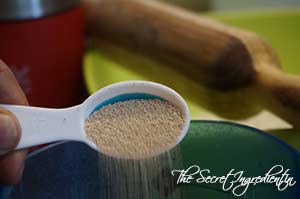 2. Along with yeast add some sugar.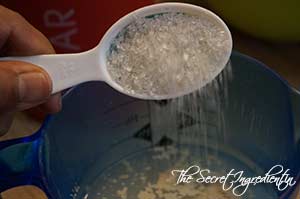 3. Give it a gentle stir with a fork and let the mixture sit and activate for 10 minutes or until you see some bubbles on top and mixture has become frothy and milky.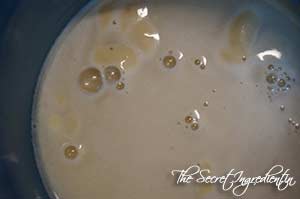 4. Take all purpose flour in a bowl and add salt and olive oil.
5. Add the proofed yeast to the flour little by little and mix till it comes together.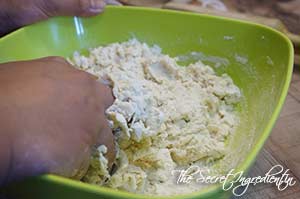 6. Bring the dough to a flat counter or your kitchen platform and knead for good 10 minutes till it becomes soft and supple. Read more about Bread baking techniques in "Basic Steps to Bake a Perfect Bread"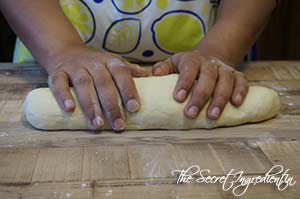 7. Transfer the dough to a greased bowl. And cover with a kitchen towel or cling wrap. Let it sit for an hour or so to double up in size.
8. Punch it down and deflate the dough. Knead for another 5-7 minutes.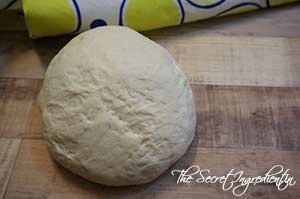 9. Grate cheddar cheese, mozzarella cheese and crumble some feta cheese and set aside.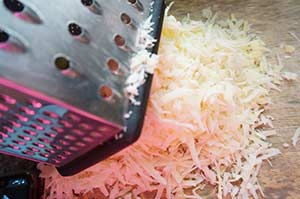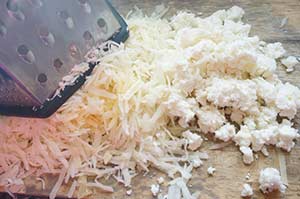 10. Divide the dough into two parts. Preheat the oven on 200 degree Celsius for ten minutes (Learn more about Oven Temperature and Conversions)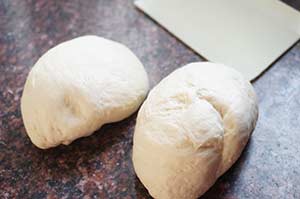 11. Roll each separately after dusting the shelf with some dry flour. Roll it into a rectangular with 1/8 inch of thickness. Place the rolled dough on a parchment paper placed over a baking dish. Place on top of the down some cheesy mixture in two rows leaving 2 inch space in the middle.
12. Stuff the cheese mixture into the bread by pinching some dough on top so that no cheese pocket remains open. Repeat this on both sides.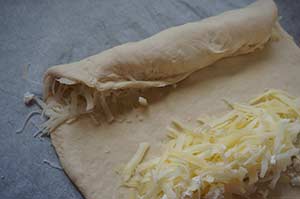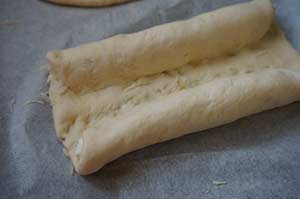 13. Now carefully catch both the ends of rolled dough and join it together and later twist it. The instructions will be more clear in the image below.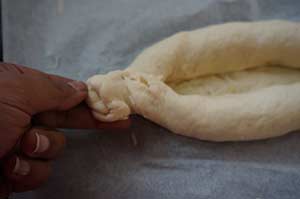 14. Cover the middle space with more cheese and place the baking dish in oven for 15 minutes or until the cheese has melted and bread has become golden brown.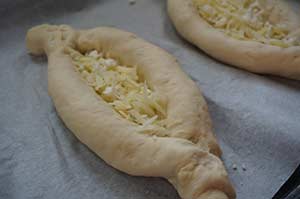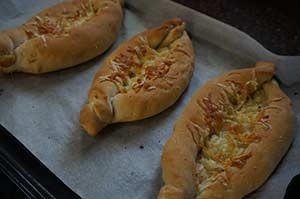 15. Remove the baking tray from the oven and carefully crack an eggee egg in the centre of the boat. Make sure the yolk doesn't break. I brushed the bread sides with some egg white and again baked in the oven for another 5-7 minutes or until whites have settled but the yolk is still wiggly.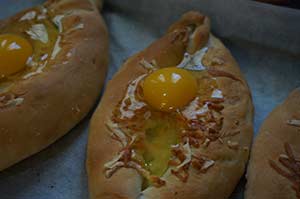 16. Remove from the oven and season the bread with some salt, pepper, red chilli fakes and some fresh chopped rosemary. Also put two small slices of butter over the yolk and let it melt. That's how I like it. Just tear the corners of bread and dip in the middle yolky centre and enjoy this divine bread.
Other bread recipes you can try are: Italian Focaccia Bread with Strawberries , Rosemary Garlic Focaccia Bread, Garlic Cheesy Bread, Dominos Style Garlic Bread Sticks, Honey Oats Bread, Cinnamon Raisins Bread. Whole Wheat Sandwich Bread, Beetroot Bread.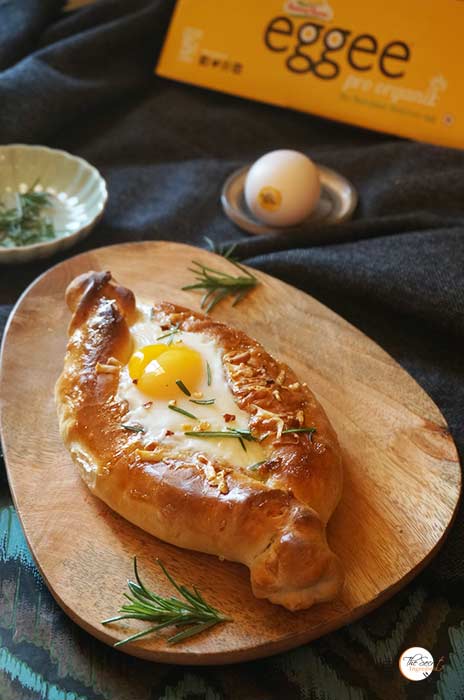 [yumprint-recipe id='311′]