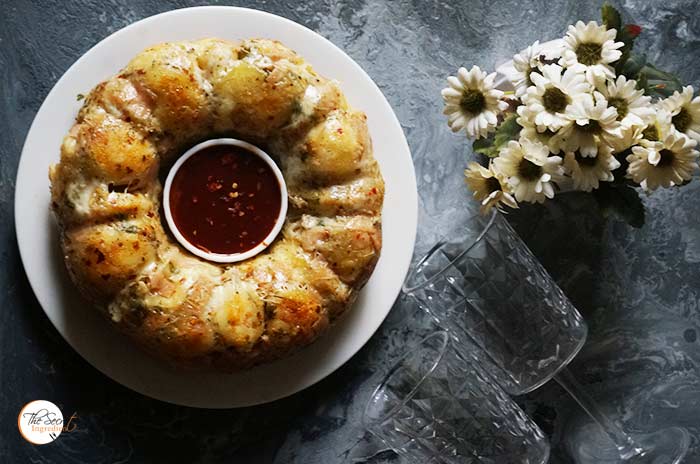 I think my ambition of posting 25 recipes with Bread will be accomplished soon the way I have been baking different kinds of breads and hogging them. Last week only I had posted recipe of my White sandwich bread with Tangzhong Method. But the hunger to try out new things keeps pushing me. It was a weekend and friends were coming over for drinks… I had some salami on hand so I decided to use this in a bread. I had initially imagined this recipe to be in a different manner but this turned out much more easier and tastier. You just have to make a dough and rest mix a couple of ingredients and place them in a bundt pan.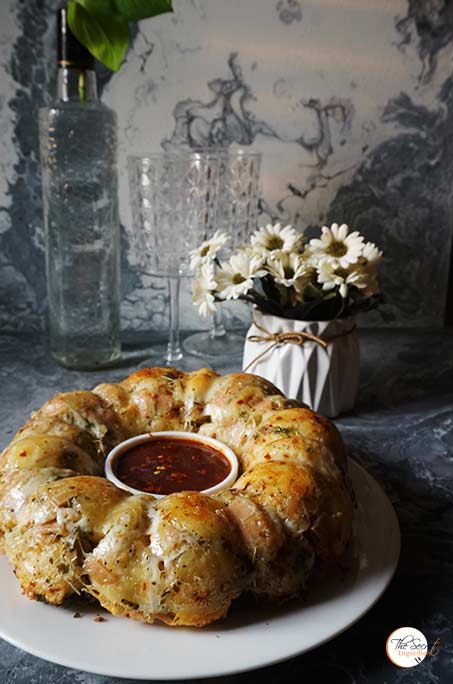 I used a bundt pan because it looks very interesting and the dip bowl can be placed in the centre. If you do not have a bundt pan you can use any other baking pan. The shape of the pan does not alter the taste of the bread. Therefore, you have no excuse to bake this beautiful and delicious bread. I have mentioned a tip for my vegetarian followers, you can replace salami for veggies. Check out notes of the printable recipe card below.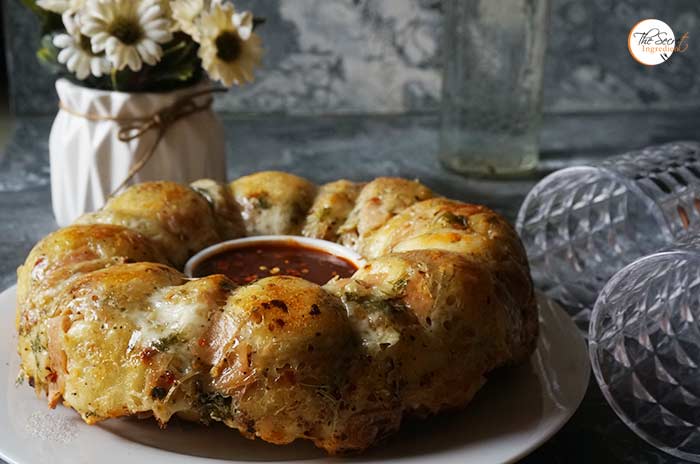 You can choose any dip you like. I posted recipe of a cheesy easy dip when I posted recipe of Soft Pretzels, you cam try that or even good old ketchup will work just fine! If you try this please send me a picture on facebook I would love to share on my page and dont forget to leave am honest feedback here under the recipe. It will help me grow and improve myself.
Directions:
1. In a container take some lukewarm water. It should neither be hot nor cold, just hot enough to comfortably put your finger into it . The right temperature of the water is very important for yeast to activate. Put yeast into it.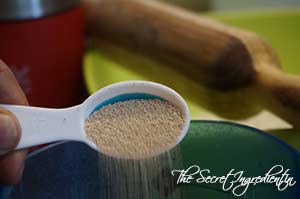 2. Along with yeast add some sugar.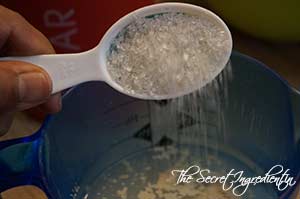 3. Give it a gentle stir with a fork and let the mixture sit and activate for 10 minutes or until you see some bubbles on top and mixture has become frothy and milky.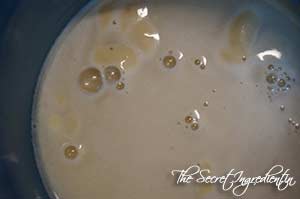 4. Take all purpose flour in a bowl and add salt and olive oil.
5. Add the proofed yeast to the flour little by little and mix till it comes together.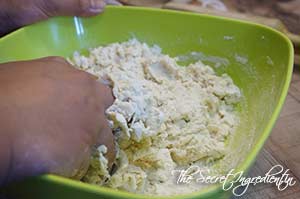 6. Bring the dough to a flat counter or your kitchen platform and knead for good 10 minutes till it becomes soft and supple. Read more about Bread baking techniques in "Basic Steps to Bake a Perfect Bread"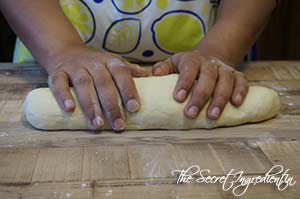 7. Transfer the dough to a greased bowl. And cover with a kitchen towel or cling wrap. Let it sit for an hour or so to double up in size.
8. Punch it down and deflate the dough. Knead for another 5-7 minutes.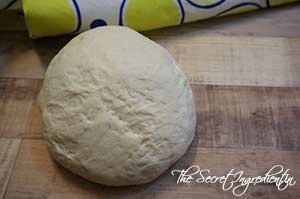 9. Divide the dough into tiny golf size balls. Place these dough balls in a bowl. Preheat you oven for 10 minutes on 180 degree C.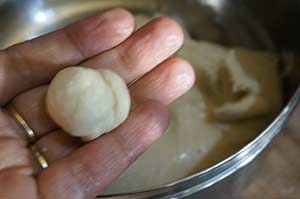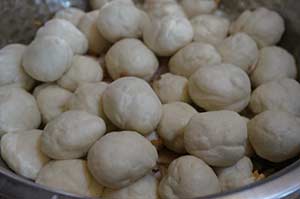 10. Chop Salami into bite size pieces and grate some cheese. In the same bowl add chopped salami pieces, garlic powder and cheese.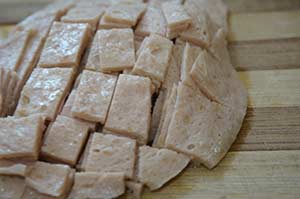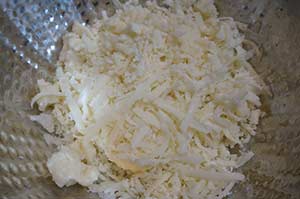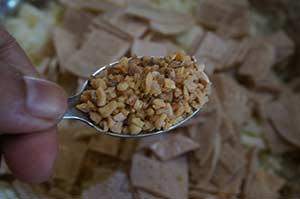 10. Add red Chilli Flakes, Salt and ground black pepper.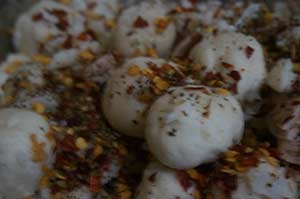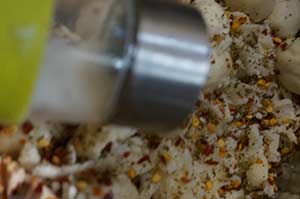 11. Also add chopped parsley, some oil and Italian seasoning or any other herb mix like Oregano Seasoning Domino's style. Mix everything well with your hands.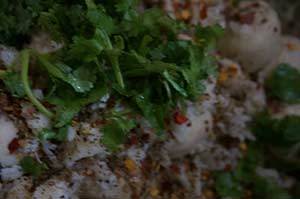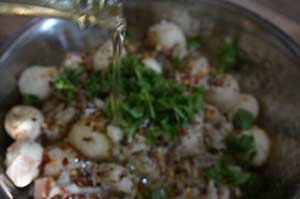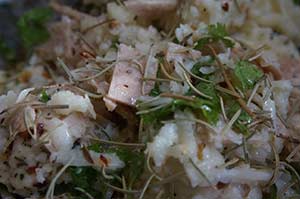 12.Grease a bundt pan with oil or melted butter. I am using a silicone bundt pan.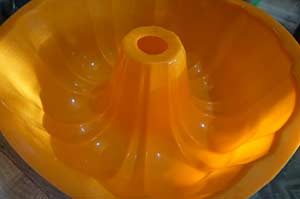 13. Transfer the dough ball mixture into the bundt pan and level it evenly.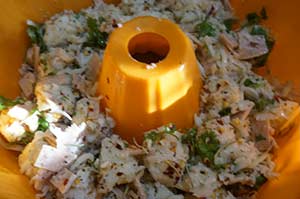 14. Bake in a preheated oven for 30 minutes on 180 degree C (Learn more about Oven temperatures and Conversion) or till the top of the bread becomes golden brown and bubbly. Take it out of the oven and let it sit on the counter to set for 10 minutes.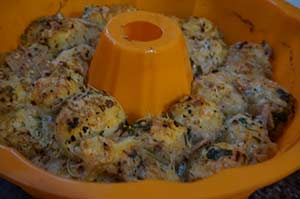 15. Take the serving plate and place it inverted on the bundt pan and now flip the bundt pan carefully.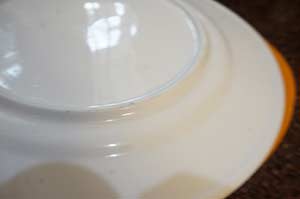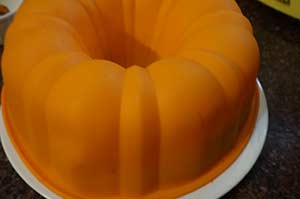 16. Place a dip bowl in the centre of the bundt pan and serve warm. Your guests will be utterly delighted.
Other Breads you can try are:Apple Cinnamon Swirl Bread, Bubliki,Cherry Rosemary & Sea Salt Focaccia Bread, Chinese Steamed Black Sesame Custard Buns, Cinnamon Raisins Bread, Garlic Rosemary Focaccia Bread, Honey Oats Bread , Peter Reinhart's Potato Rosemary Bread, Pumpkin Buns, Stuffed Mushroom Cheesy Crack Bread, Stuffed Buns with Spicy Paneer, Italian Focaccia Bread with Strawberries, White Sandwich Bread, White Sandwich Bread with Tangzhong Method, Whole Wheat Sandwich Bread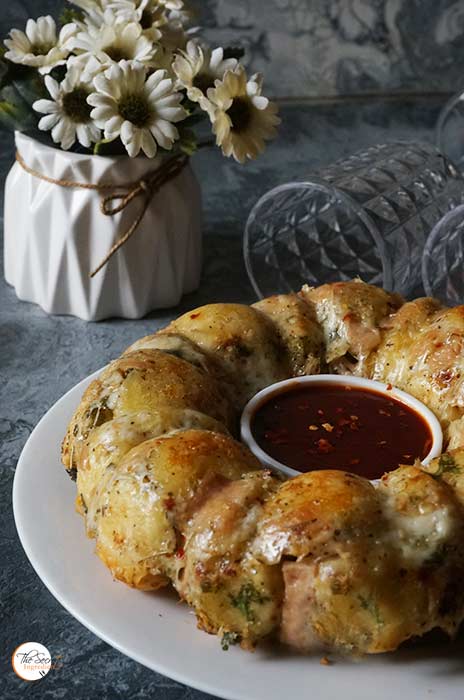 [whohit]SalamiHerbedPullapartBread[/whohit]
[yumprint-recipe id='294′]