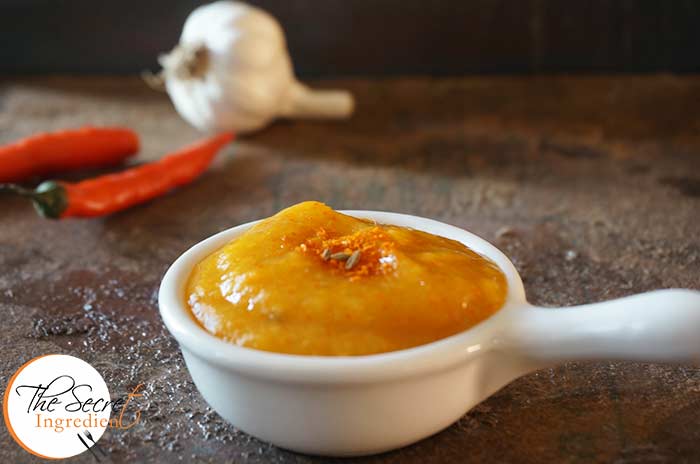 My Love for Mango is growing with my age. Its not just the ripe pulpy mangoes which makes my heart skip a beat but also the green mangoes which are ideal for making pickles and chutneys. I have a lot of green mango recipes on my blog like the Instant Raw Mango Pickle, Sweet and Sour Raw Mango Chutney, Mint and Raw Mango Spicy Chutney, Raw Mango Rice and the refreshing Aam Ka Panna. Looks like I am not going to stop here I will keep adding more to this inexhaustive list. The other day I saw Bijal, my facebook friend posted a recipe of Raw Mango and Garlic Chutney and since then it was haunting me to try it down. I am happy I did it for it had the most intricate flavours. The Sweetness of Mangoes, the strong flavour of Garlic and the Hotness of Chillies. It made a beautiful melody of distinct flavours.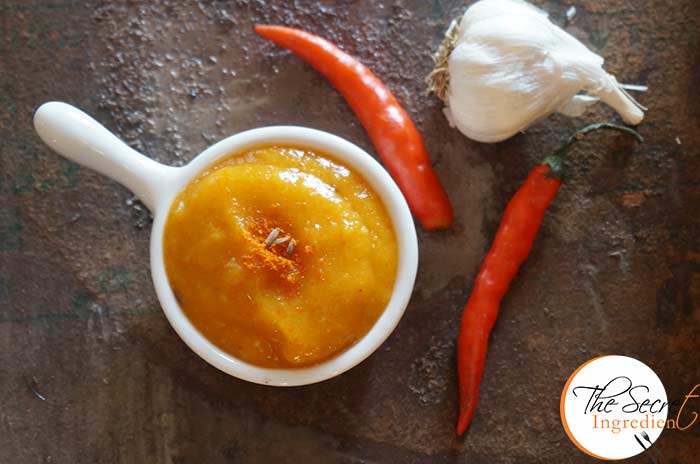 Its fairly easy and takes no time to put it together. You can use it as a side dish for your everyday meal but at the same time use it as a dip for your nachos and even top it on your patties in a burger. It gives that kick and takes your dish to another level of deliciousness.
Directions:
1. Peel and chop some green raw mangoes and put them in a blender or chutney grinder. I had a little ripe mangoes, they had turned pale yellow but were still quite sour.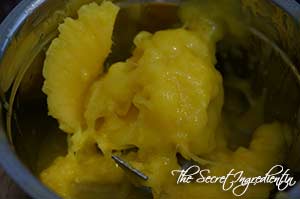 2. Add few cloves of peeled garlic to the grinder.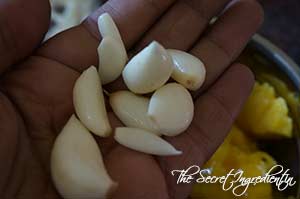 3. Throw in some salt, red chilli powder and jaggery powder to balance the acidity.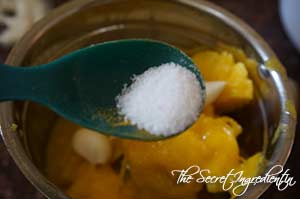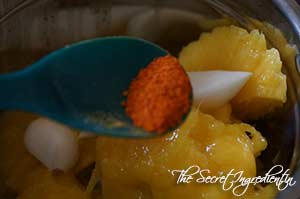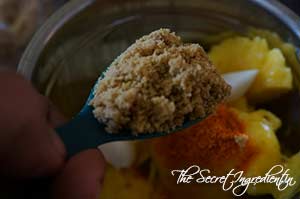 4. Blend it together into a smooth paste.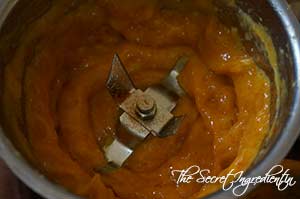 5. In a pan add some oil and when it gets hot add some cumin seeds and asafoetida.
T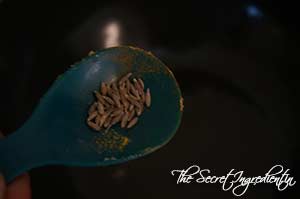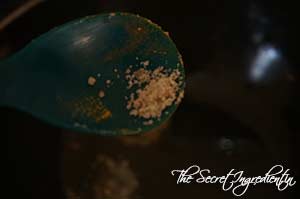 6. Pour the blended mango into the pan and cook for a minute or so or until the raw smell of garlic diminishes from the chutney.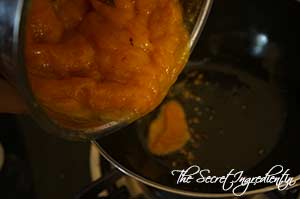 7. You are ready to serve your chutney. Let it cool down and place it in a jar or bottle an refrigerate until use.
Other Chutneys you can try on The Secret Ingredient are: Spinach Coriander Salsa| Phalahari Chutney, Green Ber Ki Chutney, Coconut Chutney, Fresh Plum Spiced Chutney , Coriander Chutney without Onion Garlic
[whohit]MangoGarlicChutney[/whohit]
[yumprint-recipe id='215′]