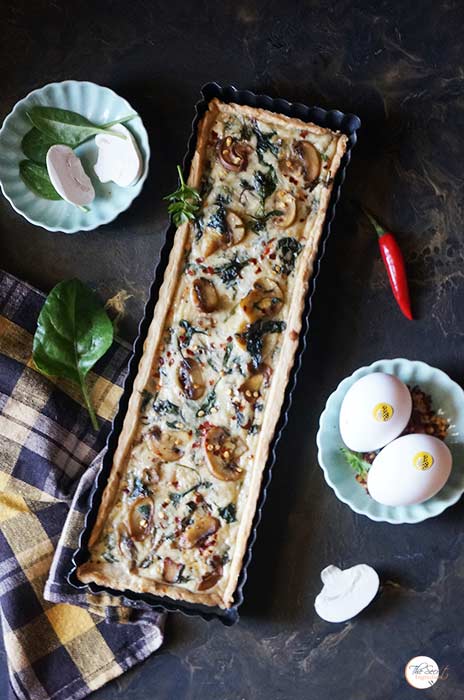 Me and my family is big on eggee breakfast. I think it is more of a ritual to have eggs in the morning than anything else. So we end up making variety of recipes which has the key ingredient as eggs. I have posted in the past Italian Frittata, Wrapped Eggs, Sunnyside up over Polenta and Pesto and many more. This time we wanted to try something which is classic and a bit fancy and this recipe of Mushroom and Spinach Quiche was on my mind for such a long time.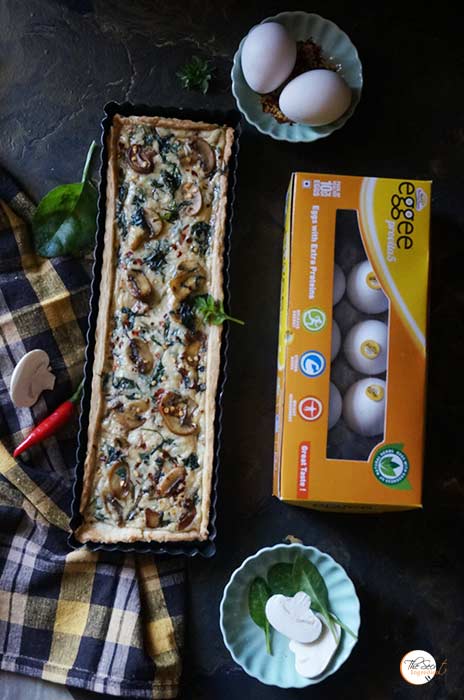 I had some super nutritious organic eggs from Eggee which I wanted to use for this recipe. By the way these eggs from Eggee were so fresh that they altered the overall taste of quiche from just yum to yummy! I hope you understand my emotion 😉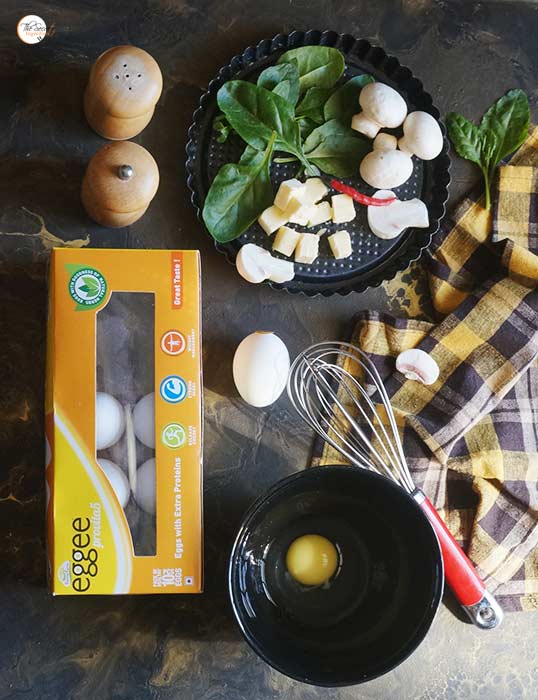 Making a flaky pastry dough from scratch was much easier than it sounded. I have made Mango tart base using a similar recipe but that was made using hands. This time the process was quick and breeze with my food processor.
You can make this dough in advance and freeze it to be used whenever u want quiche breakfast. How cool is that. Rest of the directions you can follow below with step by step pictures.
Directions:
1. In the bowl of a food processor add All purpose flour and salt.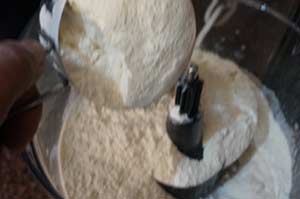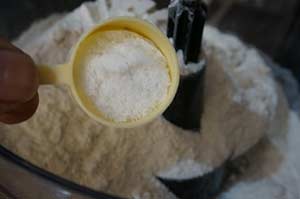 2. Also add cold butter cubed into small pieces. Pulse for a few seconds till everything comes mixes and resembles like sand.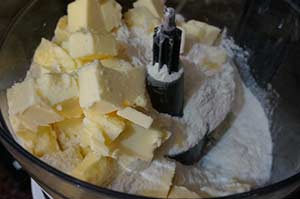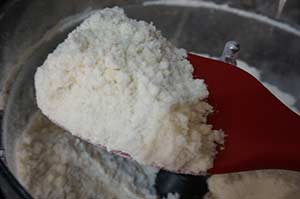 3. At this stage add ice cold water to the mixture while the processor is still on. You must add few teaspoons at a time. Do not add a lot of water, just enough that the dough starts to come together. When you get the first sign that its coming together you must stop and transfer the dough to a bowl.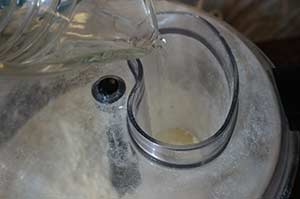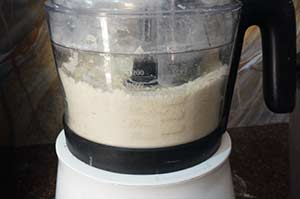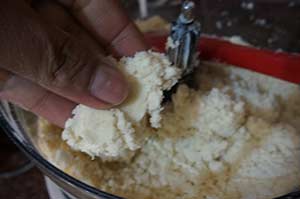 4. Bring the dough together into a stiff ball with your hands. Cover with a cling wrap and refrigerate for at least one hour before use. This will ensure the butter inside the dough doesn't melt. This will make the pastry flaky and crisp and make it more workable. If you do not have a food processor you can make the pastry easily with your hands. You can follow the instruction as mentioned in my Mango Tart Recipe.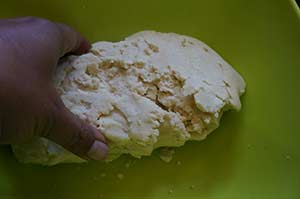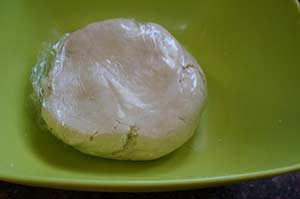 5. Once the pastry is chilled you dust your counter with some dry flour and place your unclinged pastry dough.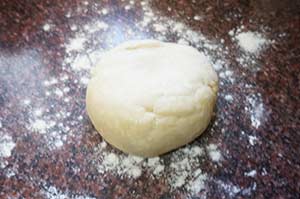 6. Roll it using a rolling pin longer or wider than your pie pan. In this recipe I am using a rectangular pan . Remember to roll your pastry dough 1/8 of an inch. If the pastry sheet tears, put it back in the refrigerator for a little more time.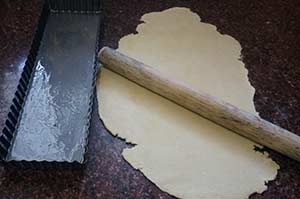 7. Roll the Rolled pastry on ur rolling pin to lift it without tearing. Instead you can also roll on parchment paper so that you can lift easily. Then unroll the pastry sheet on top of your greased pie pan.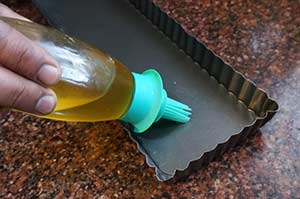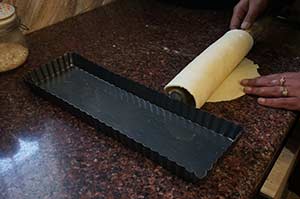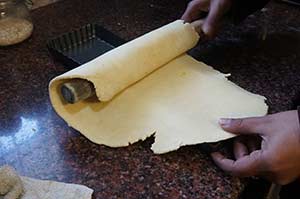 8. Let the pastry sheet be loosely fitted. Do not stretch for it will shrink on baking. Try to fit inside the pie pan with the shoulders still hanging on the edges. Use your finger tips to set the pastry sheet.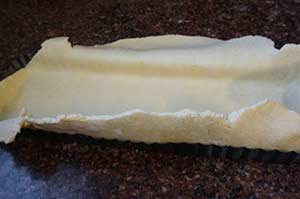 9. Remove the extra trimmings. If you see a little portion of pastry has teared you can patch it up with a small piece of trimming. Extra trimmings can be used to make smaller tartlets. Place the pie pan in freezer for 15 minutes, till then preheat the oven on 210 degree Celsius (Learn about Oven Temperatures and Conversions)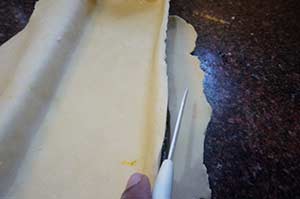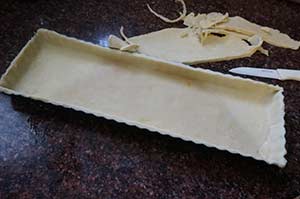 10. After the pastry sheet has rested in the fridge prick the surface with a knife or fork so that it doesn't puff up and shrink on baking.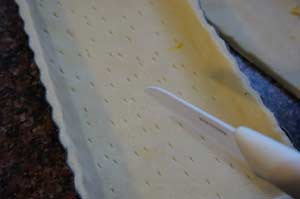 11. Place a parchment paper on the pastry sheet carefully and fill it with baking stones or beans , I have used kidney beans which I have kept for blind baking separately.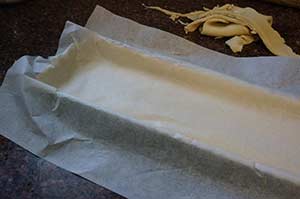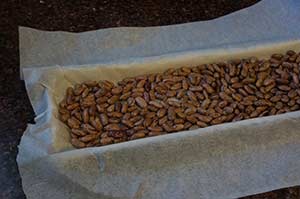 12. Blind bake it in preheated oven for 15 minutes on 180 degree C with beans and parchment paper and another 10 minutes without them till you see it has golden colour. Set aside to cool.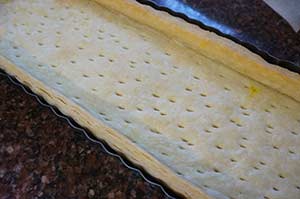 13. Now for the filling, in a bowl add eggs, I have used Eggee eggs which are highly nutritious and have such natural stark yellow yolks. They make a huge difference in the taste. Also add cream and whisk together.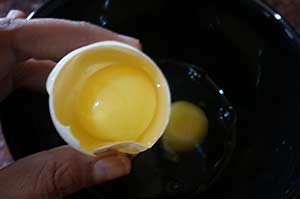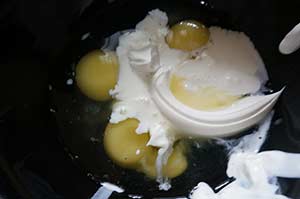 14. Add salt, little all purpose flour and freshly ground black pepper .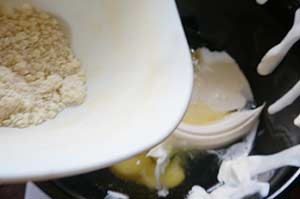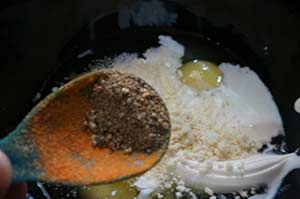 15. Add shredded mozzarella cheese and parmesan cheese shavings and whisk until the mixture is well combined. Set aside.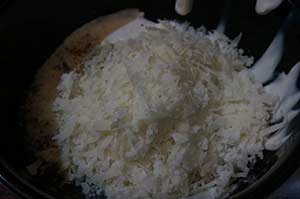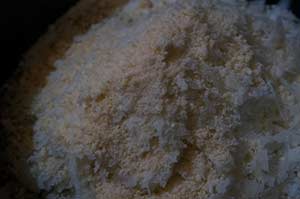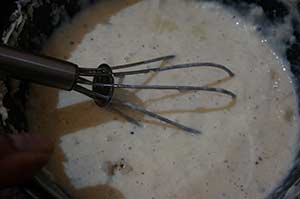 16. Add butter in a pan and add sliced mushrooms and red chilli flakes. Saute them till they have acquired some colour.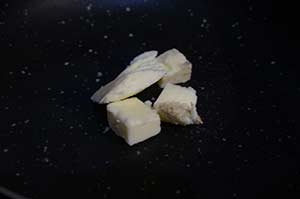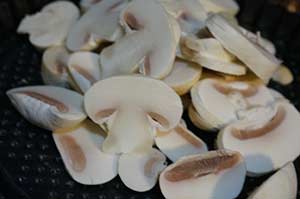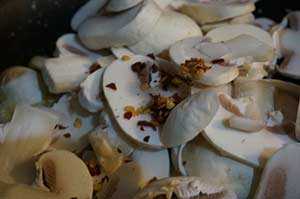 17. At this stage add washed and cleaned chopped spinach leaves and cook them till they are soft and its water has evaporated. Season with little salt. Set aside.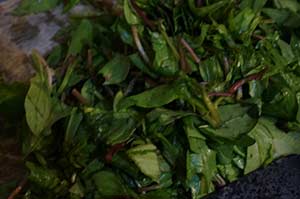 18. Add these mushrooms and spinach to the cream mixture and combine.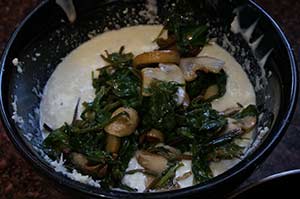 19. Pour this mixture in the pie dish laced with pre baked pastry sheet. Sprinkle more red chilli flakes on top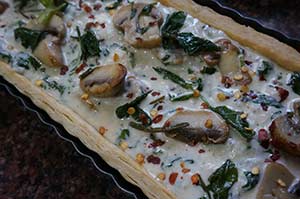 20. Bake in the preheated oven on 180 degree C for 20-25 minutes until the eggs are no more jiggly and set.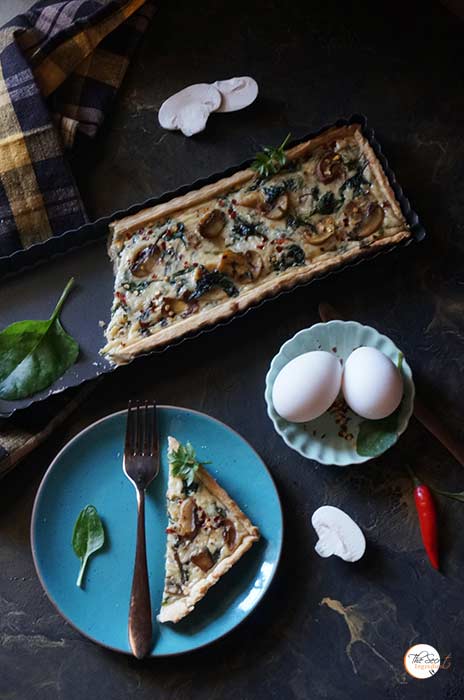 21. Let it come to room temperature then slice into pieces with a sharp knife. Serve hot, warm or cold.
You can even try French Toast or Mexican Casserole Eggs, Apple & Cinnamon Pan Cakes , Bird's Nest Breakfast Cups Recipe, Blueberry Buttermilk Pan Cakes, Eggless Walnut Pan Cakes , Fried Egg Over Polenta with Homemade Basil Pesto Recipe,Halloween Special Pumpkin Puree Pancakes , Quick Rava Idli , Rava Pizza Bread, Shahi Poha, Shakshouka ,Soya Veggie Vermicelli for Breakfast.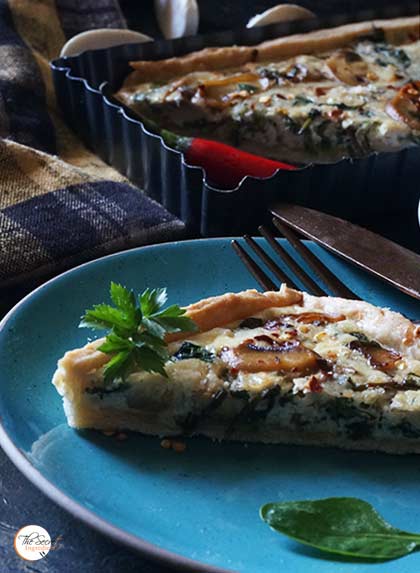 [yumprint-recipe id='310′]