Kimchi also spelled as Kimchee or Gimchi is a National Dish of Korea. This traditional dish is made with fermented vegetables along with variety of Seasonings. It is spicy and red red hot because of a lot of red chilies. If you cannot bear chilies, this dish is not for you. The Koreans are believed to literally live on this. I read on Wikipedia that During South Korea's involvement in Vietnamese war, its government requested American help to ensure South Korean troops 'desperate' for the food, could obtain it in the field. Not only this it was even sent to space on board after a multi million dollar research effort to kill bacteria and lessen the odor without effecting taste. So now you understand what Khakhra is to Gujaratis, Kimchi is to Koreans. 😉
I remember eating Kimchi in Delhi in Lajpat Nagar where there is a Oriental Restaurant which serves Noodles and Fried rice with Kimchi. Today I had a cabbage lying in my refrigerator which I wanted to utilise. I thought of trying Kimchi. Although, traditional Kimchi is made with Napa Cabbage , which is a different variety of Cabbage and not very commonly found in India. Surprisingly, Kimchi came out very well. We have stored this in a jar and have been using since then with Schezwan Rice, Momos, Vegetable Hakka Noodles. It makes the meal complete and delightful.
Directions:
1. Cut the cabbage lengthwise into quarters and remove the core. Cut each quarter into crosswise into 2 inch wide strip.
2. Place these chopped cabbage in a large tub and add a lot of salt.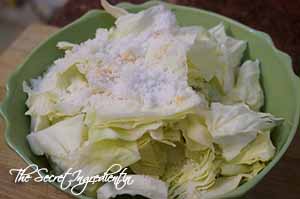 3. Add little water.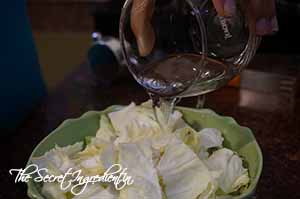 4. Now using both your hands mix salt with cabbage so that all pieces are coated with salt. Keep them aside to release water for at least 2 hours. You can even let it rest overnight. Keep flipping its side after every half an hour or few hours.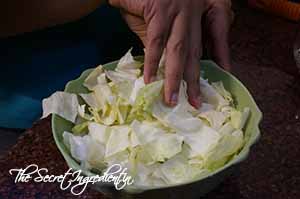 5. In the meanwhile julienne some carrots, radish and green onions. I could not find green onions so I used regular red onions. I chopped them roughly. Combine them together in a mixing bowl.
6. In a blender roughly chop garlic cloves and ginger. You can even use a mortar and pestle.
7. After minimum 2 hours you will see the cabbage has released all its water and has lost its firmness. Put the cabbage in a colander and rinse it rigorously using your hands to remove all the salt. This had to be done 3-4 times. This step is very important so make sure you do rinse it 3 to 4 times.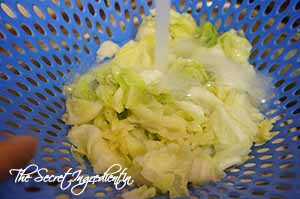 8. Add chopped garlic ginger to the mixing bowl along with chopped vegetables. At this stage you can add fish sauce and if you are vegetarian you can substitute it with plain water.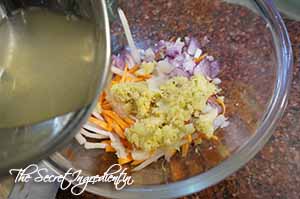 9. Add red chili powder. The quantity varies from each individual's ability to take chilies. Also add little sugar.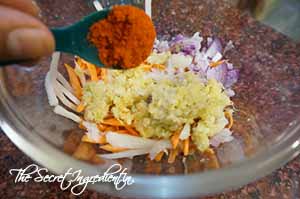 10. Mix everything with your hands.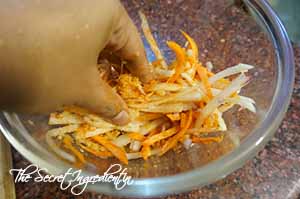 11. Drain any extra water and add washed cabbage to the spice mix. Combine with your hands.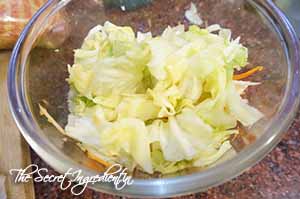 12. Transfer the contents to a jar and let it stand at room temperature for 4-5 days and after that you can refrigerate. You can even eat immediately but it tastes best after fermentation. Serve as a side with your favourite fried rice or hakka noodles.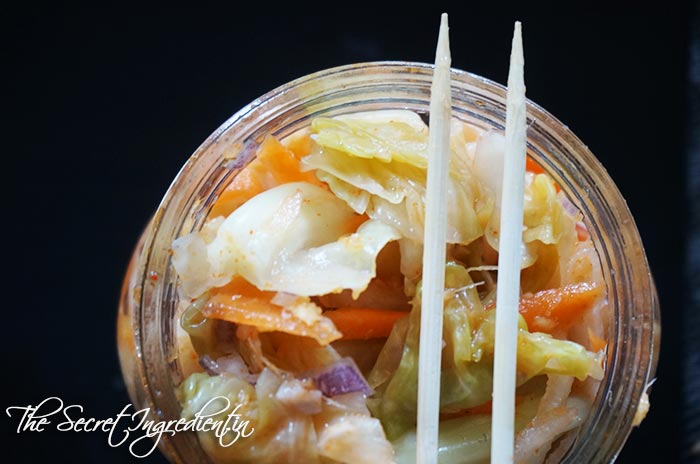 [yumprint-recipe id='47']