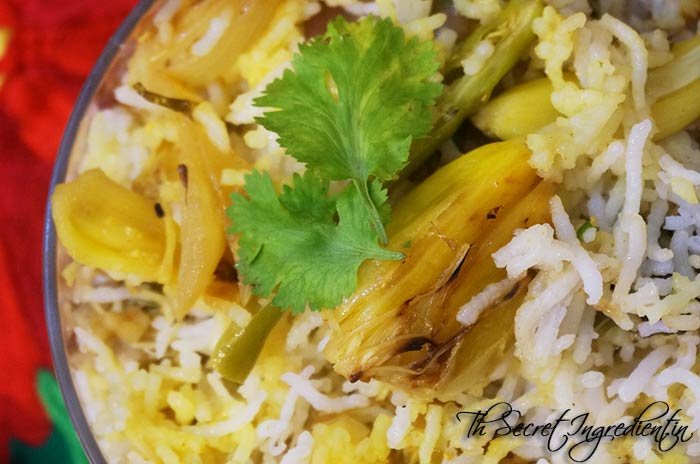 Few days back I had posted my mother's recipe of Kathal ki Sabji. My obsession for Kathal or Jackfruit is getting deeper. So I happened to try my luck with Kathal ki Biryani. It came out interestingly delicious. The fried flavor of jackfruit along with other blended spices makes this biryani delicious. This was simply an experiment but now this recipe is definitely for keeps.
Directions:
1.Apply Mustard Oil on your palms and even the knife you are going to use for cutting the jackfruit.

2. Now you can easily remove the tough skin and chop the fibrous inside of the fruit into small pieces. Remember inside the fibrous pulp you will find big sized hidden seeds or bulbs. If the fruit is still baby, which means it has been plucked early the seeds will be softer and can be cooked. But if you cannot cut them its better to remove them. Do not throw them away. I made a delicious sabji with Kathal seeds. Will post the recipe soon.
3. In a wok pour some oil.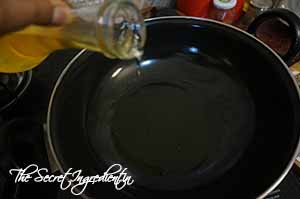 4. Add chopped jackfruit pieces and deep fry them till they start attaining golden colour.
5. Remove them on the paper towel to absorb extra oil.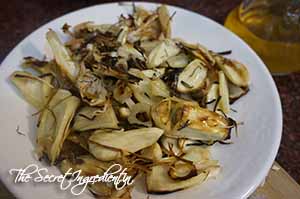 6. In the same wok or skillet add little more oil and add sliced onions.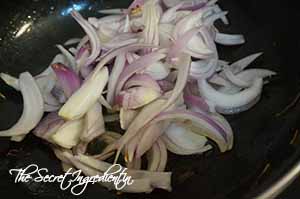 7. Add little sugar so that they caramelize faster. Let the onions fry on high heat till they turn brown in colour. Remove them on a plate.
8. In the meanwhile wash rice and put in pressure pan with water,
Bay leaf,
Black Cardamom, Cloves and Cinnamon stick and Salt. Cook for four whistles or for 5 minutes after the pressure builds up. Keep aside after cooking.
9. In a flat bottom casserole pot add some curd or yogurt. Also add half of fried onions. You don't have to put on the flame.
10. Add red chili powder and turmeric powder.
11. Add julienned ginger and slit green chilies.
12. Add salt to the marinade.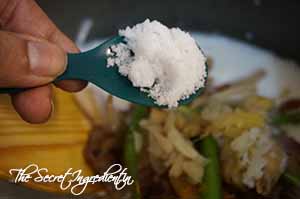 13. Add the fried jackfruit to the marinade.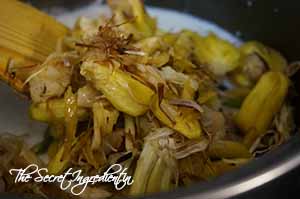 14. Add some ghee on top, some garam masala and ginger garlic paste. Now combine the entire ingredients.

15. Add Cardamom powder on top and sprinkle some fresh coriander leaves. You can even add mint but I dint have any.

16. Add half cup hot water so that ghee melts and spreads evenly.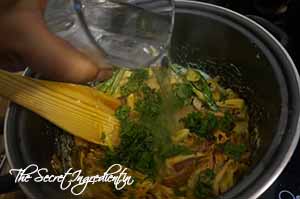 17. In a small take some warm milk and add few strands of saffron and also add rose water.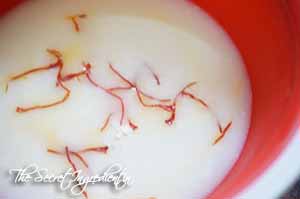 18. Now spread one layer of cooked rice on top of the marinade, half of it. Do not press simply spread them to cover the top.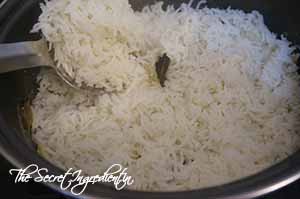 19. Now sprinkle some garam masala, mint and coriander leaves, cardamom powder, 1 tsp ghee and half of saffron milk.
20. On top of this, layer the rest of the rice.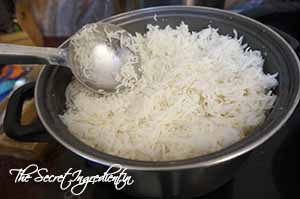 21. Again Sprinkle some fresh coriander leaves and mint, rest of the fried onions, rest of the saffron milk and 1 tsp ghee.
22. Close the lid so that the steam cannot escape. We will cook on high flame for 2 minutes and then reduce the flame and cook on low flame for ten minutes.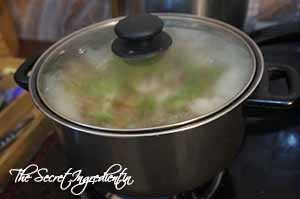 23. Serve hot with raita of your choice.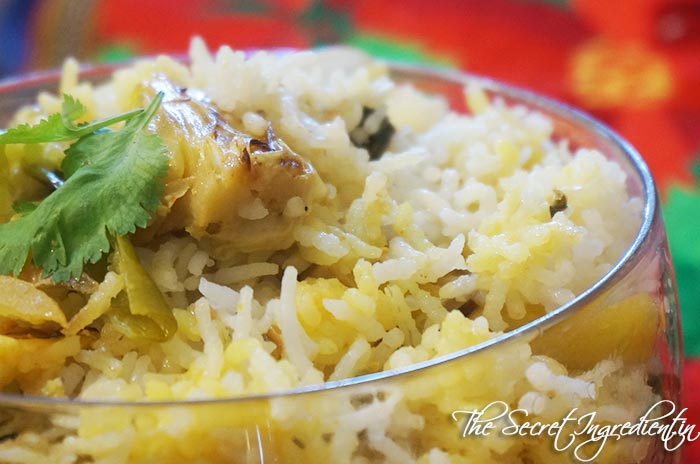 [whohit]KathalKiBiryani[/whohit]

[yumprint-recipe id='49']