Kaddu or Pethey ka halwa is very close to my heart because it reminds me of my Nani, my maternal grandmother. I used to spend a considerable time of my summer vacations as my Nani's house. Being the first grand daughter of my Grand Parents I was always given special attention. Not that my younger cousins were less loved.
Okay coming back to the topic, during those summer vacations my grandmother would wash and dry the melon seeds in the sun and my favourite activity was to separate melon seeds from their husk using tweezers (ha! that was my secret weapon 😛 ). It was a time consuming activity which kept me involved whole day and even late nights. Everyone, I mean all my uncle and aunts loved to eat melon seeds but no one wanted to make an effort, as I said separating melon seeds could be quite a cumbersome job. So, often they would stop by me and try to steal my stash of melon seeds (how mean!). I would shout and run away. It was only my Nani who consoled me and scolded my uncles and aunts for tormenting me . Now when I remember the instances it makes me laugh but at the same time sweetly remember the not so complicated childhood.
In spite of all perils, at the end of those summer vacations I had a big container full of melon seeds. I was a very proud little girl. That was my last day at my Nani's house, for the next day we were to return to my parent's house which was in another city. So my Nani made her delicious Pethey ka Halwa loaded with Melon seeds. It was a celebration of my achievement. Everyone got to taste the halwa along with the melon seeds they had been eyeing for days 😛 This time I did not mind rather enjoyed it relishing the sweet halwa.
Today I share my grandmother's recipe for Pethey ka Halwa. Some people also call it Kaddu ka Halwa. I miss her and love her. May her soul rest in peace.
Directions:
1. Choose a pumpkin which is most yellow from inside because they tend to be sweeter than the green ones.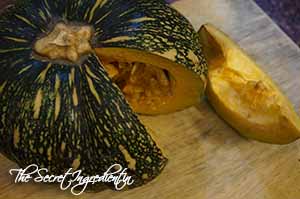 2. Remove its skin and seeds from inside. Cut them into small pieces. The smaller the better.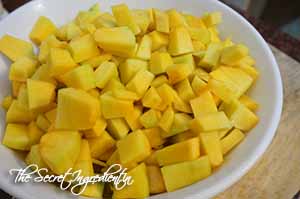 3. Put ghee or clarified butter in the pressure cooker.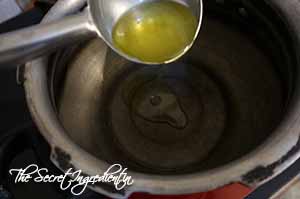 4. Add the pumpkin pieces into the pressure pan.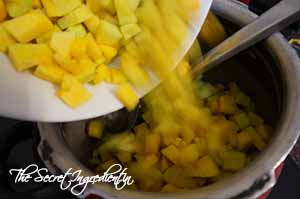 5. Toss them in ghee for a good 10-12 minutes till they start sweating and releasing some of its water.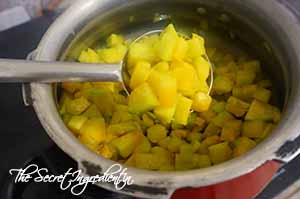 6. Add water and stir and close the lid. Let it cook for 5-6 whistles or about 10 minutes. Let it sit in it own pressure and open the lid once the steam has escaped. You are looking at a mashable consistency. If you feel the pumpkin has not cooked fully you should cook for a little time more.
7. Put the flame on and cook for 5 minutes till water starts evaporating. Add crushed cardamom pods. If you wish you can also use cardamom powder. Also add sugar.
8. Keep cooking till you find the pumpkin all mashed and ready to get creamy. The water should have almost evaporated. It will take good 10-15 minutes. Cook on medium low flame.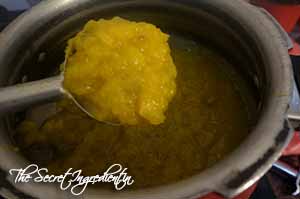 9. Add melon seeds. You can use Musk melon seeds or water melon seeds. Both taste great.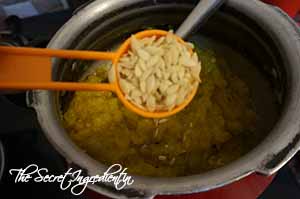 You can garnish with dried fruits. I chose to garnish with more melon seeds an saffron. Serve hot.
You can even try our Sooji Halwa and Gajar ka Halwa. If you looking for more Navratri or Vrat recipes you can checkout Sabudana Khichdi, Makhaney ki Kheer, Swang ke Chawal ki Khichdi, Rasgulla, Anaar Aloo ka Raita and Kachalu Aloo ki Chaat.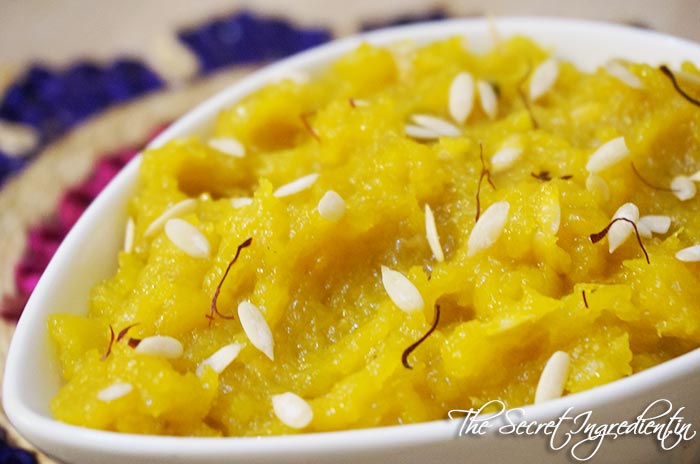 [whohit]KadduKaHalwa[/whohit]
[yumprint-recipe id='61']