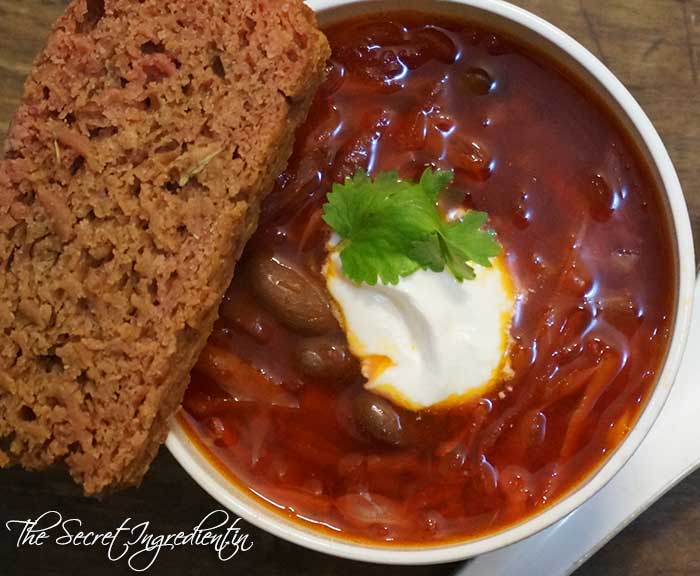 My husband spent four years in Moscow,Russia when he was a little boy. My Father in law was posted in the embassy of India in Moscow. Although that was very many years back still he talks about few dishes which remained in his heart like Bubliki, russian style bagels and Borsch, russian beetroot soup. My Mother in law makes this occasionally. I looked on the web to find a recipe which is authentic and still workable. Since I myself have never tried the authentic Borsch I really cannot comment on the authenticity of this recipe but I know for sure that it was damn tasty, healthy and fulfilling.
Borsch is a soup from Ukrainian Origin that is very popular in many Eastern European Cuisine including those of Poland, Russia, Ukraine and Belarus. It is largely made with Beetroot as the main ingredient, which explains the deep red colour. Nevertheless, there are many non beet versions also. It is served both hot and cold. Today I am sharing the beetroot hot version with you. Borsch is also known as Borscht, Borsh, Borshch, Bortsch, Borstch.
Some times even Bacon is added to give that smoky flavour. But we will stick to complete vegetarian variant.
Directions:
1. Soak red kidney beans over night or atleast 7-8 hours and boil them till they are soft and tender. You can even use canned beans.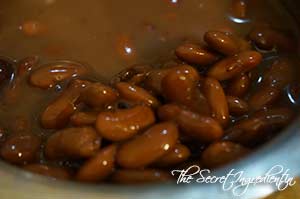 2. Finely shred cabbage,grate carrot and chop onions. Set aside.

3. Cube some boiled potatoes and shred boiled beetroot. Set aside.

4. In a wok add some olive oil and add onions and carrots.

5. Saute them for 7 to 10 minutes or until they are soft. Add tomato ketchup and combine. Set aside.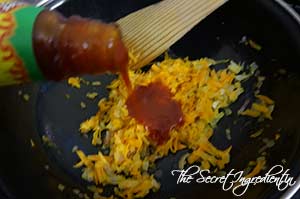 6. In a large soup pot or saucepan add water and boiled potatoes.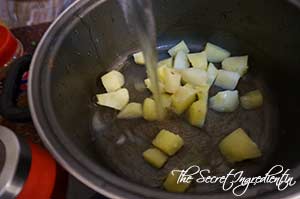 7. Throw in shredded cabbage and beetroot. Keep boiling it till the crunch of the cabbage has disappeared and it has become soft and tender.
8. Add boiled red kidney beans along with its water.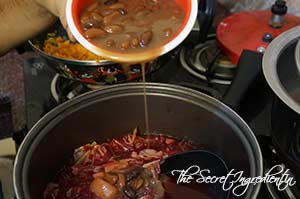 9. Add a bay leaf to the simmering pot.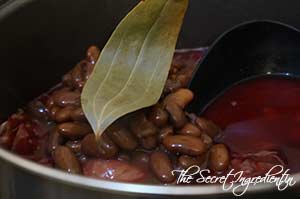 10. Add vegetable broth. I used broth bullion along with water. Also add pepper and Lemon juice. You can even add fresh or dried dill if you like. I did not have any so I skipped.
11. Add sauteed carrots and onions to the soup pot.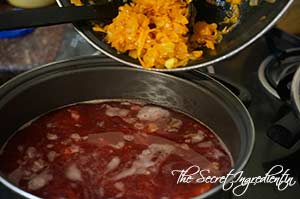 12. Add salt to taste. Keep simmering till it has reached perfect consistency as per your taste.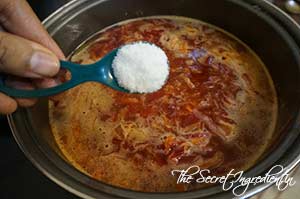 13. Serve hot with a dollop of sour cream and beetroot garlic bread.
If you are looking for more soup recipes you can try Mexican Chicken Consome with Rice, Classic Tomato Soup, Mexican Soup of Red Kidney Beans.
[yumprint-recipe id='71']