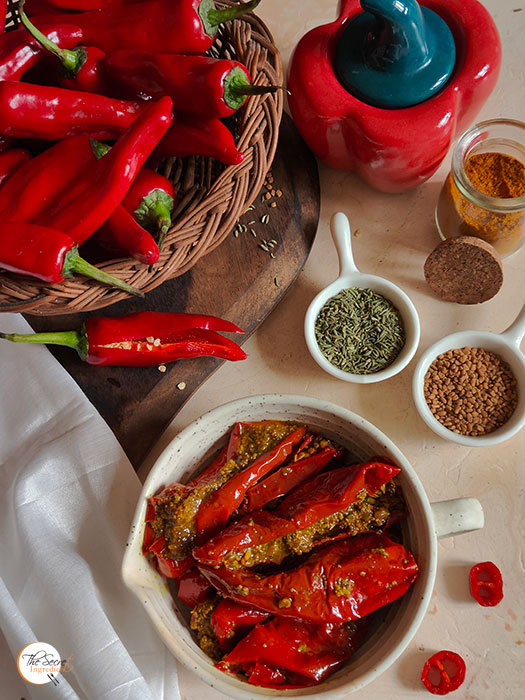 Stuffed Chili pickle is a delicious Indian pickle made with red fresno chilies. Indians go bonkers over pickles. No Indian meal is complete without a tangy spicy piece of pickle and pappad. Pickle may be understood as baby cucumbers sliced and dipped in brine to any person other than an Indian. However, in India pickle is much more than just some humble vegetables soaked in vinegar. Its a blast of spices rubbed over vegetables with oil and sundried on open terraces where the spices can marry the vegetables. It gives the pickle that Oooh wow soo yummy factor!! 😛
We Indians make pickle out of any thing under the sun, yes literally! We have pickle of mangoes. carrots, turnip. jackfruit and even chicken! Winter is approaching so markets are flooded with red fresno chilies or peppers. This variety of chilies is not same as red bell pepper. They are mildly hot and similar in taste to mild Jalapenos and spanish pimientos rojo found in other part of the world. If you cant find these red chilies you can substitute them with Jalapeno or Red Pimiento peppers. In India they are also known as bharwan mirch or achar wali mirch.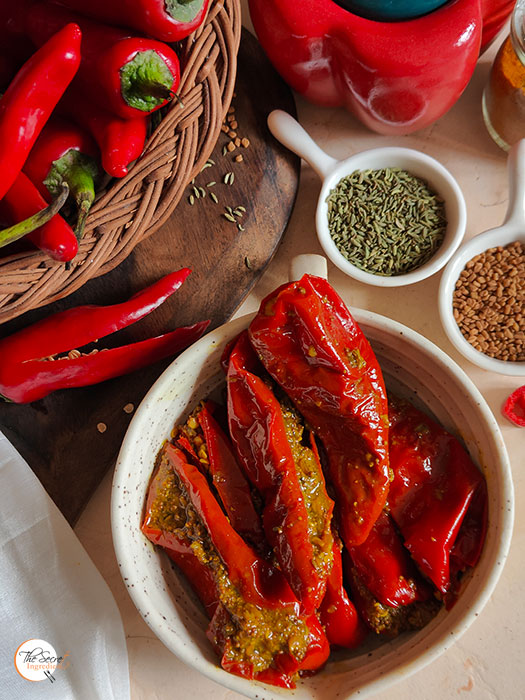 This stuffed red chill pickle used to be my favourite and still is. My mother loves to make pickles like any Indian housewife 😛 So this year I asked her to give me the recipe instead of sending the pickle itself. The pickle came out amazing, simply tasting like hers. Its easy and ready in minutes. You need to sun dry it for three days and you can enjoy it with your supper.
Directions:
1. Wash chilies and pat them dry with a kitchen towel. You can even put them in the sun for an hour to dry it completely.
2. Make a slit on one side of the pepper with a knife ensuring that the other end is intact.
3. Slightly toss the peppers to see if any seeds come out from the inside. Do not throw them away for we will add them to the stuffing.Need not remove the seeds which are attached to the peppers.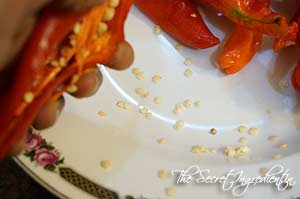 4. In a dry grinder or coffee grinder put red mustard seeds also known as Raai, fenugreek seeds also known as methi dana and fennel seeds also known as saunf. Coarsely grind them. psssssss… I forgot to take picture of raai. 🙂
5. Put the ground spices in a medium sized bowl and also add salt, turmeric powder, asafoetida and amchur.
6. Also add to this White Vinegar and Mustard Oil.
7. Add pepper seeds to it and combine them using a spoon.
8. Take a spoonful of spice and stuff it inside pepper.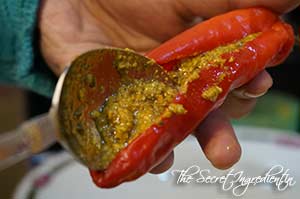 9. Once you are done stuffing all peppers transfer them to a clean and dry, glass air tight container with a lid.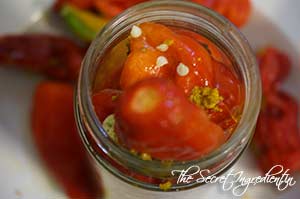 10. Keep the glass container in sun for atleast three days till the otter skin of the peppers has become little soft. Enjoy with your favourite meal.
Other pickles and condiments you can try are : Jalapeno Pickle , Fresh Turmeric Pickle with Green Mangoes, Ginger Garlic Pickle,Instant Raw Mango Pickle South Indian Style.
You can also try Red Chilli and Red Bell Pepper Jam and Thai sweet Chili Sauce with Fresno Chilies.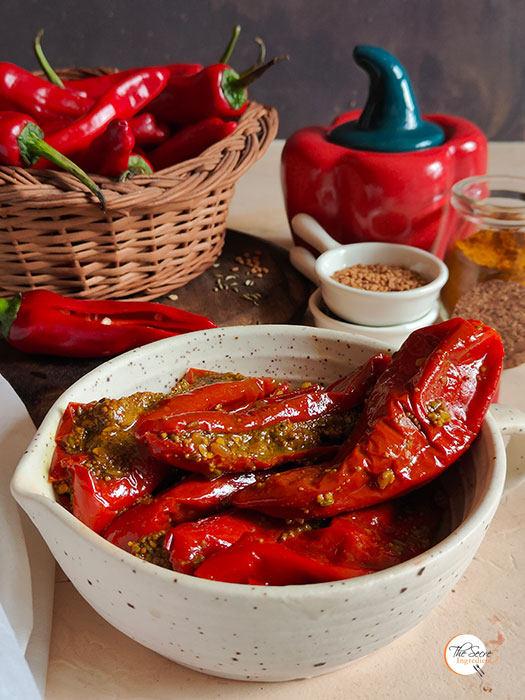 [yumprint-recipe id='72']