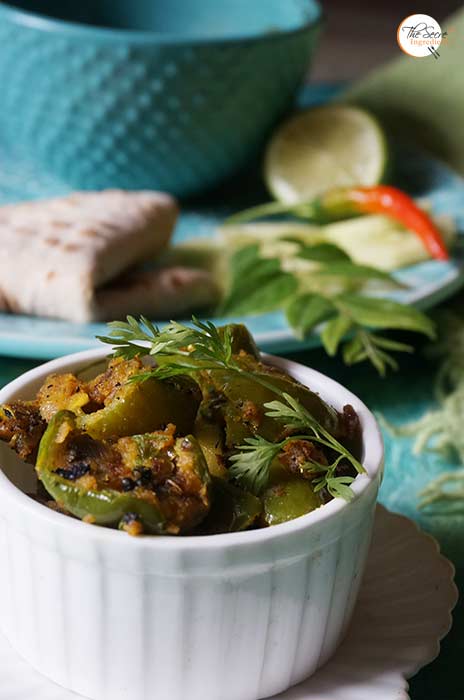 I have always liked Capsicum be it in pastas or simple Indian style Aloo or Potato Capsicum. When I came across this recipe I was a little skeptical in trying owing to its different ingredients. But to my surprise this dish, Capsicum Zunka from Maharashtrian Cuisine came out absolutely delightful. It not only has a unique blend of flavours but has a very interesting texture.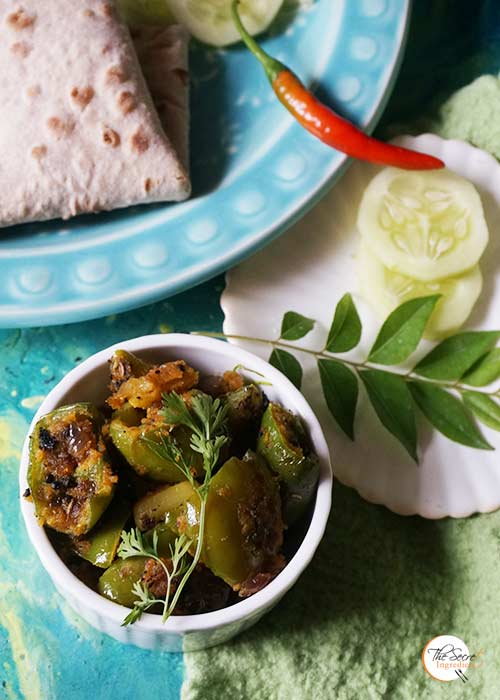 The Black Bengal Gram Flour or besan as it is commonly known as gives this dish a phenomenal treatment. Not to mention the symphony of flavours created by Curry Leaves, Mustard Seeds, Asafoetida and Garlic is worth mentioning. This might be a humble dish but very flavoursome.
Directions:
1. Wash the capsicums and cut them into cubes.
2. Also Chop Onions, green chilies and peel Garlic cloves. Set aside.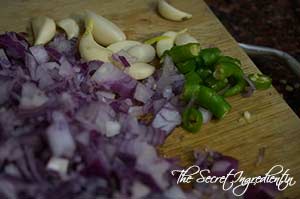 3. In a wok add Besan or Black Bengal Gram Flour and dry roast it on low flame. Keep stirring it continuously to avoid burning from the bottom. The colour of the flour should not change but by the fragrance you will know when its ready. Transfer it to a plate.
4. In the same wok add oil. Heat the oil.

5. Once the oil is hot add the mustard seeds. When they begin to crackle add Cumin seeds and asafoetida. Saute them for couple of seconds.
6. Add chopped Onions, Garlic, Kaddhi Patta and Chopped Green Chilies.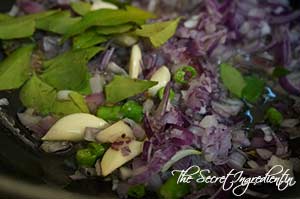 7. When the onions become soft and tender add cubed capsicum and combine. Add salt. Let the capsicum cook on medium low flame till it becomes partially soft and releases its water. This should take 6-7 minutes.
8. Now to this add red chili powder, turmeric powder & Coriander powder.
9. Once the spices are combined with the capsicum sprinkle roasted besan over it. Do not put it in one go. Use one spoon at a time and then combine. This will ensure that the flour is evenly mixed and there are no lumps.
10. Cover the wok partially with the lid and cook for another 2 minutes on low flame.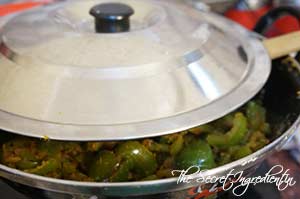 11. Sprinkle with fresh Coriander Leaves.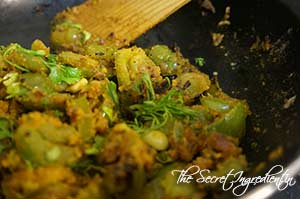 Serve hot with Chapatis and Pranthas.
You can even try Baked Stuffed Capsicum for variation.
For more Indian Dishes you can check out Aloo Anaar ka Raita, Gobhi Danthal, Swanjhane Ke Phool.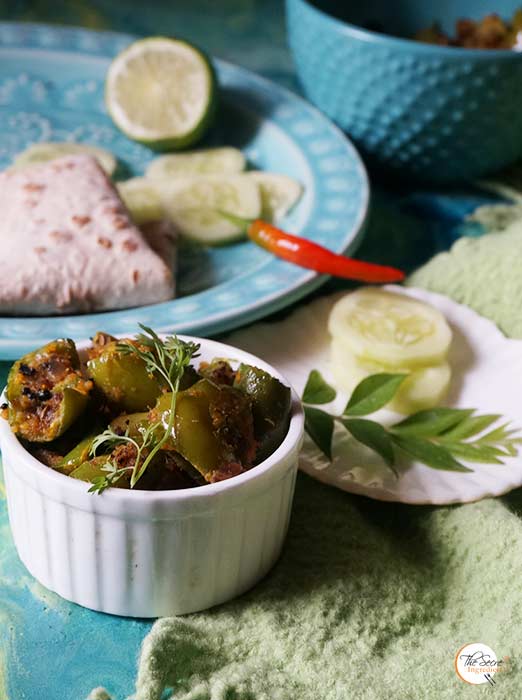 [whohit]CapsicumZunka[/whohit]
[yumprint-recipe id='118′]