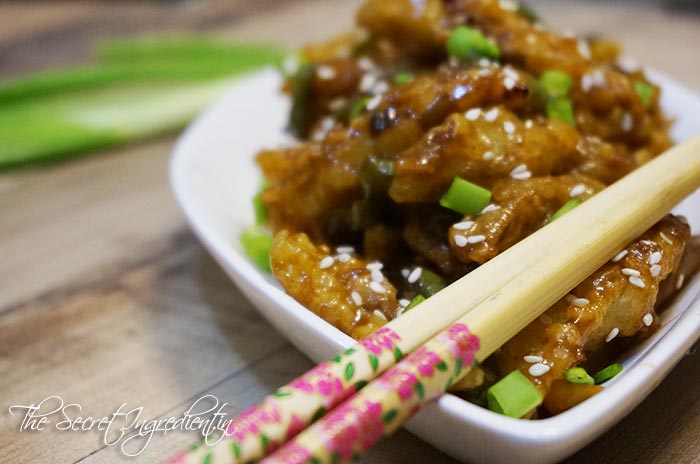 My love for Indo Chinese Cuisine is increasing with growing years. To my surprise I do not like the food they serve at restaurants in the garb of Chinese food. The same gravy is poured over all dishes and they all taste alike. But making them at home has introduced me to different flavours and styles. I love to make Chili Mushrooms, Veg Manchurian, Gobhi Manchurian, Veg Momos with Szhezuan Sauce, Chili Baby Corn and now the latest and crispiest Chili Potatoes with Honey Glaze.
I always remember eating these potatoes but they were always frail and soggy simply smeared in the sauce. But when I tried making them at home they came out crispy with a crunch. Ohh Lord it was shere food porn. There are a few things which you must follow to make them crisp. It may look like a long procedure but the results will speak for themselves. I bet you will never go back making them the way you usually do.
Directions:
1. Wash and Peel Potatoes.
2. Cut them into half and further cup them into small fingers of more or less equal size.
3. Pour water in a sauce pan and bring it to a boil. Add salt.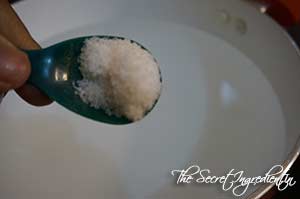 4. Put the finger potatoes into the water and submerse for 5 minutes. Once blanched remove them from the water using a skimmer.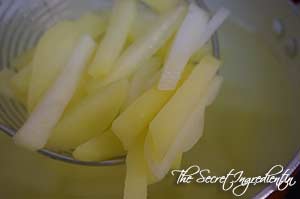 5. Run them under cold water for a minute so that they stop cooking. Set aside.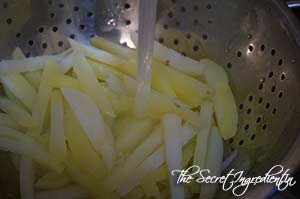 6. In a bowl add All purpose Flour, Corn Flour and Salt.

7. Now add salt and mix everything using your fingers. Take little flour in your fist and press lightly. If it comes together you know its correct.
8. Add blanched potatoes and mix. Coat the potatoes with flour using your hand.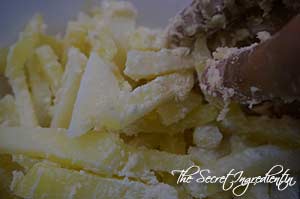 9. Now in a different bowl add more All Purpose Flour, Corn Flour and salt.
10. Now add oil and water and whisk the batter to make it lump free.
11. Heat Oil in a wok for frying.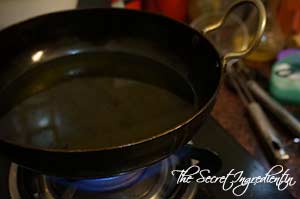 12. Dip the flour coated potato fingers in the batter and fry them partially on medium high flame for 5 minutes.
13. Remove them from oil once you see them turn slight golden.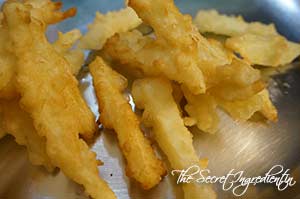 14. Separate fingers if they stick together.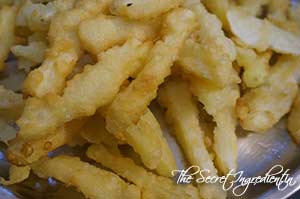 15. Now fry them for the second time on low flame till they turn golden and crisp. This step is very important because this will ensure you have very crisp fries.
16. Remove them on a paper towel to absorb any extra oil.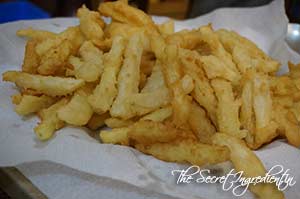 17. For the sauce chop some spring onions, ginger, Garlic, green chilies and capsicum. You can even use bell pepper. I have used yellow.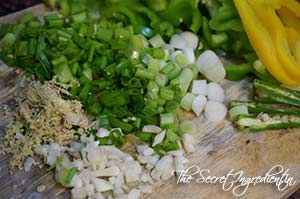 18. In a pan pour some oil and heat it. Add spring onions, slit green chilies, ginger & Garlic and saute them.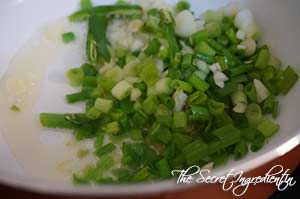 19. Now add Capsicum and bell peppers and saute them as well.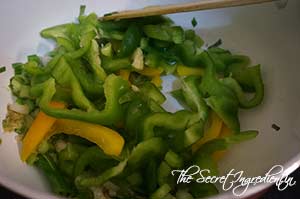 20. Dissolve Cornflour in some water and set aside.
21. Add to the sauteed onions some soy sauce, szechuan sauce (not in pics) and Tomato Ketchup.

22. Also add Freshly ground Pepper, salt and Sesame seeds .
23. Add the cornflour mixture we made before. Keep stirring on high flame till the sauce has reduced and thickened.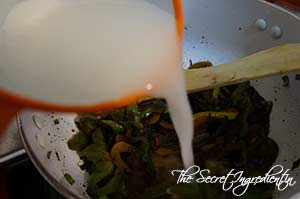 24. Turn the flame OFF and then add Honey for the glaze.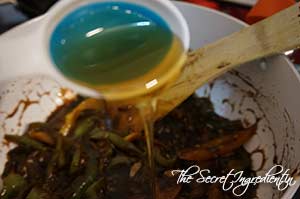 25. Wait for 5 minutes to let the sauce cool down a bit. Now add the fried potatoes. If you add the potatoes before it will make them soggy.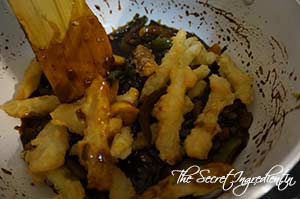 26. Transfer to a serving platter and sprinkle some more sesame seeds and onion greens.
You can even try Roasted Rosemary Garlic Potatoes.
You can also try more dishes from Indo Chinese Cuisine like Chili Mushroom, Szechuan Sauce, Vegetarian Momos. Vegetarian Hakka Noodles.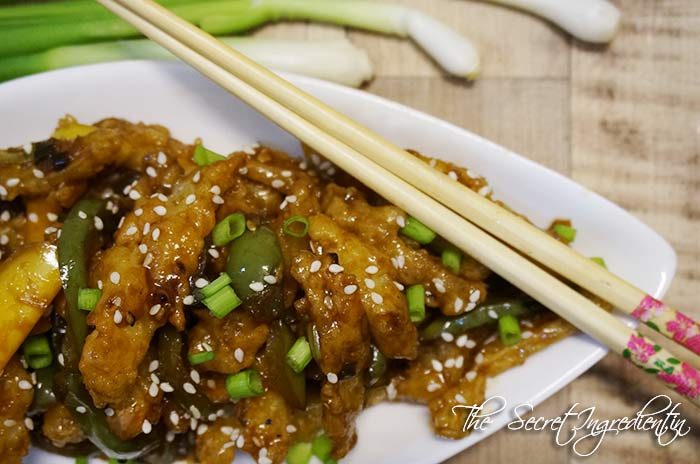 [whohit]ChiliPotatoes[/whohit]
[yumprint-recipe id='117′]