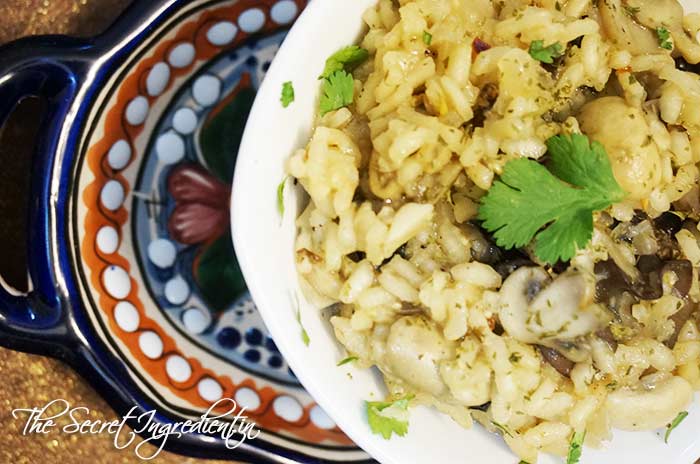 We recently started a group Spatula Force on Facebook. Its a coming together of like minded people who are food enthusiast and want to learn and try new things. Each month one member hosts the event and gives out a theme, which could be regional or international. This month's theme was Italian Cuisine hosted by me. So here is my contribution to the event – Mushroom Risotto.
Risotto is a north Italian dish cooked in a broth to a creamy consistency. This is the most common way of cooking rice in Italy. The rice used for this dish are different. Such rices have the ability to absorb liquids and to release starch and so they are stickier than the long grain varieties. Arborio, Baldo, Carnaroli, Maratelli, Padano, Roma, and Vialone Nano are some of the varieties of rice used in Italy to make Risotto. I used Arborio for this.
Directions:
1. Heat one cup of water and turn the flame off. Add dried porcini mushrooms to it and let it sit for 10 minutes.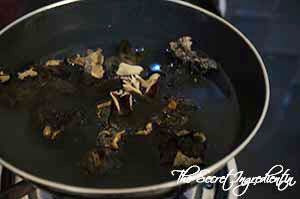 2. Chop Onion, garlic and Mushrooms. Set aside.
3. In a flat bottom pan pour some olive oil.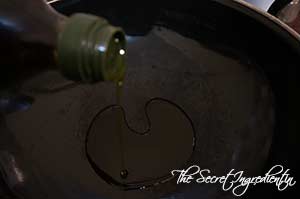 4. Add chopped garlic and saute.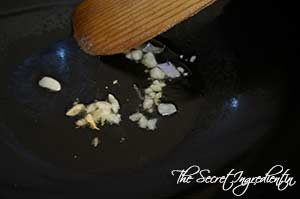 5. Add chopped fresh mushrooms and season them with some salt. Let it release its water and cook till they reduce in size.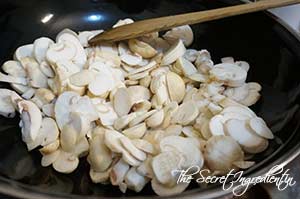 6. Drain the dried porcini mushrooms from the water. Do not throw the water away! Roughly chop the porcini mushrooms and add to the pan.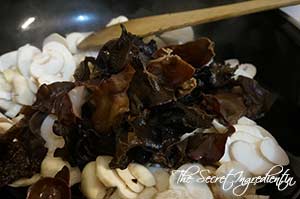 7. Add red chili flakes, salt and black pepper. Let it cook for ten minutes till it has cooked down.

8. Add chopped parsley and thyme . I am using dried parsley and thyme. Set aside.
9. Heat Broth in a sauce pan. Add to it the reserved water from dried porcini. If you are using broth cubes, add water in a sauce pan and add broth cube to it. Let them simmer on low flame.
10. In a large skillet add olive oil and saute onions and garlic over medium heat for 5 to 7 minutes.
11. Add Arborio rice to it. Saute rice along with onions for a minute. Let the rice get well coated with oil.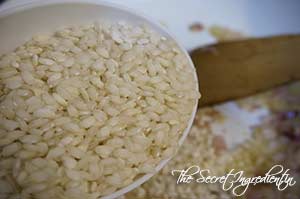 12. Add wine and a ladle full of broth. Keep stirring.
13. Once the liquid broth has been absorbed add another ladle to it and stir again.
14. Repeat this for atleast 18-20 minutes or until the rice is 5 minutes away from cooking. When the rice is just fully cooked, add the last ladle of broth along with mushrooms we had cooked earlier.
15. Season with Salt and pepper.
16. Add butter and Parmesan Cheese. Turn the flame off and put the lid on the skillet. Let it sit for for 5 minutes covered.
17. Garnish with fresh parsley and serve immediately.
You can try other dishes from Italian Cuisine like Roasted Rosemary Garlic Potatoes, Garlic Rosemary Focaccia Bread, Mushroom Spinach Frittata, Mushroom Lasagna in White Sauce.
Other Mushroom Dishes you can try are Mushroom Do Pyaaza, Mushroom Bell Pepper in White Sauce, Chili Mushroom.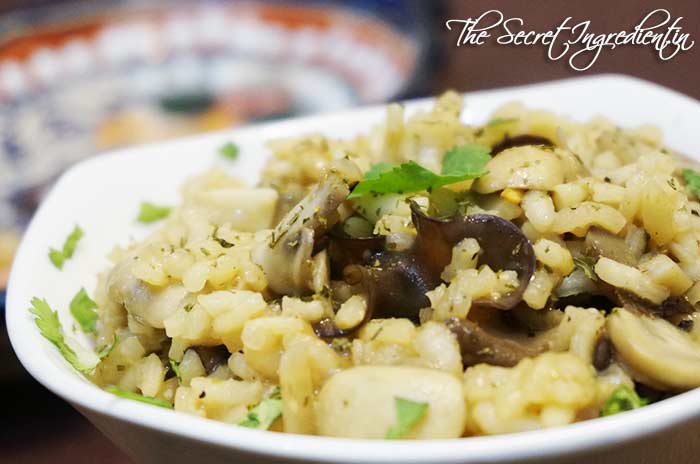 [whohit]MushroomRisotto[/whohit]
[yumprint-recipe id='126′]