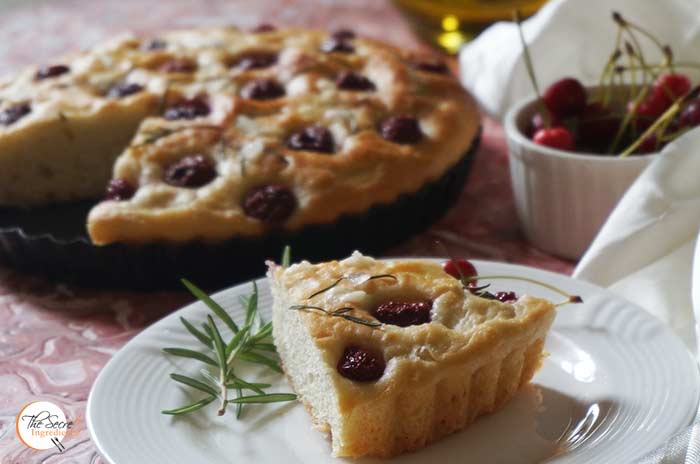 Focaccia Bread tops the list of breads which I bake on any given day. The highlight of the bread is the taste of Olive oil which makes the bread irresistible. Always use a good quality Extra Virgin Olive Oil – EVOO at least for all kinds of Focaccia breads. Earlier I had posted recipe of Rosemary Garlic Focaccia Bread which of course is my first love.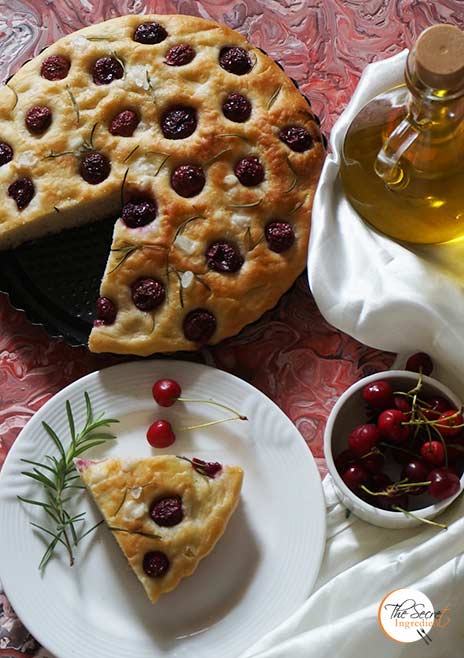 The other day I had some left over cherries after making Mascarpone Cherry Cheesecake Glasses. They were not a lot to make cherry bars but enough to make this Focaccia Bread. The combination initially sounded weird and I was skeptical to try them.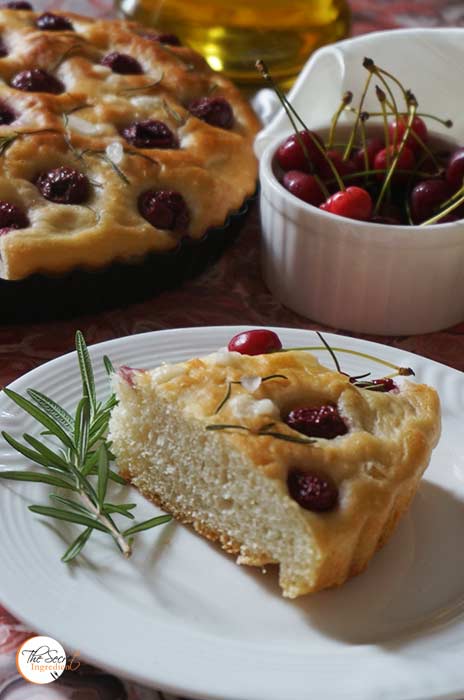 Reluctantly I rolled out the dough and placed the cherries on top and sprinkled some rosemary and sea salt and crossed my fingers. After an uneasy half an hour of waiting while the bread was baking the results were astounding. The three of us finished the bread in minutes. What a meal it was!
Directions:
1. In a bowl add all purpose flour. Also add salt to it.
2. In a measuring jug or any vessel take lukewarm water. It should be neither hot nor cold. You should be able to dip your finger easily in it. Add instant yeast or dry active yeast. Also add sugar to it and give it a gentle stir. Let it sit for 7-10 minutes till it turns frothy and milky. This is a sure test that your yeast is working!
3. Add Olive Oil to the flour and add the yeasty water little by little and knead it to form a supple soft dough ball. IT should take good 15 minutes of kneading using all your energy. The more you knead the more it should become soft. The test is that the dough must retain its position on pressing with your. finger. Cover it with a cling wrap and let it rise for an hour and a half * till it doubles up in volume.
4. Grease a broad baking tray with some olive oil. I am using a pie tray for this. But you can use any flat bottom tray.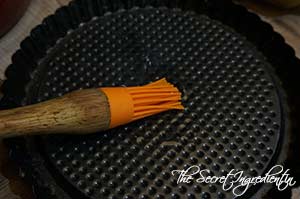 5. Deflate the dough and roll it into the shape of your baking pan, about half a inch in height.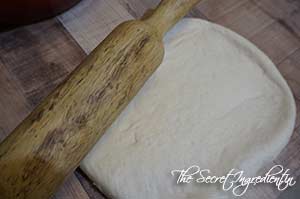 6. Transfer the rolled dough into the greased baking tray.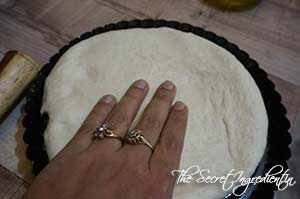 7. Stretch it with your fingertips to spread till the corners. Make indents with your finger tips.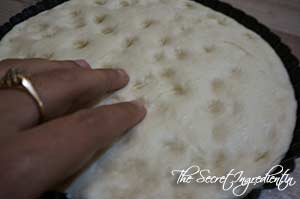 8. Pour olive oil all over so that its trapped in the dents. You can put as much olive oil you like. I ill not judge you.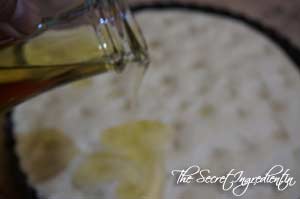 9. Gently push Pitted Cherries onto the dough surface. Learn how to remove stones from Cherries easily without using a cherry pitter?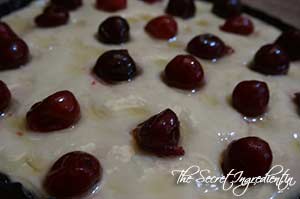 9. Spread fresh or dried rosemary all over.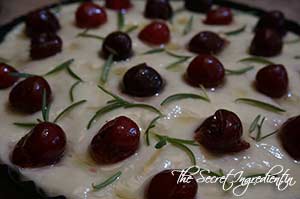 10. Lastly sprinkle with sea salt, I used Sendha Namak or Himalayan Rock Salt for this.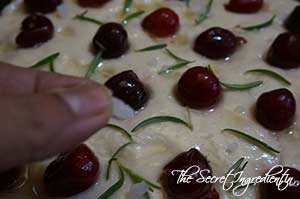 8. Cover it with a cling wrap or lint free kitchen towel and let it rest and proof again for another 30 minutes or until it has doubled in size.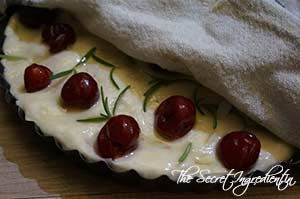 13. Bake it in a preheated oven in the middle rack on 200 degree C for 25 minutes or until its golden on top.
You can try other breads from The Secret Ingredient: Italian Focaccia Bread with Strawberries , Rosemary Garlic Focaccia Bread, Garlic Cheesy Bread, Dominos Style Garlic Bread Sticks, Honey Oats Bread, Cinnamon Raisins Bread. Whole Wheat Sandwich Bread, Beetroot Bread.
Other Cherry Recipes you can try: Mascarpone Cherry Cheesecake Glasses.
[whohit]CherryFocaccia[/whohit]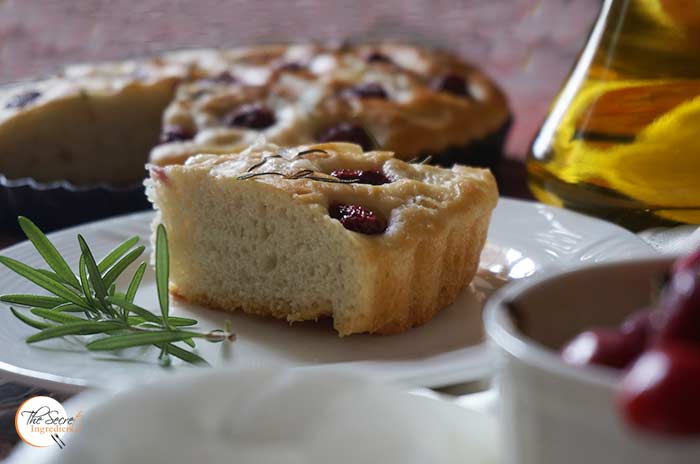 [yumprint-recipe id='138′]