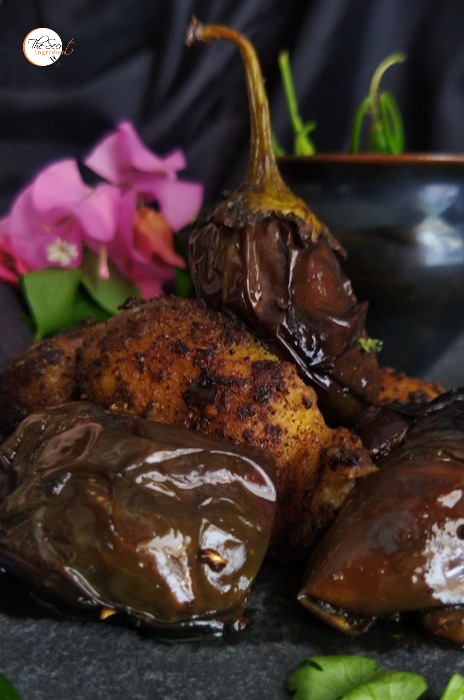 Punjabis Love spices. There is no denial to this fact. They gorge on chillies and love spicy food. Being a punjabi myself I cannot accept bland, tasteless food. Some of the dishes are signature from a punjabi household like Kaddhi Chawal, Bharwan Karela, Dal Makhani, Langar wali Daal, Gobhi Ke Danthal, Bharwan Baingan and much much more. Basically Punjabis love to eat day in and day out. We live to EAT. Period!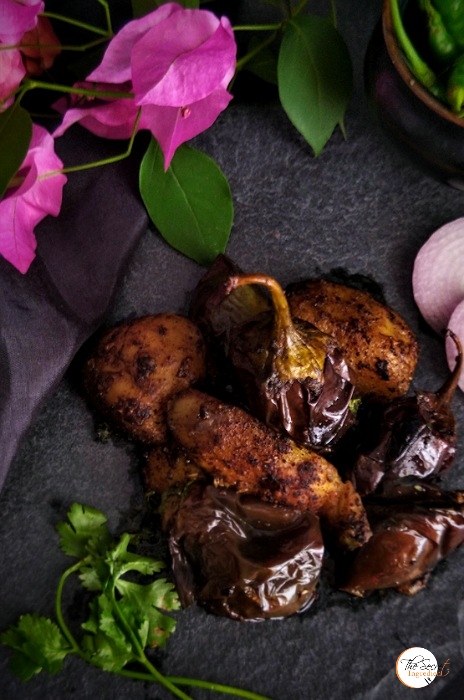 Another interesting technique of cooking Punjabis follow is to stuff the vegetables with spices and then cook them. This method ensures that the spices are deeply infused in the vegetables. I have a few stuffed or bharwan vegetable recipes on my blog like Bharwan Karela, Bharwan Tinda. I will soon be posting Bharwan Tori and Bharwan Bhindi. But today I bring you Bharwan baby eggplants or chottey baingan. As a kid I used to call them cooked rats!! ..hahahah am I scaring you? Well its because they were cooked with the little stem on. 🙂
Directions:
1. Pick baby size eggplants , because they are perfect for this recipe. Wash them and pat them dry using a kitchen towel.
2. Make a cross insertion with a sharp knife. Do not cut all the way down separating the pieces. The piece should be intact.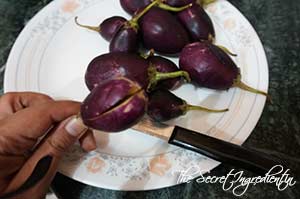 3. In a bowl add Salt, Turmeric, Garam masala, Coriander powder, Amchur, Asafoetida , Sambar Powder, Channa Masala and Red Chili Powder and mix them evenly for the filling.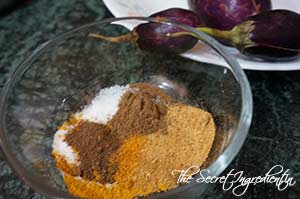 4. Stuff the eggplants with spoonful of spice mix and keep them aside.If some masala or spice remains reserve it.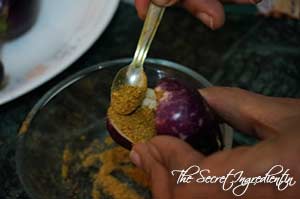 5. Peel and slice some potatoes. Also cut onions in big chunks. Set aside.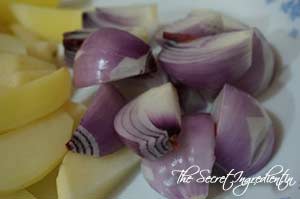 6. In a cast Iron wok or kadhai add some mustard oil.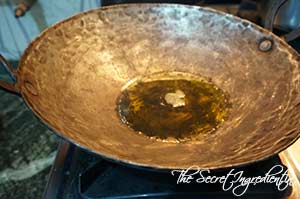 7. After the oil gets pipping hot add the potatoes and roast them till they turn golden and partially cooked.
8. Add the onion chunks and saute them with the potatoes.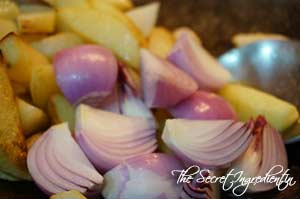 9. Add to the wok the stuffed eggplants and toss them in the oil gently.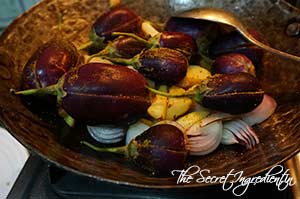 10. Add some leftover reserved masala or spice mix.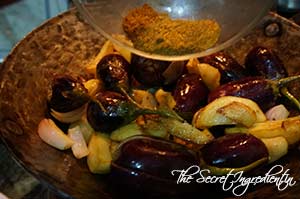 11. Cover the wok with a lid which barely covers the vegetables. We are not looking at a bigger lid. When you tightly cover the vegetables with a lid while cooking, they cook faster and become crispy at the same time.
12. Open the lid after 5-7 minutes and change the sides with a service spoon and cook again till eggplants have lost the purple colour and cooked thoroughly.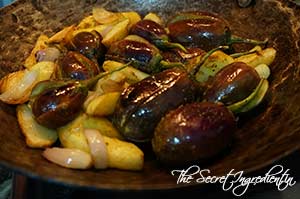 13. Garnish with some Chopped Coriander Leaves.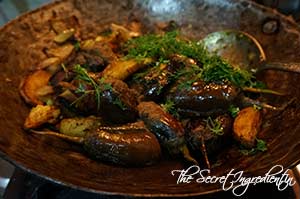 14. Serve hot with Rotis, paranthas or even tawa naan.
Other recipes you can try : Mushroom do Pyaaza, Pindi Cholley, Tori wadiyan, Methi Matar Malai.
Other Eggplant recipes on The Secret Ingredient which might interest you are : Baingan ka Salan, Baingan ka Bhartha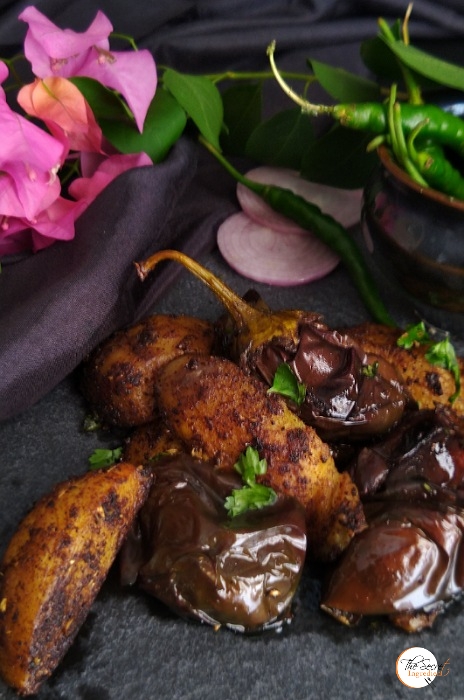 [yumprint-recipe id='149′]