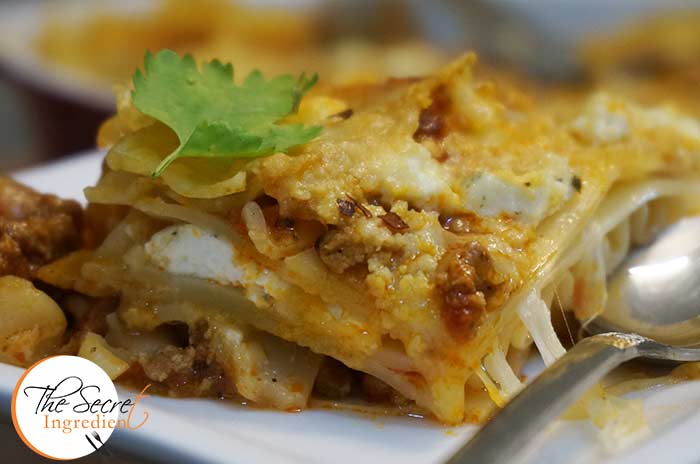 My first experience of Lasagna was at an Italian place in Mexico. It was such a let down as if someone spatted tomato right on my face :P. It was way too tomatoee. Anyways I am not a big fan of red pasta sauces for the very reason they taste bland and of tomato puree all the way. But my husband loves red sauce while I gorge on white sauce.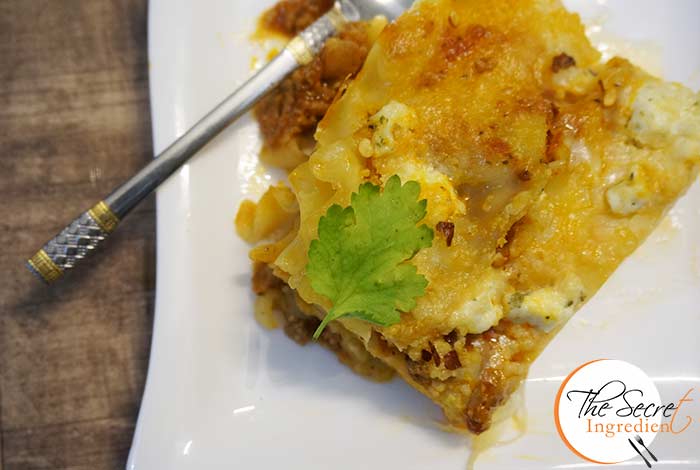 One day I mustered the courage to put behind all the tomato sauce scare and decided to make my own lasagna with RED SAUCE! Everything was from scratch. It took me good time to make this but trust me it was worth it. The sauce was amazing to my surprise, full of flavour and was not at all bland. After going back to this recipe for years I can say this is the best Lasagna Recipe so far!
This recipe uses chicken but you can always replace it with Italian sausage. Do make it for your family over some weekend or festivity or even for Thanks Giving dinner table. They will want this more and more 🙂
Directions:
1. Finely chop some onions and garlic. Also puree some tomatoes in a blender and set aside.

2. In a pan add some olive oil and add minced chicken or any other meat you are using.
3. Saute for a minute and then add chopped onions and garlic. Saute them for good time till they all get a brown colour.
4. Add fresh tomato puree to the chicken onion mix.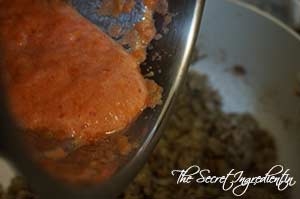 5. Add packaged tomato puree along with Tomato Ketchup.
6. Season it with Sugar, Parsley and Salt.
7. Also add ground black pepper, Italian seasoning and basil.
8. Add water and let this come to a boil.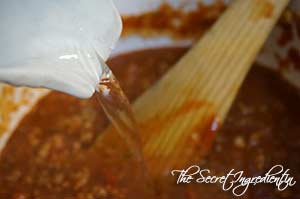 9. Bring the flame to low and let it simmer with lid on for a good 1 and half hours. Stir occasionally.
10. In the meanwhile in another bowl combine ricotta cheese with an egg. Add Parsley and a little salt. Combine and set aside. You can make Ricotta Cheese easily at home. click here to find out.
11. Bring a large pot of lightly salted water to a boil. Cook lasagna noodles in boiling water for 8 to 10 minutes. Drain noodles, and rinse with cold water. Be careful to rinse well as the noodles might stick to each other.
12. Preheat the oven to 375 degrees F (Learn more about Oven temperatures and Conversions). For assembling the lasagna, spread 1 & 1/2 cups of meat sauce in the bottom of a 9×13 inch baking dish. Line the top of sauce with Lasagna Noodles.
13. Spread with one half of the ricotta cheese mixture.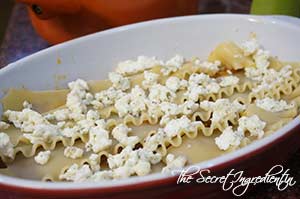 14. Layer it with grated Mozzarella Cheese. You can even use Mozzarella slices.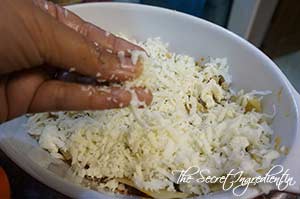 15. Now add another ladle of sauce and repeat the last few steps, until you exhaust your sauce and noodles. Spread on the top layer some mozzarella cheese and parmesan cheese.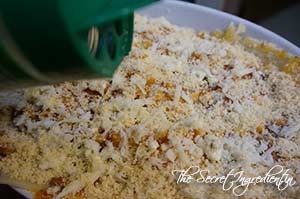 16. Cover the baking pan with aluminium foil . Ensure the foil is greased with oil so that nothing sticks to it and bake for 25 minutes.
17. Now after 25 minutes remove foil and continue to bake further for 25 minutes or till the top layer of cheese gets melted and slight brown.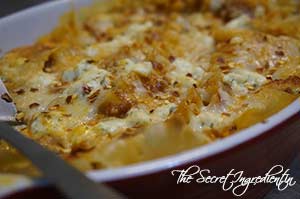 18. Let it cool down completely for at least 15 minutes before serving.
You can even try Vegetarian Mushroom Lasagna in White Bechamel Sauce. Quick Vegetarian Lasagna in a Mug Recipe
Other Italian dishes recommended are: Roasted Rosemary Garlic Potatoes, Italian Mushroom Risotto, Almond Biscotti, Vegetarian Home made Pizza.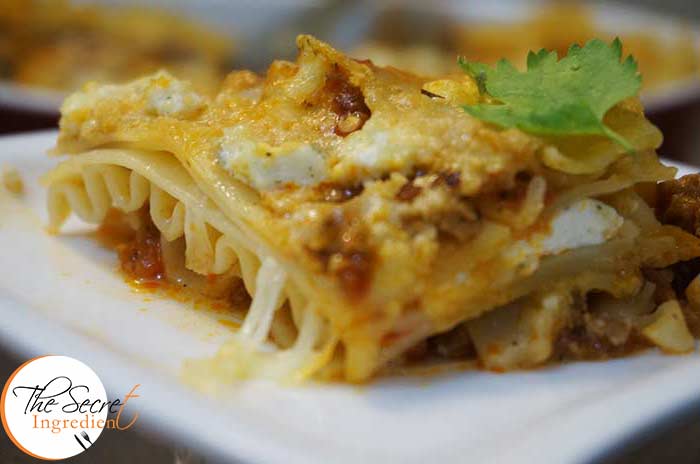 [whohit]ChickenLasagna[/whohit]
[yumprint-recipe id='170′]