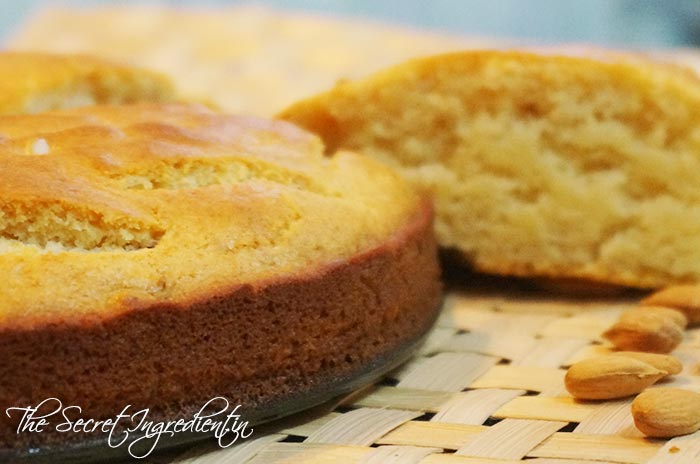 I had been receiving a lot of requests to share a recipe for Eggless cake. The eggless cakes are known to be non spongy and dry. They have always been labelled to be less appealing in taste, texture and appearance compared to a cake with egg. But after you try this recipe you will know how wrong is this notion. The cake comes out as spongy as a normal cake plus it is delicioussss. The purpose of adding egg is to make the cake fluffy and soft but instead we are using vinegar to achieve the same results.
Directions:
1. Preheat your oven to 350 F (Know more about Oven Temperature and Conversions). In a bowl sift all purpose flour, salt, baking powder and baking soda and set aside. Sifting flour can be a messy exercise, at least for a lazy bone like me :P. We sift all the dry ingredients so that they become lump free and the flour becomes fluffy as air is incorporated in it. All it helps to mix the ingredients evenly.
2. In another bowl, preferably bigger than the first one add butter,oil, condensed milk and vanilla essence.If you have a sweet tooth you can even proceed to add sugar, I won't judge you ;).Whisk them together using a strong hand to make it creamy and soft.
3. Add vinegar and combine well.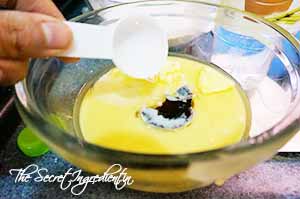 4, Add the sifted dry ingredients little by little and combine well with gentle hand. Add few spoons of milk to mix well. Then repeat the two steps till entire dry flour mix is combined well to form a lump free batter.
5. After the batter is ready add nuts of your choice. I used almonds and raisins. Simply fold them in the batter but do not whisk them.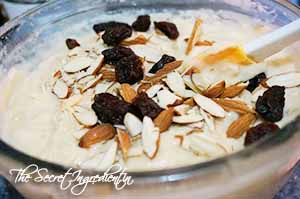 6. Grease a 9×2 inch pan with vegetable oil or melted butter. I used the disposable tin pan because I had many and needed to use them before I fly India :). After generously greasing the pan sprinkle some flour all over the pan so that the flours sticks to the oiled pan.
7. Transfer the batter in the baking pan and give it a gentle tap couple of times so that the air bubbles trapped inside the batter escape. I sprinkled on top some more dry fruits to decorate. But if you feel its too much of an effort by all means you can skip this.
8. Place the baking pan in the preheated oven for 25-30 minutes. But keep a close eye on your cake after 18 minutes. If you feel the top is getting a lot of colour. Do not panic!! You can cover it with an aluminium foil, like I did and everything comes in control.
9. After 30 minutes I inserted a tooth pick in the center of the cake an it came out clean. That's when you know your cake is ready. Take it out of the oven.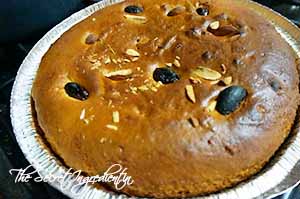 10. Invert it on a tray after a minute of talking out of the oven. If it cools inside the baking tray it can stick to the bottom and plus it wont set as it should.
11. Now cool it for another fifteen minutes on a wire wrack and then you are ready to pounce on it 😛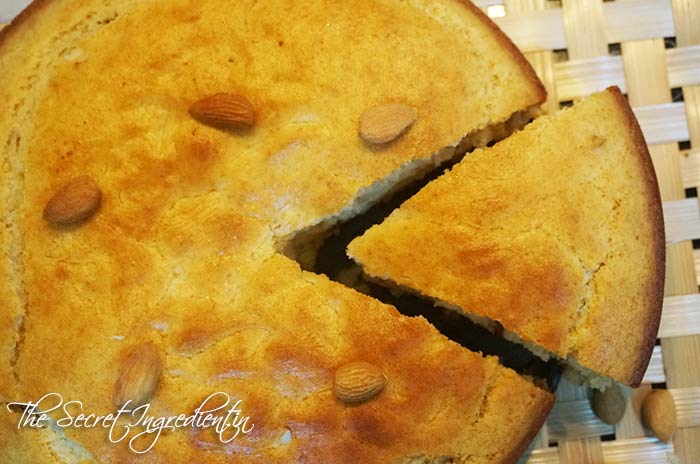 [yumprint-recipe id='5′] [whohit]egglessCakeAlmondVanilla[/whohit]