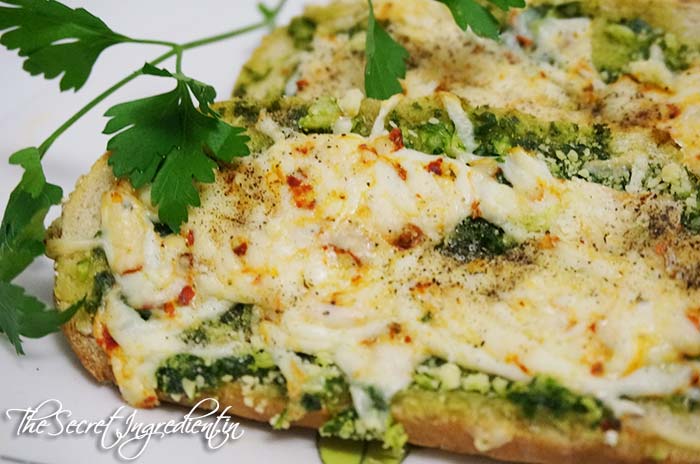 This cheesy Garlic Bread is simply awesome. I am not exaggerating. You have to try it at home to believe me. In any given restaurant you will pay a handsome sum for those tiny piece of breads. If you make them at home they are not just easy on your pocket but also a delight for your taste buds. You can always be stingy or generous with the cheese topping. The best part is it gets ready in no time and is a perfect party food.
Directions:
1. Preheat the oven to 400 degrees.
2. You need to take any deli bread, it can be Italian or the bread roll you buy for sandwich from a bakery. A commercial bread loaf/slice may not bring in the same taste and texture. If its a big loaf cut the slices in slant to get maximum surface to put toppings. And you buy a packaged deli bread like me. It comes like a bun cut in two halves. Just perfect for garlic cheese bread.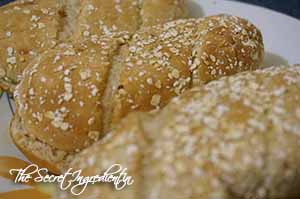 3. In a bowl put some fresh parsley leaves and garlic cloves. If you do not have access to fresh parsley leaves you can always use a teaspoon of dried parsley leaves Add a generous drizzle of olive oil and blend it with a hand blender to form vinaigrette . If you have a small blender you can use that.
4. Spread the vinaigrette over the bread slices and keep them on a baking sheet. Put one end of bread on the other with vinaigrette in the center like a sandwich.
5. Carefully roll your bread with some aluminium foil , place it on your baking sheet and pop it in your preheated oven for 10 minutes until the vinaigrette is well absorbed by the bread.
6. After ten minutes of baking, remove the bread from oven and unwrap the aluminium foil and spread the foil on the tray. Place the bread slices on the tray, vinaigrette side up. Top it with some mozzarella cheese. I used the chili marinated mozzarella so it looks reddish. You can use any. Season it with some salt and pepper and sprinkle generous shavings of parmesan cheese.
7. Return the baking tray with bread into the oven for another 10 to 15 minutes until you see the cheese has melted and and its bubbly.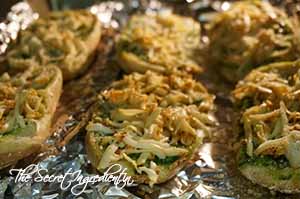 Enjoy it as a party snack or as a side dish with food of your choice.
[yumprint-recipe id='1′] [whohit]garlicBread[/whohit]