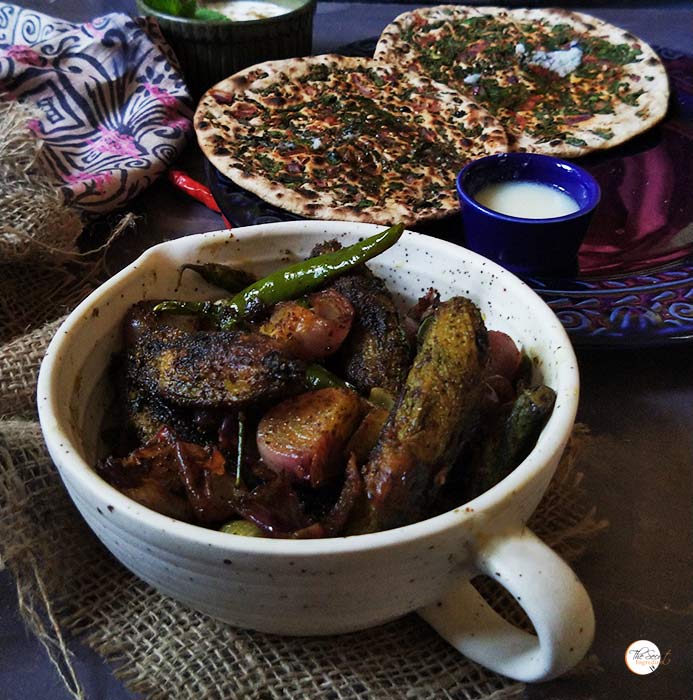 Year 2014: Bharwan Karela also known as Stuffed Bitter Gourd is a specialty from the state of Punjab. When I married a Pahari, i.e. some one from hills, my Mother-in-law told me that her son hates karela and a few more vegetables. Everytime she makes them at home he makes faces and finds something else to eat. I took the challenge and when I made them he instantly fell in love with them. It was one of the biggest changeover my Mom in Law saw in her son after our marriage. She would jokingly tease him "biwi ne banaya tou kha liya, ma kay haath ka pasand nahin". 😛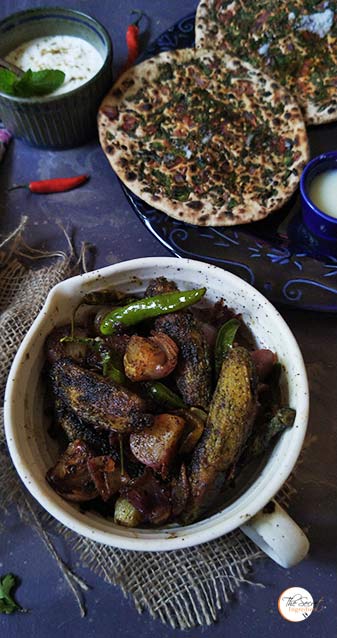 While we were in Mexico we literally craved for karelas as you get them only in few particular markets. When India happened it was first on my to do list. At least one thing is clear if you crave or something or something or is not available in abundance you realise its importance. Never take anything in life for granted. Count your blessing, fill your heart with gratitude.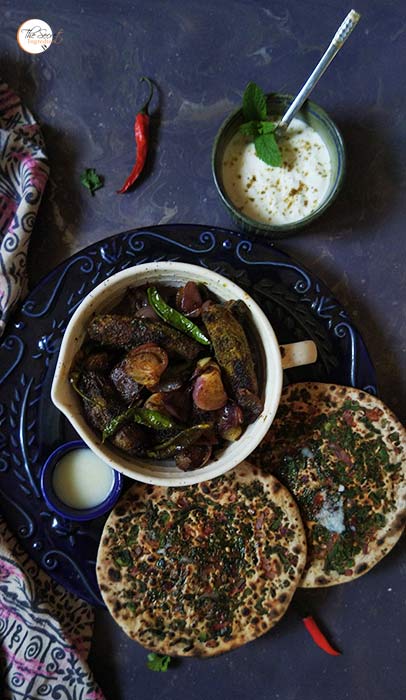 Update: Now 2020: Fast forward many years when I decided to upload better pictures. With God's grace and your love it is still one of the most visited recipe on my blog and those who have tried it vouch for it. I have also tried a recipe of karela with Dahi or plain yogurt. You should also try that.
Directions:
1. Wash and peel off the skin of karela with a peeler. Do not forget to cut off the tail from both the ends. My mother uses even the peeled skin to cook sometime but I am not trying this. Update: I tried using the karela peels and the results were amazing. Will share the recipe soon.
2. Cut open the Karela from one end vertically so that you can stuff in the spices. Use the sharp corner of the knife to make this slit.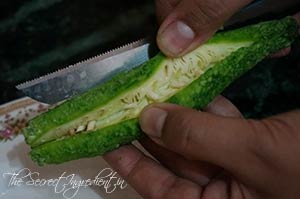 3. Now carefully with the help of a peeler scoop out the pith and the seeds. I read somewhere that the seeds of medium and big sized karela are toxic so should not be used. It is better to get small size baby karelas which are soft and tender from inside and are perfect for making this recipe. But if you can not lay your hands like me use the readily available medium sized karela.
4. Now you have to evenly scrub the karela with a generous quantity of salt, both inside as well outside. This is done to take out the bitterness out of the karela.
5. Let the karela coated with salt rest for three to four hours or overnight is best.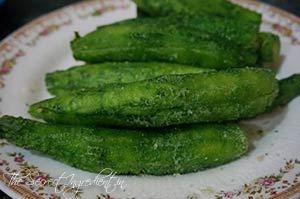 6. After that squeeze the karela with your hand to remove the bitter water. Throw the water away and reserve the karela.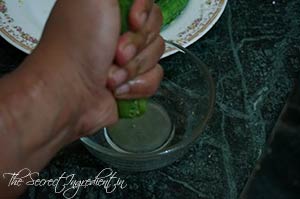 7. Wash them thoroughly and squeeze out the extra water and pat dry with a kitchen towel. Keep them aside.

8. In a bowl add Salt, Turmeric, Garam masala, Coriander powder, Amchur, Asafoetida , Sambar Powder, Chana Masala and Red Chili Powder and mix them evenly for the filling.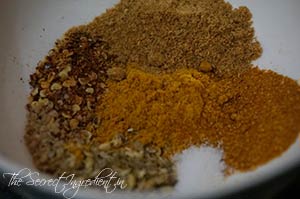 9. Fill the dry karela with spoonful of spice mix and keep them aside.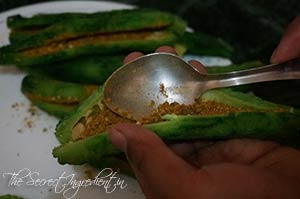 10. In a wok or karahi, preferably a cast iron karahi pour mustard oil. Bharwan Karela taste best in Mustard Oil but if you like you can use even Vegetable Oil. If some spice mix remains reserve it and if you fall short of masala for the size of karela you have to make little more 🙁 I hate doing this.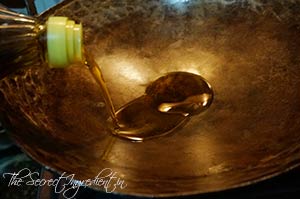 11. After the oil has heated scorchingly well (if that is any word :P) and you can see the smoke coming out that is when you put the spice stuffed karela for frying. If you have any left over spice mix you can put it on top now.
12. Toss them for five minutes and then cover with a steel plate or lid and press tightly with a kitchen towel. Let them cook on medium flame.

13. After every five to seven minutes open the lid and turn the sides of karela to cook evenly.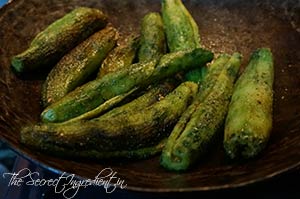 14. The karela will obtain dark brown colour after around fifteen minutes. Ensure you keep turning sides and cook evenly for they will burn.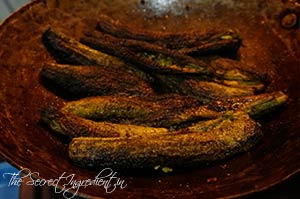 15. Remove the karelas in a serving platter and with the left over oil in the same wok or karahi add halved onions and green chili if you like. I added the chilies later.
16. The onions will absorb the taste of karela from the burnt oil. Trust me they taste heavenly. My husband always requests extra onions everytime.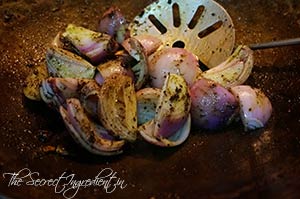 17. Cover the onions with the lid like earlier and cook for couple of minutes.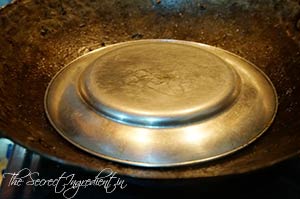 18. This is how they look, purely divine. And look I did add green chilies I wasn't lying.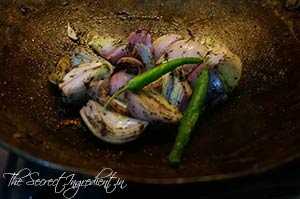 19. Mix them with the karela and Serve hot with Chappatis.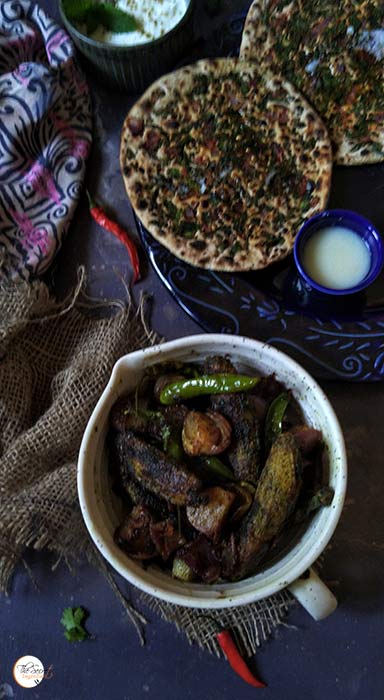 Other recipes you can try from Punjabi Cuisine : Dal Makhni, Butter Chicken, Vadi Toriyan, Bharwan Tinda, Punjabi Shalgam ka saag, Palak Paneer, Pindi Chole, Langar wali Dal, Baigan ka Bhartha, Kadda Prasad.
[yumprint-recipe id='15']