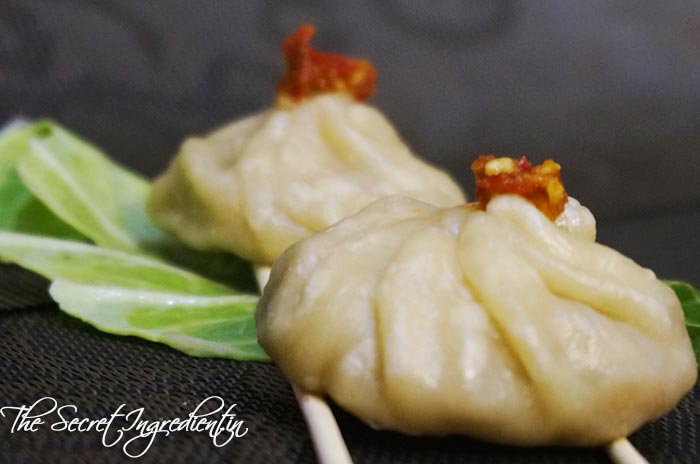 Momos is a type of dumpling native to Bhutan, Nepal and Tibet. Similar type of dumplings are found in various other countries. This is the most popular form of fast food or street food found in India. It is fondly devoured with a very spicy salsa called as Szechuan Sauce.
These momos can be made with filling of all sorts ranging from meat to chicken to vegetables to cheese and even khoya, milk solids. They can be steamed for fried. In this recipe I used vegetables and mushrooms and then steamed them. You can make any filling combo of your choice. Generally, the vegetables are not precooked before stuffing them in therefore, great care has to be taken to wash them thoroughly before chopping and stuffing them.
Directions:
1. In a bowl combine All purpose flour and salt.
2. Add oil and little water and knead it into a soft dough ball.
3. Cover the bowl with a cling wrap or kitchen towel and let it rest for 30 minutes till you make the filling.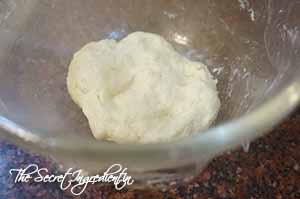 4. Chop mushrooms finely. I used canned which are already pre-cooked. You can use fresh mushrooms and saute them in little oil for a couple of minutes.
5. Separate a few leaves of cabbage from the root and wash them thoroughly. Chop them finely using a chopper or you can even use a knife or grater.
6. Put the chopped mushrooms and cabbage in a bowl. Also add minced ginger.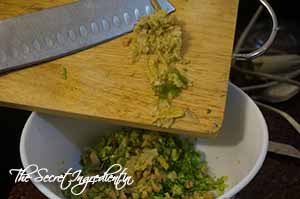 7. Add chopped carrots to the bowl and mix.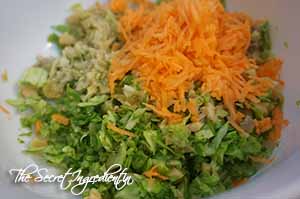 8. Add soya sauce.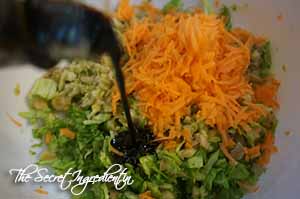 9. Add Szechuan Sauce. You can get the recipe of homemade Szechuan Sauce here.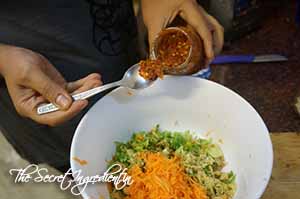 10. Add Salt and black pepper powder to taste, combine all the ingredients and keep aside.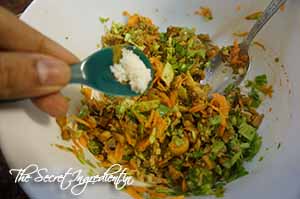 11. In a steamer put water for boiling and place a greased perforated plate or sieve for steam to escape. You can do the same with an Idli stand as well. Cover with a lid and let the water boil.
12. In the meanwhile divide the dough into 20 equal sized balls. Keep them covered until you roll them.
13. Roll them into thin small size circles using dry flour.
14. Place on top spoonful of filling. Apply water at the ends and gather the edges in the center and pinch in the center to seal. If you have extra dough on the top, you can remove that. You can choose to make any shape you desire.
15. Arrange the momos for steaming on the greased perforated plate in a single layer and cover with a lid. Do not crowd the momos. You can do it in batches.
16. Steam them for 10-12 minutes and serve them hot with Szechuan Sauce.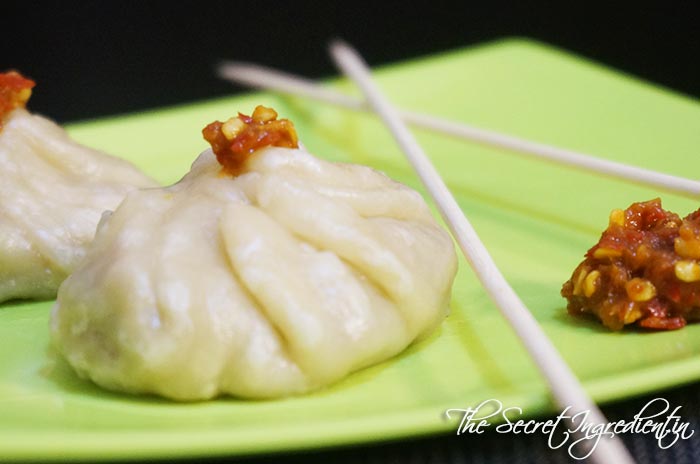 [yumprint-recipe id='52']