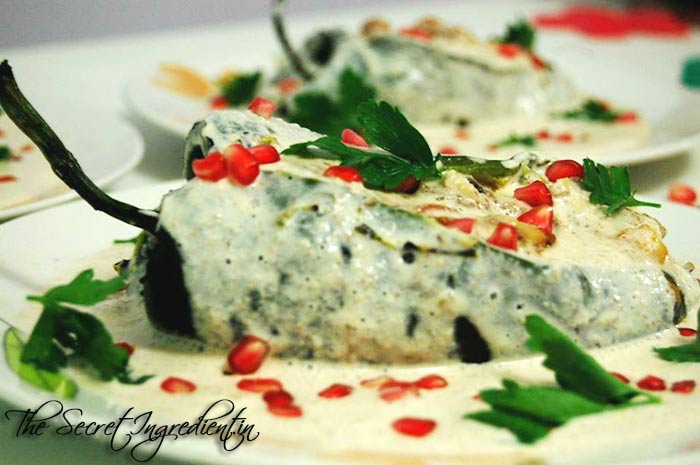 Chilies en Nogada is a dish from Mexican Cuisine, made from milder variety of Chilies known as Chili Poblano. The Chilies are stuffed with filling made from meat and fruits and walnut sauce is poured on top. Therefore, the term Nogada comes from Nogal which in Spanish means Walnut Tree. This dish has a historical significance and is made in and around the day of Mexican Independence, 16th September, which is right around the corner and that is when Pomegranates appear in the markets of Central Mexico. Significantly, it uses the three colours of Mexican Flag; Red, White and Green.
Traditionally, Chilies en Nogada is from the State of Puebla. During our three year stay in Mexico we visited Puebla many times and our friends introduced us to this delicious delicacy on our trip to Tepotzotlan. We fell in love with its flavour so much that I decided to learn how to cook this before returning to my homeland. Thanks to youtube, google and my friends in Mexico who guided me to perfect this recipe. On one occasions I invited a Mexican friend for dinner and served Chilies en Nogada. She was so surprised and happy that it tasted just the way they serve in restaurants. Today, I share this recipe with you as a tribute to my Son's Country: Mexico on its day of Independence. Viva Mexico!
Directions:
1. Wash and pat dry Chili Poblano and peel its skin. Learn How to roast and peel Chili Poblano. Make a slit in length from the side till the bottom and gently remove all the seeds. Keep aside.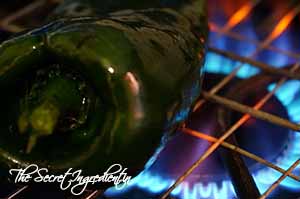 2. Soak walnuts in milk for overnight or at least 3 to 4 hours to make a smooth paste.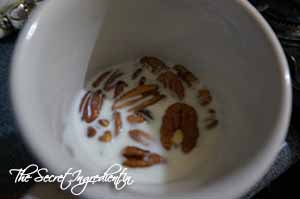 3. Peel the skin of Pear, Apple and Banana and chop them in cubes. Keep aside.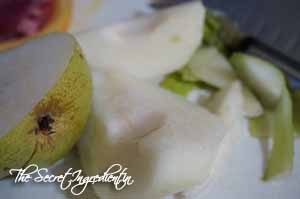 4. In a skillet add some oil and saute some onions till they become translucent.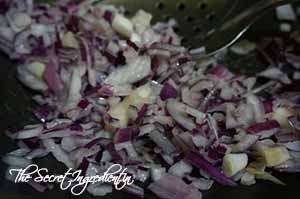 5. Add ground or finely chopped meat. Traditionally they use pork and beef but I used lamb. Cook it till it gets some colour.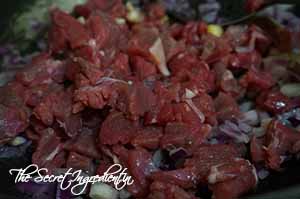 6. Add chopped tomatoes, banana, apple and pear.
7. When the meat and fruits are cooked add raisins and ground almonds. You can also add candied pineapples. I did not have any so I skipped.
8. Add a pinch of ground cinnamon, salt, sugar and ground black pepper. Cook till the mixture is coarse and appropriate for stuffing.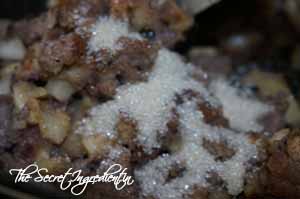 9. For the sauce add soaked walnuts in a blender along with milk, fresh cream, goat cheese and cream cheese. I added simply cream cheese. Also add sugar and pinch of white pepper. Run it together to make a very fine sauce.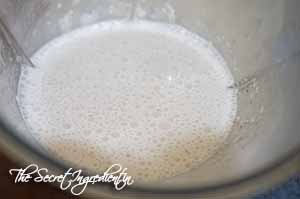 10. Stuff the Poblano Chilies with Stuffing using a spoon and place them in a serving plate.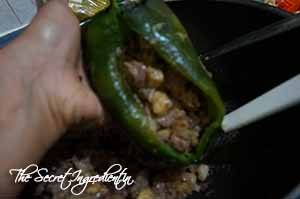 11. Pour on top the walnut sauce to cover the chilies and sprinkle some parsley leaves along with pomegranate seeds.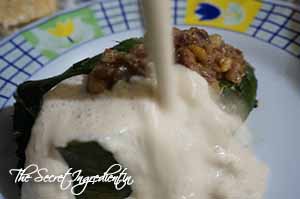 Serve at room temperature.
You can even try other dishes from Mexican Cuisine like Guacamole, Sopa de Frijol-Red Kidney Bean Soup, Huevos en Cazuela-Casserole Eggs.
[whohit]ChilesEnNogada[/whohit]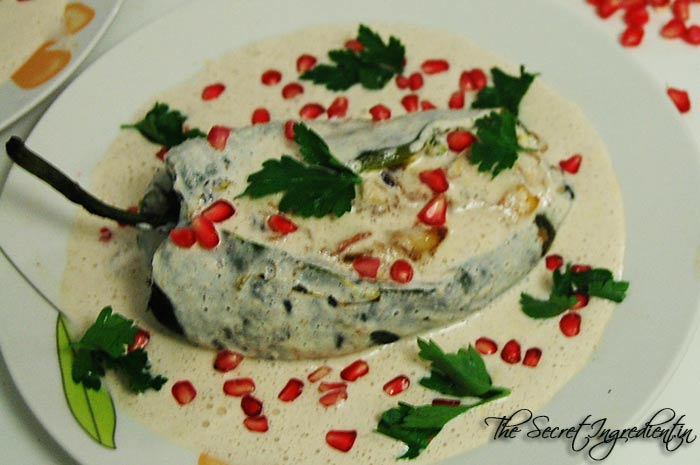 [yumprint-recipe id='54']