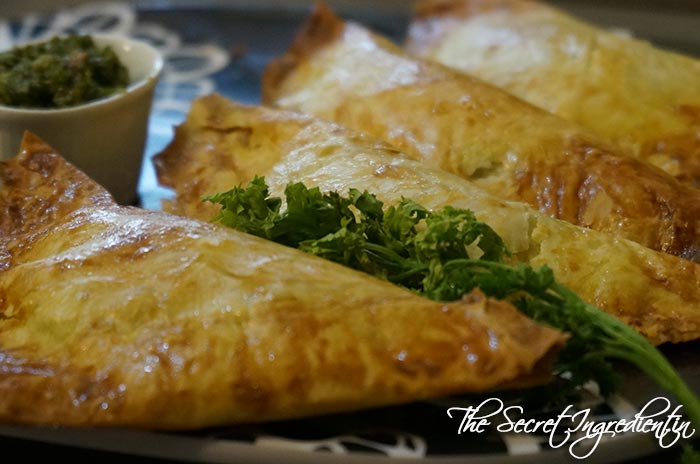 I love Aloo Patty. This love began when I was in School. My school canteen used to sell Stuffed potato pastries or as we North Indians call it Aloo Patty (How Funny! Patty is the croquettes or tikki inside a burger but we call them as patty). Anyways! That patty was and is the best I have ever tasted in my life. There are soo many wonderful memories woven around patties, canteen and my lovely school. I miss every thing about my school. This year my School celebrated its Golden Anniversary. I feel so proud to be part of St. Joseph's Convent School and thankful for making me what I am today. I dedicate this post to my School :).
Ohh Lord! Patties can make me soo nostalgic. I almost lost track of this post 🙂 Coming back to the topic, you can make a lot of things with phyllo pastry and that too in a jiffy specially when some unannounced guests come over. I always kept some in my freezer in Mexico here in India I have to make an effort to procure them. But I still retain my stock in freezer. I recently conquered making Turkish Börek with feta cheese and spinach. And with leftover Phyllo I made aloo patty for my sheer love for them.
Directions:
1. Take phyllo sheets out from the freezer and thaw them. You can keep them in fridge overnight or put them on the counter for few hours so that they get ready for use. Chop some onions and green chilies. Set aside.
2. Wash & Boil potatoes and peel their skin. Put them in a bowl and mash them using a potato masher or with fork or even your hands.
3. Add oil in a pan and add chopped onions and green chilies. Saute them till the onions become translucent and tender.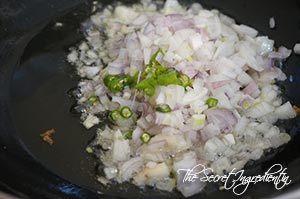 4. Add Mashed potatoes to the pan and mix them with onions.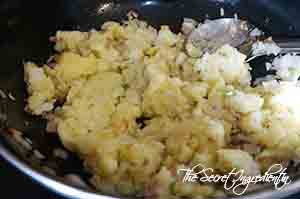 5. Add salt, Turmeric Powder and Red Chili Powder. Combine them.
6. Add amchur and also mix.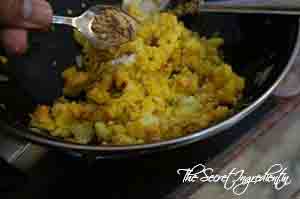 7. Add chopped Coriander leaves and Garam Masala. Mix together. Your stuffing is ready. Keep aside to cool down.
8. Melt butter in a bowl. Preheat the oven on 180 degree Celsius (Learn more about Oven Temperatures and Conversions)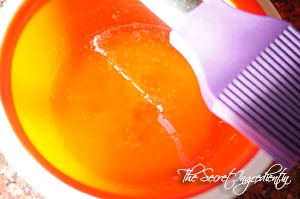 9. Now unfold the thawed phyllo sheets on a dry surface. In order to avoid their drying up, place on top a damp kitchen towel. Always ensure to take out the sheet you are working with and cover rest of them.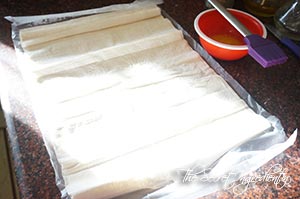 10. Take 3-5 sheets of Phyllo sheets, one on top of each other and divide it into equal sized six squares using a sharp knife or pastry cutter. You need to be careful with it. Try not to tear the sheet.
11. Take one set of square and butter all layers with butter.
12. Put one spoon of stuffing and place it in the center of the square.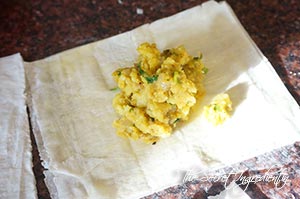 13. In a small bowl break one egg and add few spoons of milk and whisk together to make egg wash.
14. Apply this egg wash on all four sides of the pastry sheet using a pastry brush.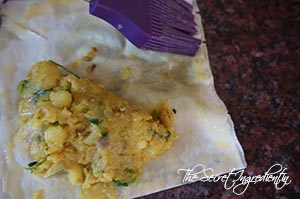 15. Take one tip of the pastry and fold it making a triangle.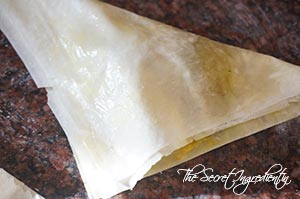 16. With the help of a fork seal the sides of the triangle by pressing it down.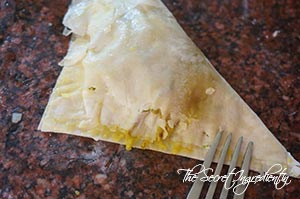 17. Cover a baking sheet with aluminium foil or parchment paper and brush it with oil so that patties do not stick to the bottom.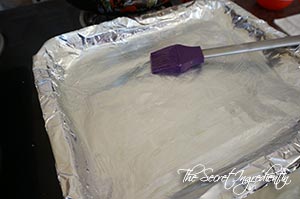 18. Place the stuffed patties on greased baking sheet.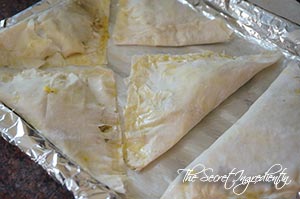 19. Brush the top with egg wash.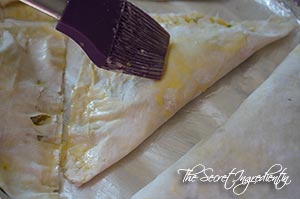 20. Bake for 15-18 minutes on preheated oven till the crust has turned golden brown. Serve hot with simple Ketchup and or Pudina Chutney or Chimichurri Sauce or Spinach Coriander Chutney.
You can even try other recipes made with Phyllo Pastry like Turkish Börek.
[whohit]AlooPatty[/whohit]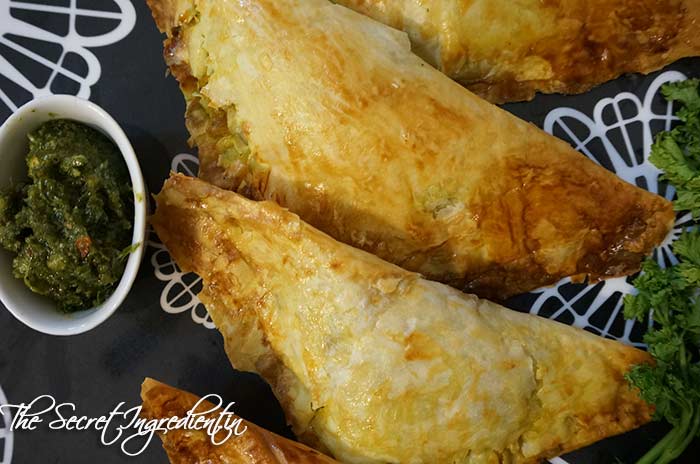 [yumprint-recipe id='76']