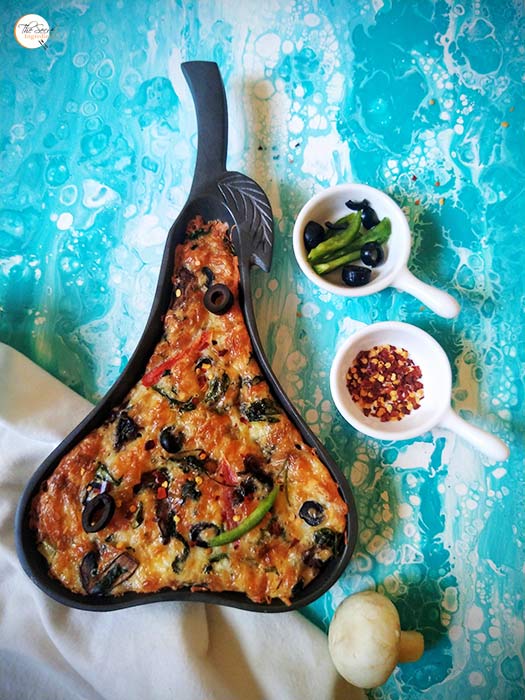 I had never tasted Frittata until one night I saw a chef preparing it on a show featuring on TLC. I was smitten by it in its very first sight. It looked simply irresistible. It was almost time for dinner and me and my husband were still wondering what to eat. And then we decided we will make frittata. Although its a breakfast dish but nothing stopped us from having it for dinner. I chopped some mushrooms, bell pepper and Olives and soon we were sitting with Frittata on our dinner table. It was oh sooo delicious!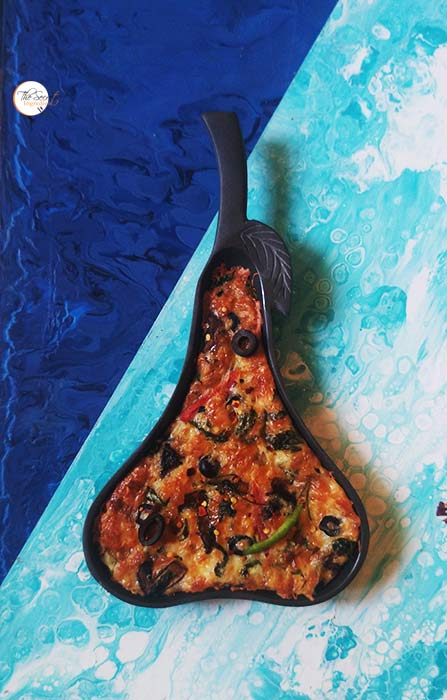 Frittata is similar to Omelette but still quite distinct. Its cooked like Omelette but for a longer time and then baked on setting. It is somewhat a crustless Quiche. It originated in Italy but many counties have similar egg dishes in their cuisine. It literally means 'Fried'. It is usually divided into slices and eaten hot or cold and even accompanied with a bowl of salad, or beans or bread. You can add anything of your choice along with eggs like mushroom, spinach, bell pepper, feta cheese, beacon, sausage etc. And since egg is the main component in this dish its important to use good quality eggs like Eggee. The frittata came out pillowy soft. The taste, the softness was incredible.
Directions:
1. Pre-heat oven to 375 degrees F (Learn more about Oven temperatures and Conversions). Chop some mushrooms,capsicum, zucchini, fresh leaves of spinach, previously washed. Thinly slice yellow bell pepper and Olives. Keep aside.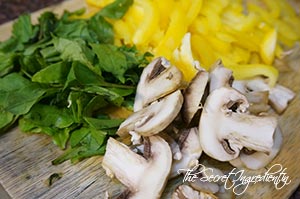 2. Add little oil in an iron skillet, which you can bake it in oven. Add mushrooms and saute them until little brown.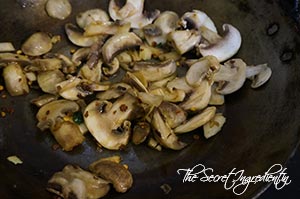 3. Add bell pepper and saute till its soft yet still crisp.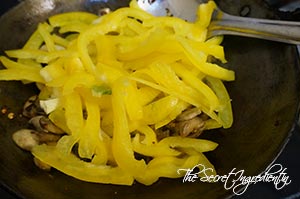 4. Add chopped spinach.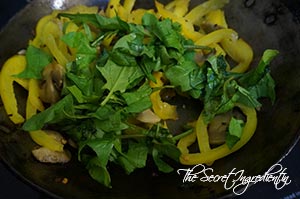 5. Grate Parmesan Cheese and Cheddar Cheese and keep aside.

6. Whisk four eggs in a jar. Season with salt and pepper. Also add red chili flakes if you like it little hot. Pour it over the sauteed vegetables in the baking dish.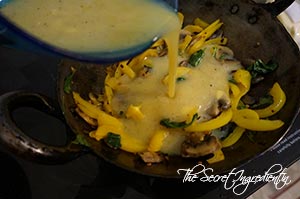 7. Sprinkle on top grated cheese and spread the sliced olives.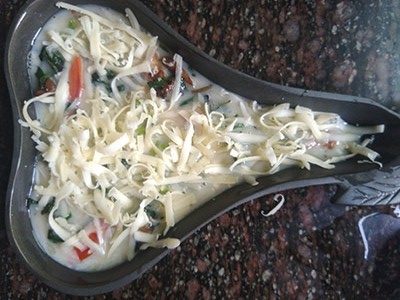 8. Let it keep cooking undisturbed for 5-7 minutes or until the bottom of the eggs is set. Transfer to a preheated oven and bake for 25 to 30 minutes until brown and everything comes together and nothing remains runny. Run a heat proof silicon spatula under the frittata to ease removing it from the baking dish. Serve hot.
You can even try Mushroom and Spinach Quiche, Wrapped French Toast or Mexican Casserole Eggs, Apple & Cinnamon Pan Cakes , Bird's Nest Breakfast Cups Recipe, Blueberry Buttermilk Pan Cakes, Eggless Walnut Pan Cakes , Fried Egg Over Polenta with Homemade Basil Pesto Recipe,Halloween Special Pumpkin Puree Pancakes , Quick Rava Idli , Rava Pizza Bread, Shahi Poha, Shakshouka ,Soya Veggie Vermicelli for Breakfast.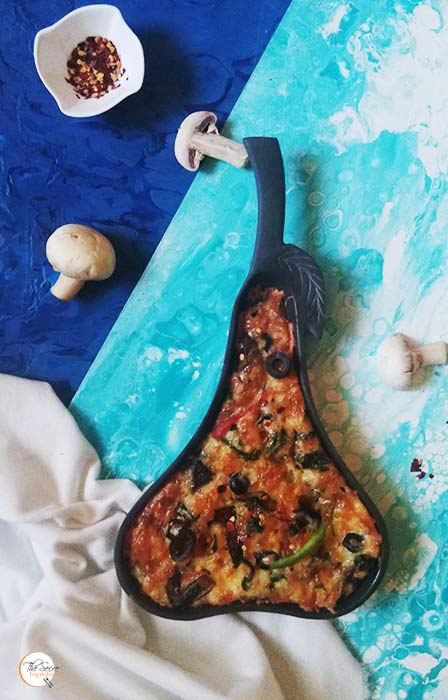 [yumprint-recipe id='77']