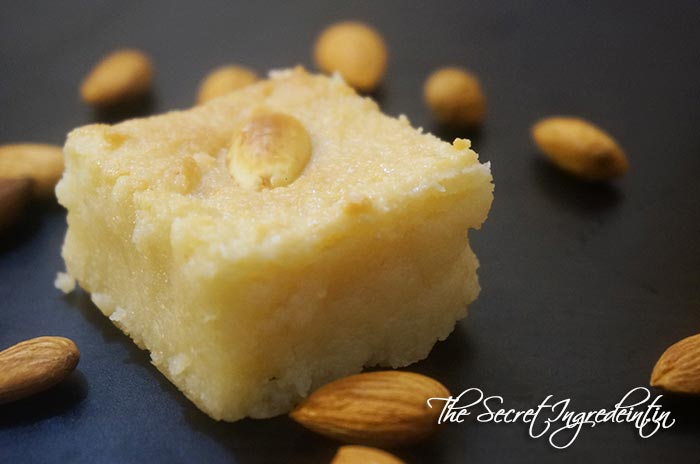 Basbousa is traditional Somali or Arabic Dessert. It is very popular in Eastern Mediterranean Countries like Turkey, Arabia, Greece, etc. It is known with many names like Ravani, Revani, Hareesa, Manmaura, Shamali. It is made with semolina and soaked with sugar syrup which is flavoured in orange blossom water or rose syrup.
I found this recipe on Chef at Large and instantly I decided I am making it . It came out delicious and my little baby eat with pleasure.
Directions:
1. In a large bowl Semolina and Coconut Powder.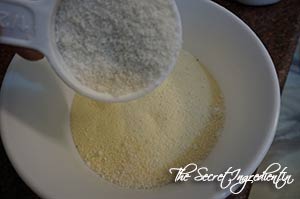 2. Add castor sugar and baking powder.
3. Add melted butter, vanilla extract and sugar syrup.
4. Mix together using a spatula.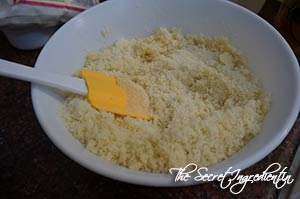 5. Add milk little by little and keep stirring so that no lumps are formed.
6. Put it in a greased baking dish and level it up. Leave it in fridge for 2-3 hours covered. Overnight is best.
7. In a pan add water and boil. Add almonds to blanch them for 5-7 minutes. Remove the peel and cut them into two halves.
8. After 2-3 hours preheat the oven on 200 degree Celsius. Lightly mark the batter with knife into 3cm square and place a blanched almond in the center of the square. bake it for 15-20 minutes or until the toothpick inserted comes out clean.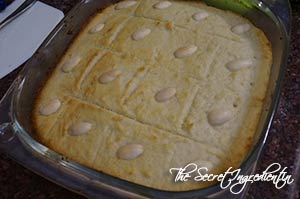 9. Cut it into squares using a knife. And bake again for another 10-15 minutes or until the crust is slightly golden brown and the cake begins to leave the sides.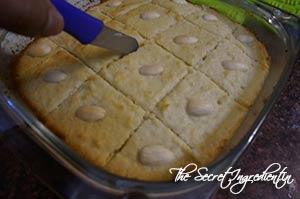 10. For the sugar syrup add water in a saucepan.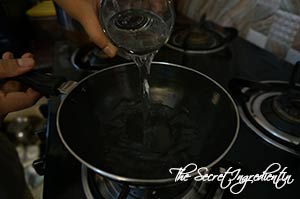 11. Add sugar and bring the water to a boil. Let the super dissolve.
12. Add Lemon Juice and and boil for another 5 minutes. As the syrup cools down add orange blossom water and rose water. Stir together.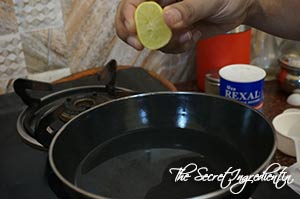 13. Pour the hot syrup on the baked cake and let the cake absorb the entire syrup.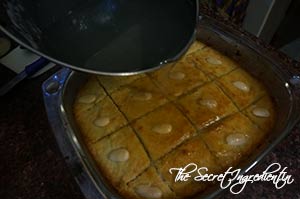 14. Allow the cake to cool down completely and serve the cake. You can store and refrigerate for couple of days.
You can try other eggless cakes like Almond Vanilla Eggless Cake and Wacky Vegan Chocolate Cake.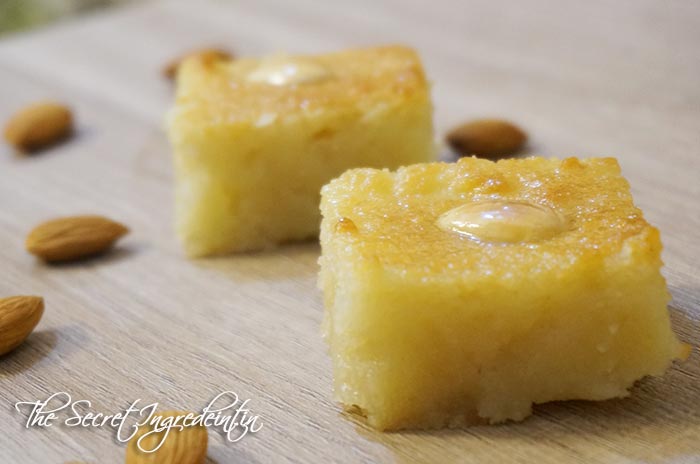 [whohit]Basbousa[/whohit]
[yumprint-recipe id='92']