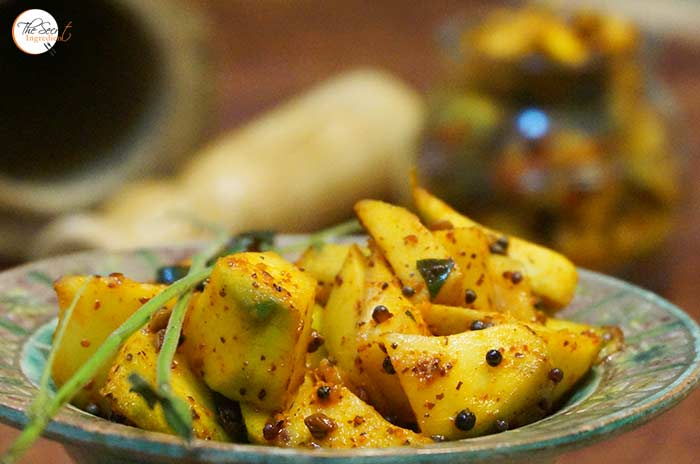 Last week I spoke to my parents and they sounded very low. On asking the reason they said 6 buckets of raw mango fell down from our mango tree after a fierce storm. They were distributing them to our neighbors, friends and family. I told them my friend is visiting us the following day and they were suddenly excited. I knew what this excitement was all about. When my friend came she brought in about 10 kgs of raw mangoes along with other produce. So after she left I am busy utilising the raw mangoes. I finished making Raw Mango Chutney, this South Indian Achaar and Aam Panna is on cards!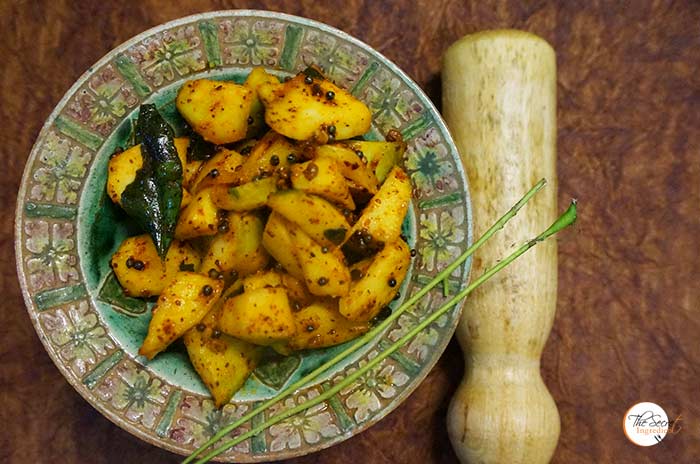 The beauty of this pickle is that it takes absolutely no time to put it together. My friend Sonu posted this recipe sometime back and I knew it then and there that I will be making this. Not to mention even my Mommy made this pickle! My husband who is not very fond of pickles could not resist eating this. We love this specially with Curd Rice.
Directions:
1. Wash and peel raw mangoes.
3. Chop them into small pieces eliminating the seed inside.
3. Add salt and mix well. Let it sit for an hour undisturbed in a colander until the juices run out. Squeeze out extra water. Set aside.
4. Add
mustard seeds
and Fenugreek seeds in handy mortar and pestle and coarsely grind them. You can even use a dry grinder or coffee grinder for this purpose. Keep aside.
5. In a wok add some mustard oil.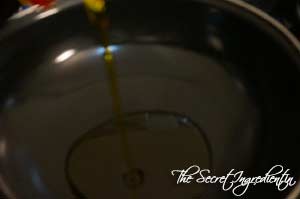 6. Add mustard seeds and let them crackle.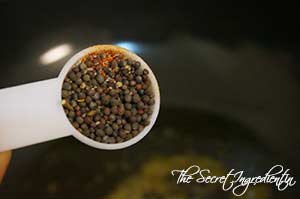 7. Add kaddhi Patta and coarsely ground mustard and fenugreek seed mix.
8. Add Red Chili Powder, Asafoetida and little Salt. Rememeber the mangoes are already salty.
9. Turn the flame off and add the raw mangoes. Mix thoroughly until the spices are well coated on mangoes.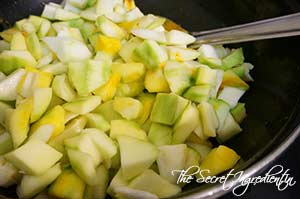 10. Let the pickle cool down completely then transfer it to a glass container and refrigerate and enjoy with your favourite meal. This stays good for 4-5 days.
You can try this pickle with Curd Rice. You can even make Bharwan Lal Mirch ka Achar.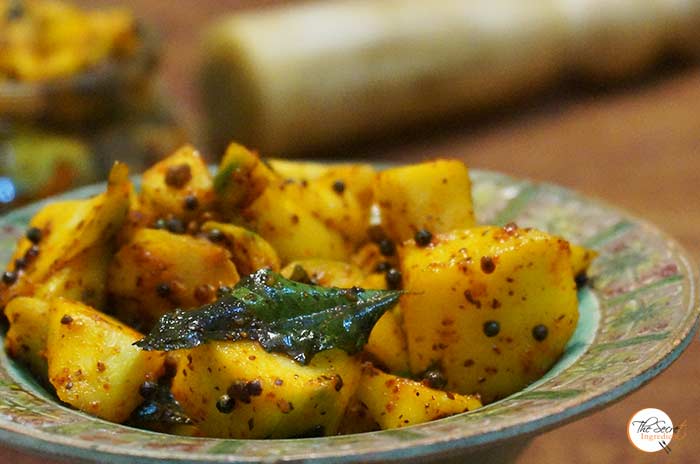 [whohit]InstantMangoPickleSouthIndianStyle[/whohit]
[yumprint-recipe id='131′]