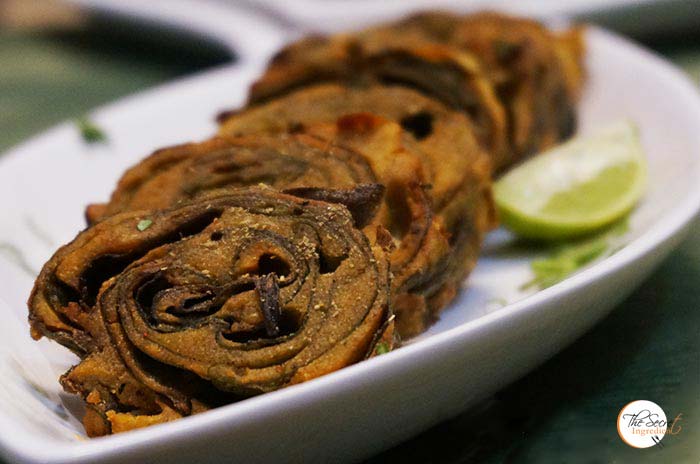 I first ate Arbi Ke Patte Ke Patode when my friend brought this in office during lunch. I relished its taste so much that the memory stayed fresh in my mind in spite of all these years. Then the other day my maid asked me if I use colocassia leaves or arbi k patte for cooking. I felt overwhelmed on hearing this and said yes yes!! She brought me some the next day from someone's abandoned farm (my meaner self says I don't mind ;))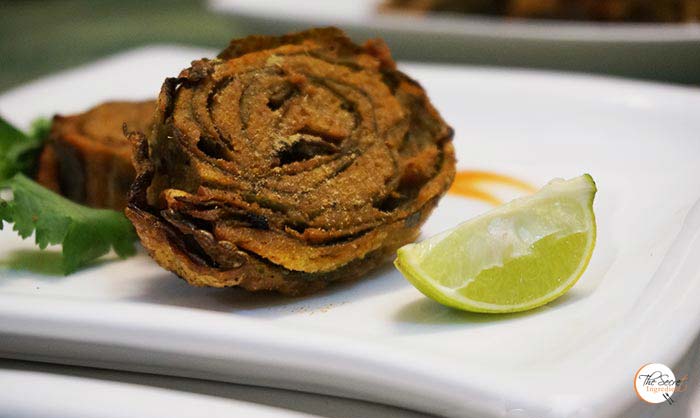 I called my friend and quickly asked her the recipe. I planned to make this for evening snacks. My husband seemed not so excited and the idea sounded weird to him. Its a normal phenomena with him, things he hasn't tried he doesn't trust. When I finished making them he couldn't stop eating them. Infact my little boy also ate couple of them. What a bliss it was 🙂
They are made in many ways in different part of India and known by various names. In Maharashtra its known as Alu Wadi, in Gujarat it is known as Patra, in North India it is known as Arbi Ke Patore or Patode.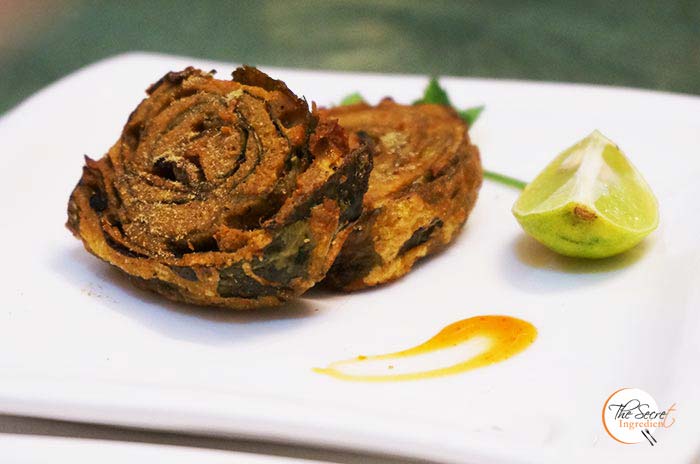 Directions:
1. Select the softest and youngest leaves, they taste the best. I had no option of selecting.. you see beggars are not choosers 😛 Cut the central stem and remove the hard membranes using a knife.
2. Wash them thoroughly and pat dry with a kitchen towel. Set aside.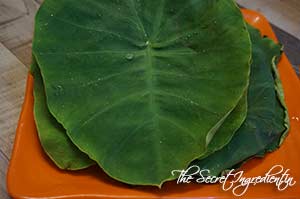 3. In a bowl add besan or chickpea flour. Also add salt and red chili powder.
4. Also add Coriander powder, Amchur and Cumin Powder.
5. Add Ginger Garlic paste.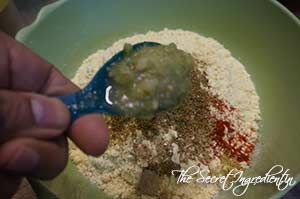 6. Add a little water and make a paste. Do not add all water at once, add little by little and keep stirring to make a lump free batter. The batter should not be thick nor runny. Just right.
7. Place one leaf on a flat surface. The glossy and smooth part facing down. Spread the batter generously on top .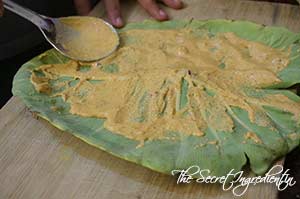 8. Place another leaf on top of it and keep doing this for 5-6 times. If you have large leaves you can stop after placing 4 leaves.

9. Fold the ends from both sides as depicted in the picture.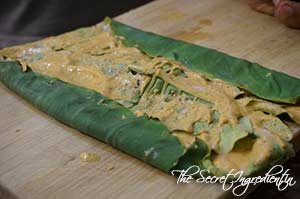 10. Now start rolling them from one end. Keep applying the batter in the inner side also.
11. Now repeat this with another set of leaves. And keep them ready to be steamed. Heat water in a vessel.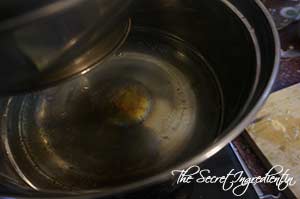 12. I placed the rolls on my dhokla stand. But you can use a wire mesh or steel plate with holes too.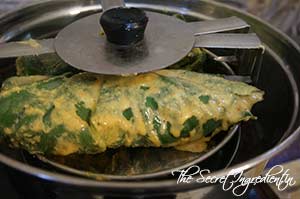 13. Cover with a lid and let it steam for 15 minutes on high heat.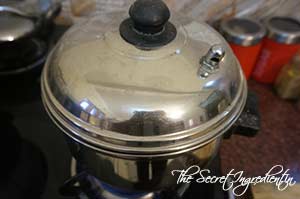 14. Once steamed they will look like this with all the batter steamed and non sticky.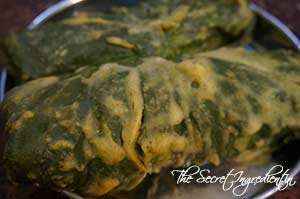 15. Let them cool down and come to room temperature. Now cut them into slices using a sharp knife. If you try cutting them while still hot they might break.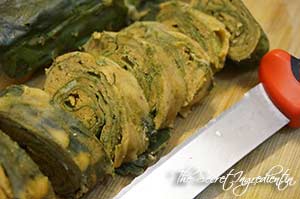 16. Heat oil in a wok or kadhai. and fry them for a minute on both sides till crisp and brown. The browner the crispier.
17. Remove them on a paper towel to absorb extra oil.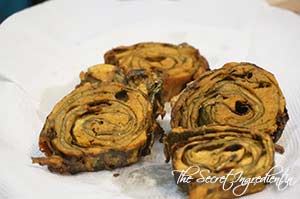 18. Sprinkle some chat masala on it and serve hot with lemon wedges and mint chutney.
You can try other snacks such as Roasted Rosemary Garlic Potatoes, Sabudana Wada, Healthy Kachalu Chaat.
Other Chutneys you can club with these snacks are Pudina Chutney, Coriander Spinach Chutney, Coriander Chutney without Onion Garlic.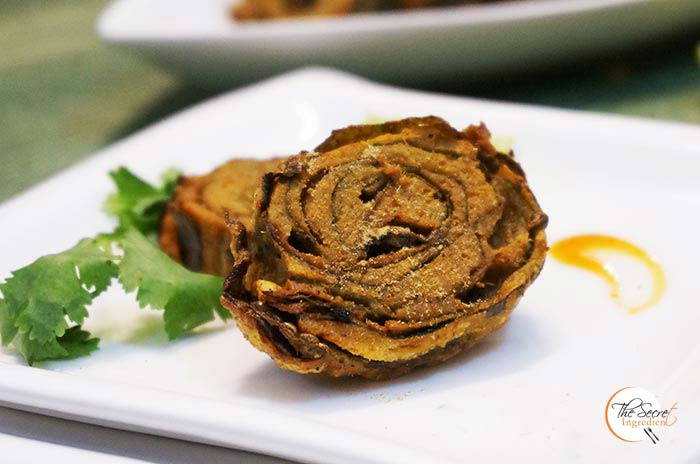 [whohit]ArbiKPatore[/whohit]
[yumprint-recipe id='132′]