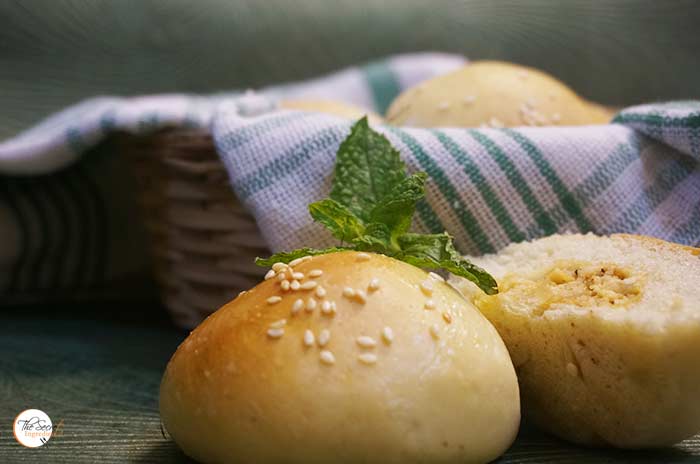 Usually when I bake my weekly bread at home I make two loafs. Its raining these days and the home made bread survives only 3 days so we have to ensure that we consume it within that time before it gets mouldy. Therefore, I bake one medium size loaf with half the dough and utilize the half to make different savouries and snacks for evening time tea. I make either pizzas or plain buns or sausage flower buns and cheese stuffed buns with the same dough.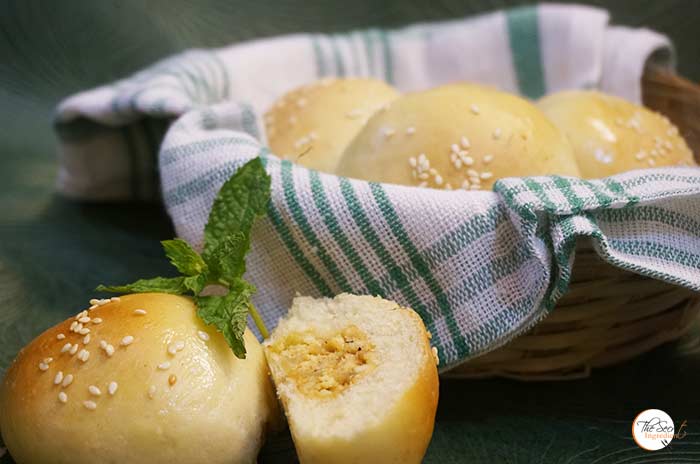 My husband loves these paneer stuffed buns and so does my father. Last when we went for picnic I baked these for my father and he greedily ate them. It was a sheer pleasure to watch my father relishing something in spite of the fact he is a picky eater.
Directions:
1. In a container take some lukewarm water. It should neither be hot nor cold, just hot enough to comfortably put your finger into it . The right temperature of the water is very important for yeast to activate. Put yeast into it.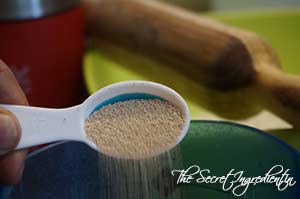 2. Along with yeast add some sugar.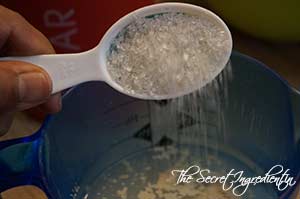 3. Give it a gentle stir with a fork and let the mixture sit and activate for 10 minutes or until you see some bubbles on top and mixture has become frothy and milky.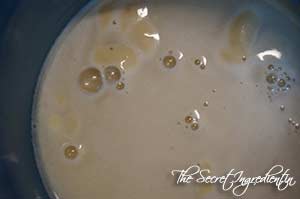 4. Take all purpose flour in a bowl and add salt and olive oil.
5. Add the proofed yeast to the flour little by little and mix till it comes together.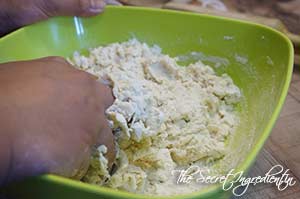 6. Bring the dough to a flat counter or your kitchen platform and knead for good 10 minutes till it becomes soft and supple. Read more about Bread baking techniques in "Basic Steps to Bake a Perfect Bread"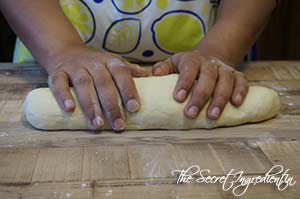 7. Transfer the dough to a greased bowl. And cover with a kitchen towel or cling wrap. Let it sit for an hour or so to double up in size.
8. Punch it down and deflate the dough. Knead for another 5-7 minutes.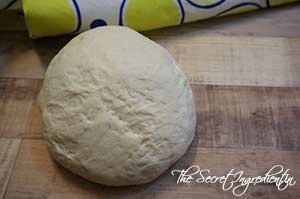 9. For the filling chop some onions, green chilies and fresh coriander leaves.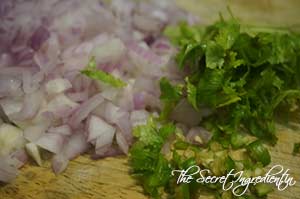 10. In a pan add some oil.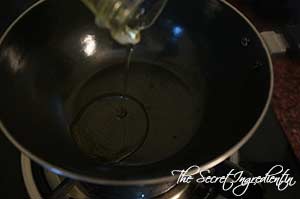 11. Add onions, green chilies and saute them till onions become soft and translucent.
12. Add crumbled paneer and mix with onions.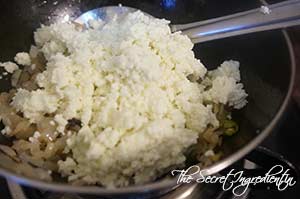 13. Add Salt, Red Chili Powder and Garam Masala.
14. Garnish with chopped green coriander leaves and turn the flame off. Let the filling cool down.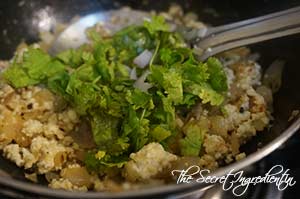 15. Divide the dough into 10 parts (I used half dough to make White Sandwich Bread). You can make the size bigger but its your choice. Roll them into small balls.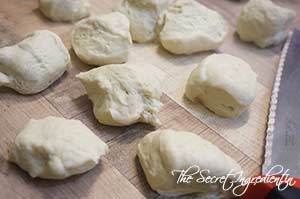 16. Roll each dough into small rotis using a roller pin. You can use dry flour to ease rolling.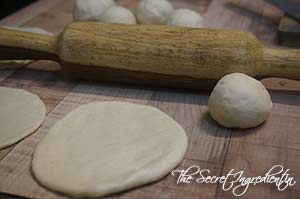 17. Place one table spoon Paneer mix in the centre of the rolled dough.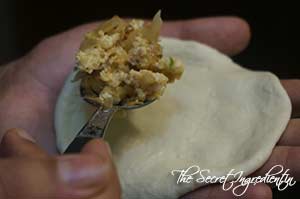 18. Pick the dough from the sides and close together to make a bag. Seal the edges and place on a greased baking sheet seam side down. Ensure there is ample distance between the buns, as they will expand on proofing and then on baking.
19. Cover the dough balls loosely with a kitchen towel and let them proof or expand for half an hour or so. Preheat your oven on 180 degree Celsius for 10 minutes. (Learn more about Oven temperatures and Conversions)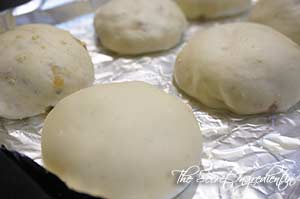 20. Brush them with milk and sprinkle some sesame seeds on top.
21. Bake it in the preheated oven for 20-25 minutes till the top gets slight golden colour. Do not bake beyond this time for your buns can get hard crust. As soon as they are out of Oven brush them with butter for that incredible shine and taste.
Few recipes you can try here are which uses yeast:
White Sandwich Bread, Vegetarian homemade Pizza, Russian Bublici, Whole Wheat Sandwich Bread, Chinese Black Sesame Steamed Buns, Cherry Focaccia Bread with Rosemary and Sea Salt, Rosemary Garlic Focaccia Bread, Cinnamon Raisin Bread, Beetroot Bread with Garlic and Thyme, Honey Oats Bread, Domino's Garlic Breadsticks.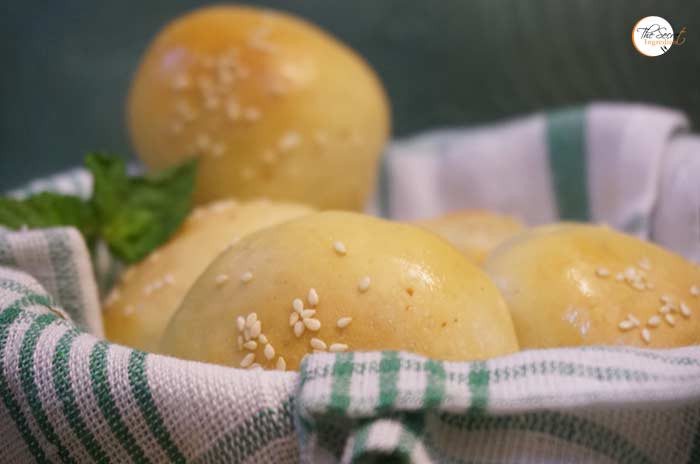 [whohit]CheeseBuns[/whohit]
[yumprint-recipe id='153′]