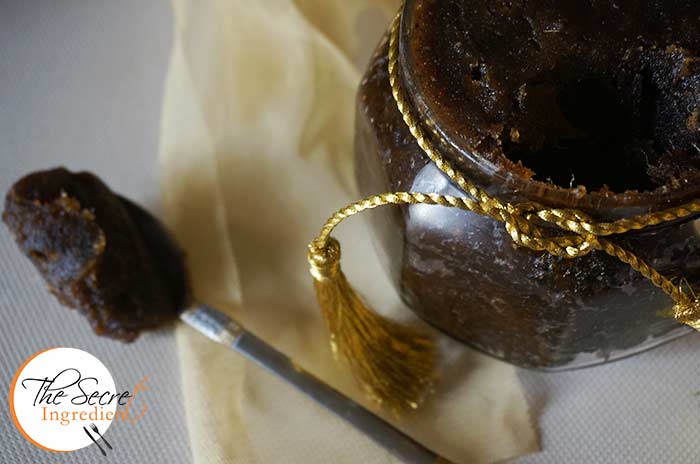 Chyawanprash also spelled as chyavanaprasha, chyavanaprash, chyavanaprasam is a jam like mixture of Indian Gooseberry or Amla, Jaggery and other herbs. Traditionally, it is prepared as per the instructions available in the Ayurvedic Texts. It is a comprehensive herbal tonic with wonderful health benefits. It promotes anti-aging and longevity. Apart from other benefits it also builds your immunity against cough and cold during thick winters. The original recipe calls for a lot of herbs and many of those I cant even pronounce the name 😉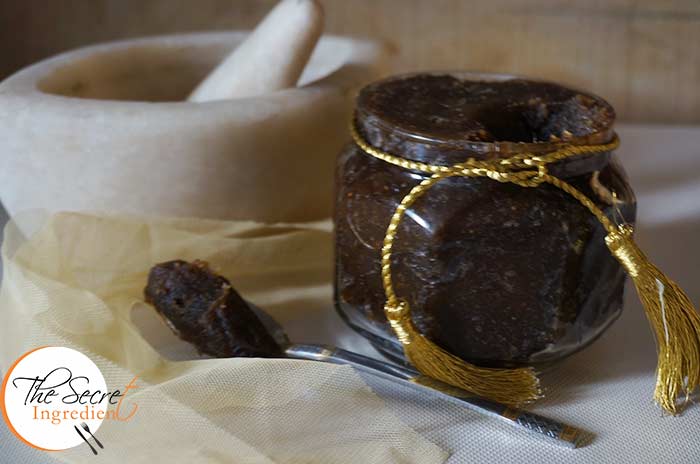 As a little girl my parents often fed me with a spoon full of Chyawanprash everyday with a glass of lukewarm milk. Honestly as a kid it was difficult to eat, as its flavour is a little too strong. My husband still makes faces 😛 But with age I realised its benefit. Its the most popular herbal tonic sold in India and even endorsed by a lot of film stars. Having said that I wanted to make own chyawanprash at home as you cannot trust what is inside that bottle and one day I found recipe posted by Alka Bhayana, a very sophisticated, warm and well respected women I have known over time through Facebook. Her recipe of Chyawanprash mesmerized me. It required a few basic ingredients which you can easily find at home. The very next day I brought home amlas and gave it a go. The chyawanprash was sooo delicious even my picky Big Boy (my husband) ate without a hitch and was gaga over it. He called his real mommy (thats my mother in law) and told her that he was a big boy and that he finally eats chyawanprash 😉
Truly even I loved the flavour of chyawanprash it may not have all 80 or more herbs but I know for sure whatever it has is pure, healthy and made with love. Thankyou Alka Mam, this post goes to you!
Directions:
1. Wash Amlas or Indian Gooseberry and pat them dry with your kitchen towel.
2. Arrange a pressure pan with a rack at its bottom and add amlas to it. Add water and close the lid. Boil the amlas for 2 whistles or 10 minutes on full pressure. Turn the flame off and let it sit in steam till the pressure is released.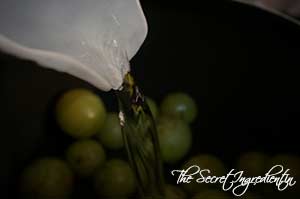 3. Drain the water and remove the pit. After they boil they become soft and you can easily remove the pit.
4. Put the pulp in a blender and make a smooth puree. You make use a spoon of water to ease grinding.
5. In a pan add some ghee or clarified butter. And add amla puree to the ghee. Keep sauteing for good ten minutes or until you see it leaves out the oil.
5. Add Jaggery or Gur to the amla puree. I decided to put a big chunk as it was soft. But incase your jaggery is hard as a rock, I would recommend you to break it into small pieces or make a powder.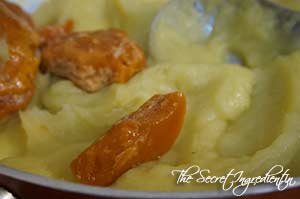 6. Add Honey. Keep sauteing till you achieve a thick, sticky, messy mass.
6. Take green cardamom, fennel seeds, whole black pepper, few strands of saffron and cinnamon in a dry grinder and make a powder .
7. Add ground spiced to the pan and mix well. Continue to cook for another 5 minutes till everything is well combined.
8. Let it cool down and transfer to an air tight jar. Eat a spoon full daily with a glass of milk and have a healthy, illness free winter.
Other healthy recipes you can try here are: Mexican Black Bean and Mango Salad, Couscous Chickpea Salad, Classic Russian Borsch Beetroot Soup.
[yumprint-recipe id='181′]