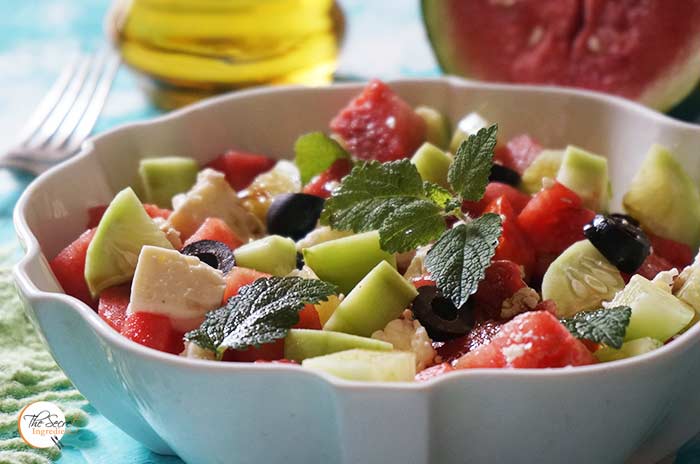 Come summers and I become so picky about my food. The gravies and rich curries make me nervous. Thanks to the fact that I live in hills, which are pleasant even in the summers. All I want to eat all summers is salad. Therefore, I keep trying new combinations which doesn't let me get bored. Summers also help me get rid of the winter fat I have picked up. If you are watching your weight and are looking for options I will be posting more such recipes and will also post links to the recipes I had done before.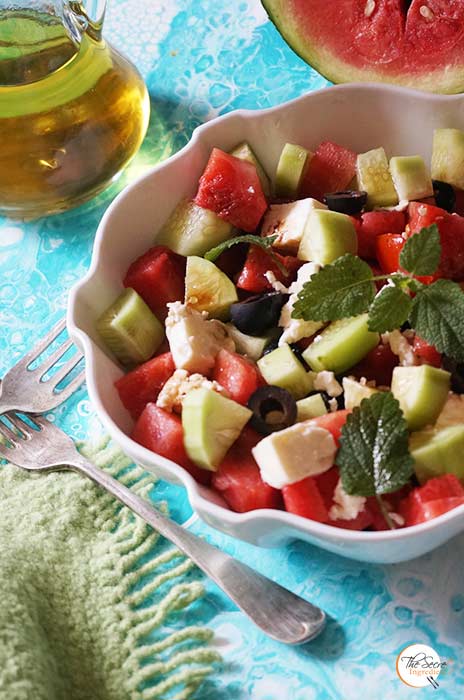 This time I got adventurous with this Watermelon and feta salad. Not to mention I almost chopped my finger while cutting the watermelon and there was blood all over 😛 This salad uses very few ingredients but makes bomb of a salad. The sweetness of watermelon marries the sourness of feta cheese and the crunchiness of fresh cucumber contrasts well with black olives. The dressing is just minimal imparting it a subtle naughtiness! If you have been hit by summer go for this salad and be easy on yourself. Not everything about summers is bad.. remember we have watermelons to brighten up our lives 🙂
Directions:
1. Chop ripe and fresh watermelon into bite size cubes. Also chop some Tomatoes into cubes. Place them in a salad bowl.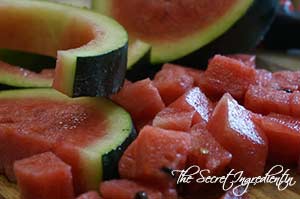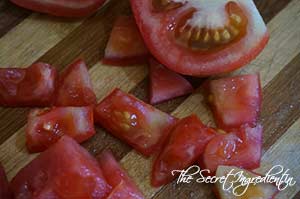 2. Add cubes of Feta cheese and slices of black olives. Peel a fresh Cucumber and chop it into cubes. Add them to the salad bowl. Add leaves of Fresh Mint.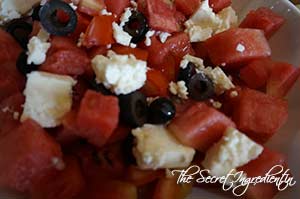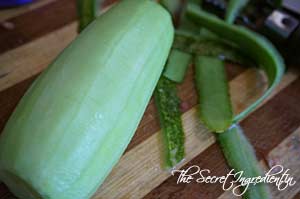 3. In a small bowl add olive oil and Balsamic Vinegar. Mix them well and pour over the salad.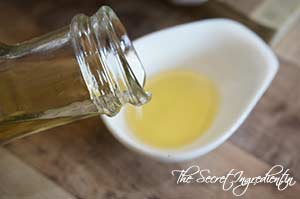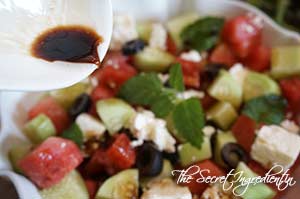 4. Serve and enjoy the bounty of summer.
Other Salad recipes you can try are: Thai Green Papaya Salad Recipe, Charred Peppers Salad with Anchovy White Beans, Couscous Salad with Chickpeas in Lemon Olive Oil Vinaigrette, Fresh Mexican Black Bean & Mango Salad, Sautéed Red Bell Pepper and Olive Pasta Salad, Sundried Tomatoes Pasta Salad, Grilled Chicken Salad, Indonesian Style Patni Red Rice Salad With Boiled Eggs in Pomegranate Molasses Sauce.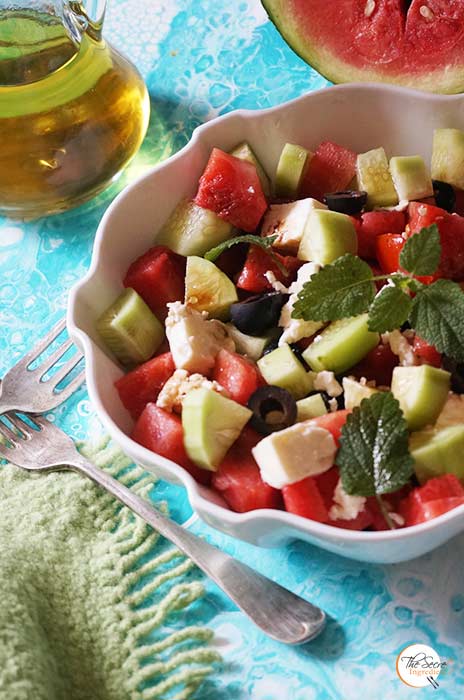 [whohit]WatermelonFetaSalad[/whohit]
[yumprint-recipe id='275′]