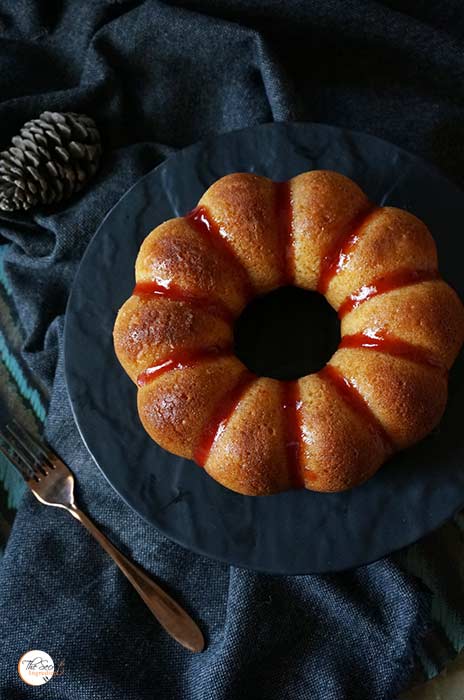 So I was going to meet my dear friend after almost two months. She invited me over lunch, so I decided I should bake something quick for dessert. I was meaning to try this recipe of Eggless Honey cake, which I had found online, for a long time and this seemed to be a perfect occasion. I was not very thrilled on the idea of having an eggless cake though, fearing if the texture might disappoint me.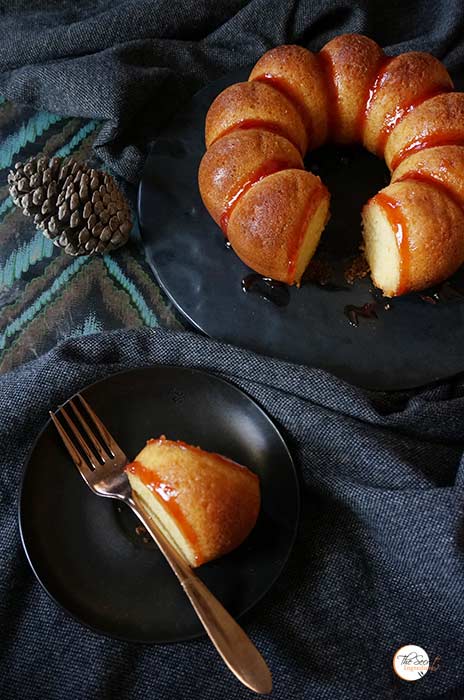 I decided to bake in this mould which I had picked from my online baking utility store – The Gourmet Shop. I had never used this mould before and wanted to try baking. To my utter surprise the cake came out absolutely delicious and it looked oh-so- charming!
My friends enjoyed it to the fullest and were raving about it. Ha! what else you need – a coffee, a slice of cake and a pat on your back. 🙂
Directions:
1. Grease a baking pan with oil or butter. I am using a silicon Bundt pan. You can order this same baking bundt pan on our online store The Gourmet Shop. Preheat the oven at 180 degree C (Learn more about Oven temperatures and Conversions)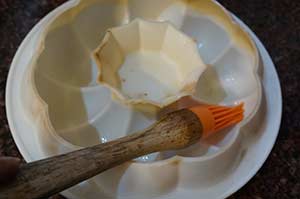 2. In a large mixing Bowl add All purpose Flour, Baking Powder and Baking soda.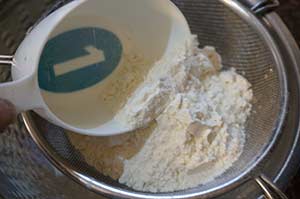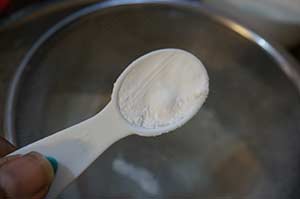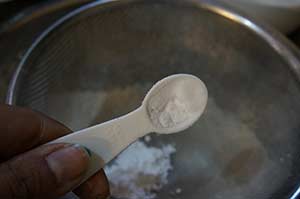 3. Whisk everything together and set aside.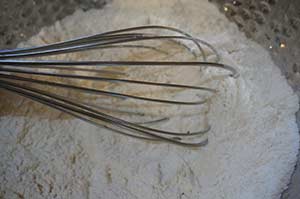 4. In another Mixing Bowl add Condensed Milk and Oil.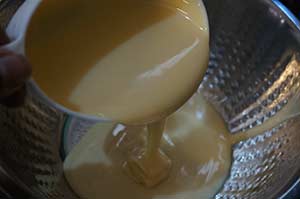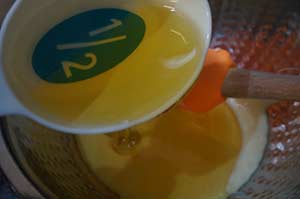 5. Add zest of the orange along with Fresh Orange Juice.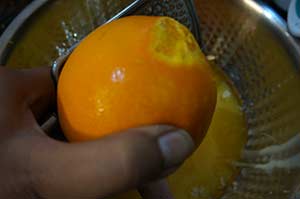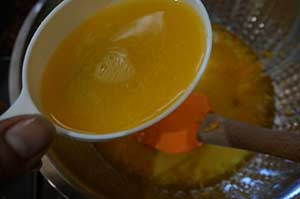 6. Add juice of Lemon and Vanilla and whisk until everything is mixed well.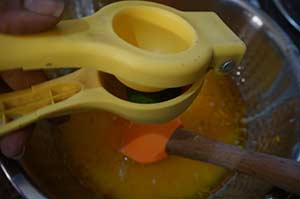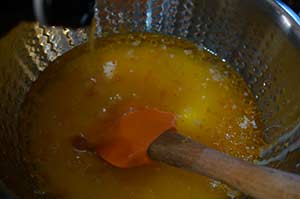 7. Add wet ingredients to the dry ingredients little by little and whisk until you get a smooth homogeneous mixture. Do not over mix.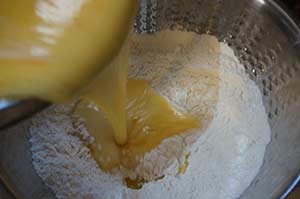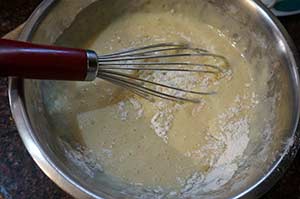 8. Pour this into the greased pan upto 3/4th of its height. Bake in the preheated oven on 180 degree Celsius for 25-30 minutes or until the toothpick inserted in the center comes out clean.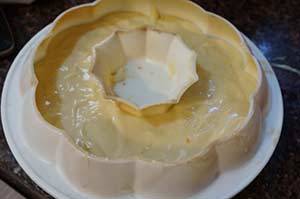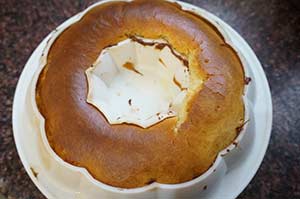 9. While its baking you can make the Honey Syrup by adding water and sugar to the saucepan and bring it to a boil. Let the sugar melt and then turn the flame off. Once its lukewarm add honey and mix. Set aside.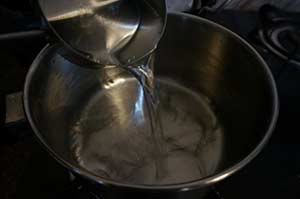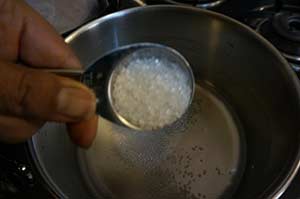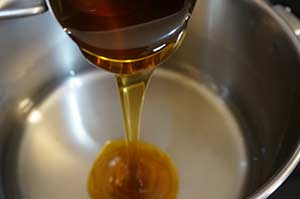 10. When the cake has baked remove it from the oven and let it cool down a bit. After 10 minutes remove it from the baking pan and place it to cool down further on a wire rack. You can place a baking tray under the wire rack to stop the honey syrup dripping from flowing.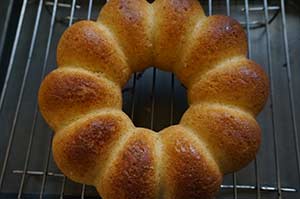 11. With the help of a toothpick prick the cake all over the surface and even on the bottom so that the syrup can penetrate inside.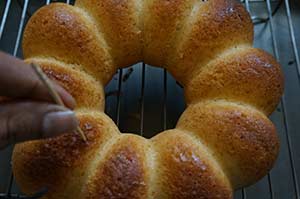 12. Now pour the syrup over the cake slowly. You can turn the cake and repeat the same.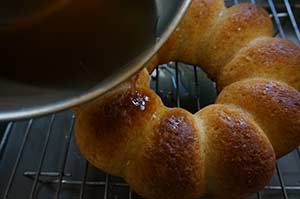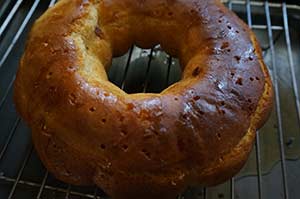 13. You can decorate the cake by loosening the mixed jam in the microwave for a minute and pouring on the cake, This is an optional step but it adds more definition to the cake. And if you like you can sprinkle desiccated coconut on top. I simply played lazy and skipped.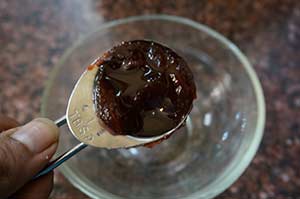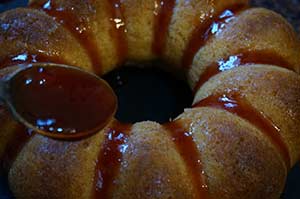 14. Slice this delicious , moist cake and serve with your favourite cup of coffee or tea.
Other decadent cakes you can try are: If you are looking for cakes you can try: Persimmon Buckwheat Gluten Free Cake, Citrusy Sweet Lime Cake, Honey Dates Square, Peach Upside Down Cake, Fresh Apricot and Almond Cake, Mango Vanilla Cake, Festive Orange Blueberry Pound Cake, Vanilla & Pomegranate Cake,Lemon Cake with Lemon Glaze, Persimmon Rum Cake.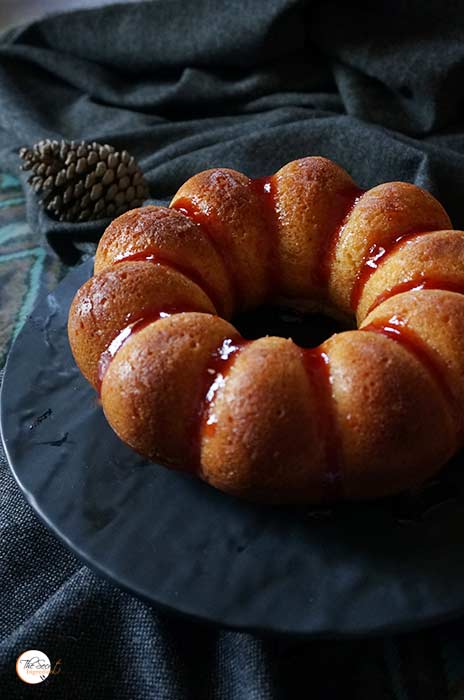 [yumprint-recipe id='304′]