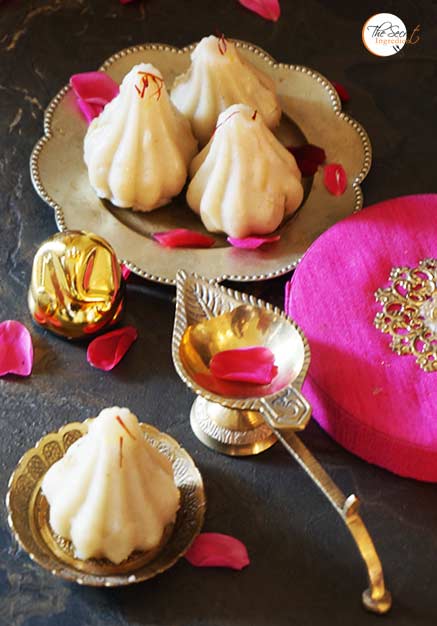 Ganesh Chaturthi is a Hindu festival celebrated with a lot of sentiments in India. It's also known as Vinayak Chaturdashi. This festival is to celebrate the birth of Lord Ganesha, the elephant headed God who is the son of Lord Shiva and Goddess Parvati. Ukadiche Modak or Steamed Rice Flour Dumplings with Coconut and jaggery is made as an offering to Lord Ganesha. Its believed that these modaks are God's absolute favourite.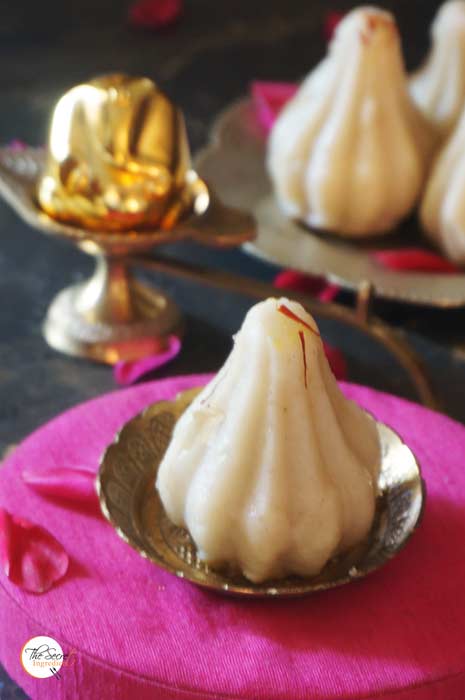 To be honest I had never tasted ukadiche modak in my life before because I live in the northern part of the country and this festival is predominately celebrated in the southern states. Therefore, at the outset of the festivity I decided this is the best occasion to try this new recipe and also to please the God on his birthday. Not to mention I will also get a chance to taste the so raved about modaks. To shape the modaks requires great deal of skill. Its like shaping momos. tibetan dumplings with gluten free rice dough. I chose the easier path (smart me!) I used a modak mould which makes swanky modaks with lesser efforts. How cool it is ! 😉 Before, I go gaga over my crippled skills I will take you to the recipe so that you can even try and enjoy the festivity.
Directions:
1. For the filling of modak grate fresh coconut and roast in a pan on a medium flame.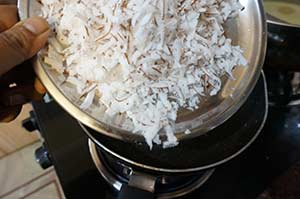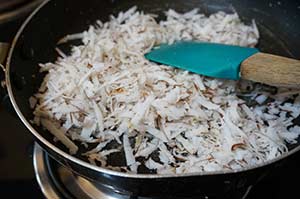 2. After the coconut has roasted a bit add chunks of jaggery. Also add cardamom powder and mix well.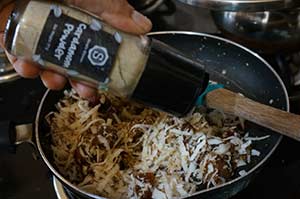 3. Keep tossing the filling till jaggery has melted and the mixture has come together. The filling will still be sticky because jaggery is still hot. It will become crumbly and less sticky after it has come to room temperature. Therefore, set aside and let it come to room temperature.
4. For the dumpling or the outer covering boil water in a pan. Add ghee.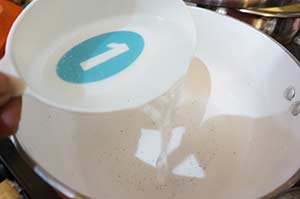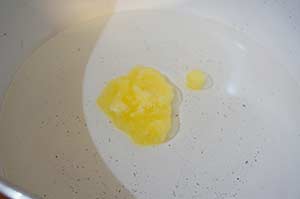 5. Add sugar and salt and combine and give the liquid a boil.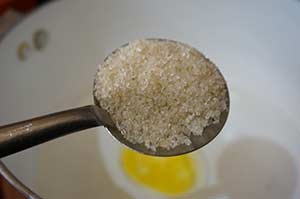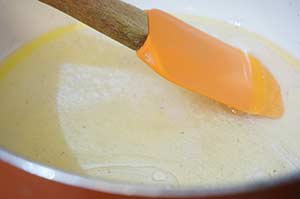 6. Add rice flour and combine. The flour will absorb all liquid.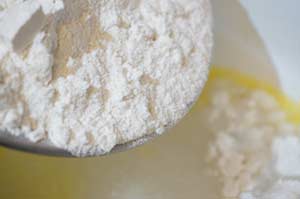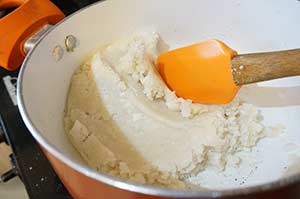 7. Cover the pan with a lid and let it simmer on low flame for 3-4 minutes.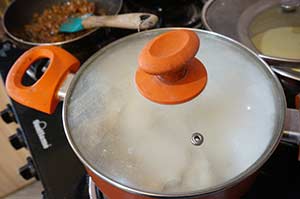 8. Now turn the flame off and let the dough cool down a bit. Apply little ghee on your hands. While its still warm knead it together to bring everything together.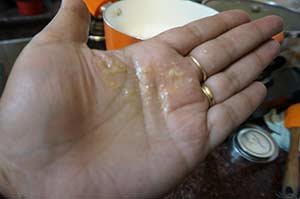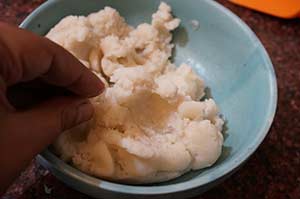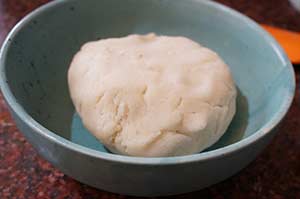 9. Cover with a damp kitchen towel till further use.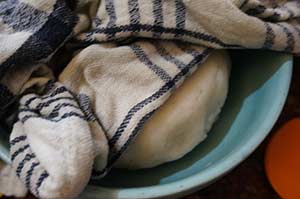 10. Apply ghee on the modak mould, both sides.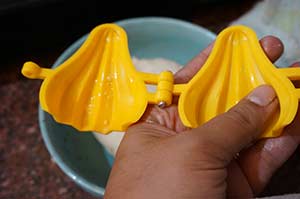 11.Take a small portion of dough and apply on one side of the mould. Make sure its a thin layer. Repeat the same for the other side.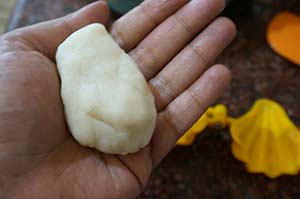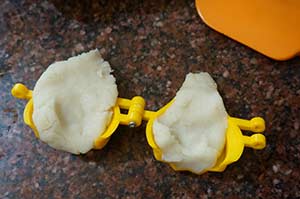 12. Take the coconut jaggery filling and add a little, say half a spoon. Do not over fill it for it will leak out at the time of steaming.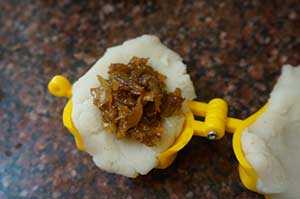 13. Now close the mould and you will notice the extra dough will ooze out. Remove that. Also add a bit of dough on the base of mould to skirt the filling. I missed taking picture of this step. I hope you understood.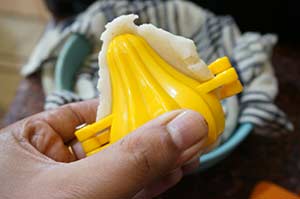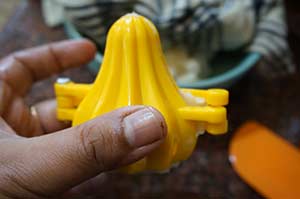 14. Carefully open the mould and tada you have a beautiful looking modak.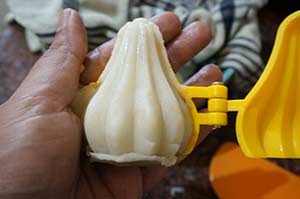 15.Shape rest of the modaks and place them in a tray covered with a damp kitchen towel till we steam them.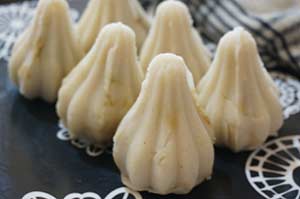 16. For the steaming part, place a steamer with water on the flame. Cover it with a slotted tray greased with ghee. If you have a banana leaf you can top the tray with a banana leaf for it will prevent it from sticking to the base. Cover with lid and let the steam develop.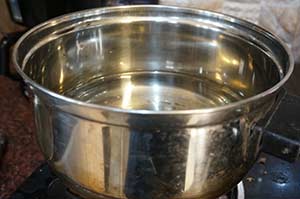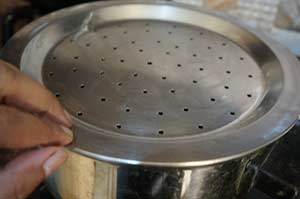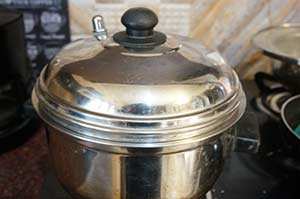 17. When you notice the steam escaping the steamer, Open the lid and place modaks on the tray. Cover with a lid and let it steam for 20-25 minutes.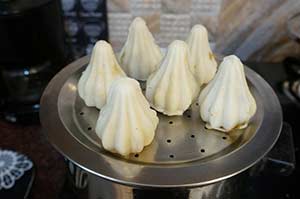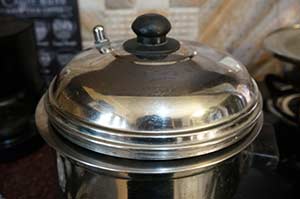 18.Once steamed you can garnish it with saffron and offer it our dear Lord Ganesha. He will bring prosperity in our lives and will bless us.
Wishing you all a Happy Ganesh Chaturthi.
Other festive recipes you can try are: Kadda Prashad, Besan Rava Laddoo, Gurr Gajar Ke Meethey Chawal, Gajar Ka Halwa, Kaddu Ka Halwa, Kesari Seviyan, Khajoor Ki Kheer, Makhane Ki Kheer , Mango Saffron Phirni, Paneer Ki Kheer , Rasgulla , Sabudana Kheer, Swang Ke Chawal Ka Halwa, Sooji Halwa, Swang Ke Chawal Ka Halwa, Ragi & Khus Khus Ladoos.