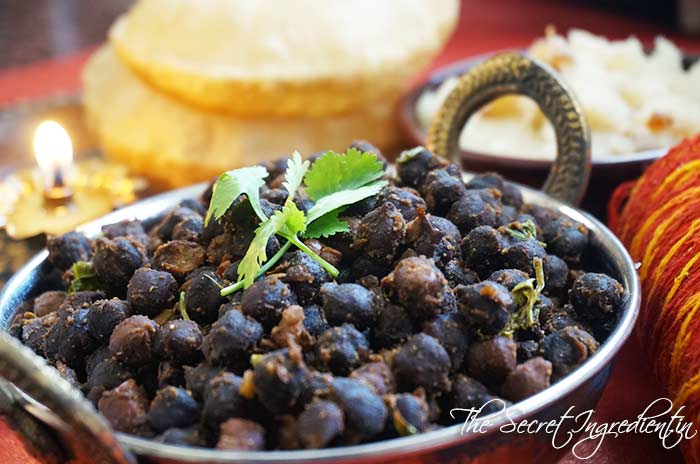 Durga Ashtami or the Eight day of the holy week, Navratras, where most Hindus fast in respect to the deity Durga. Its a Nine Day festival. During these nine nights and ten days, nine forms of Shakti or Goddesses are worshiped. This festival comes twice in a year, at the beginning of Spring and then at the beginning of Autumn. These two periods are taken as sacred opportunities for the worship of the Divine Mother Durga.
As part of the festival Hindus keep fasts where certain type of food is abstained while fruits and few vegetables along with milk products can be consumed. On the eighth day the fast is formally ended followed by a ritualistic ceremony. A special food is cooked which is offered to the God and then shared amongst devotees as Prasad. The food consists of Halwa, a dessert made from Sugar and Semolina, Dry spicy Black Bengal Gram, which are from the family of chickpeas and Puris, they are small, inflated, round shaped bread which is made from unleavened wheat flour deep dried in oil. This is a divine meal in the true sense.
The festival is very popular with small girls as they are considered as little deities known as kanjak. The little kanjaks are invited by the neighbourhood in their houses , worshipped and offered halwa, puri, channey and small gifts. I remember going to several houses and eating delicious food and counting my gifts at the end of the day 🙂 What beautiful memories!
I have been fasting for Navratras ever since I was a 9 year old girl. Now I invite small kanjaks to my house and follow the the ritual. I made these delicious halwa puri and channe . I previously shared recipe of Sooji ka Halwa on my blog. On popular request I am sharing my mother's recipe of Sookhey Kale Channey.
Directions:
1. Soak Kale Channey or Black Bengal Gram in water overnight for at least 6-8 hours. Put good amount of water for soaking. They will swell after soaking.
2. Put them in the pressure pan for boiling along with water. Add more water.
3. Add salt and close the lid. Cook on high flame till the pressure builds up and you get the first whistle or hissing sound.Turn the flame on low and further cook for 45 -50 minutes or till the channey are soft and cooked.
4. Drain the water. Do not throw it away. You can use it as a broth for soups or making lentils.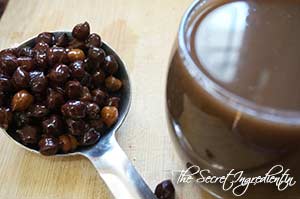 5. In a wok or large kadhai add Clarified butter or ghee. Let it melt.

5. Add cumin seeds and let them crack. It will take less than a minute.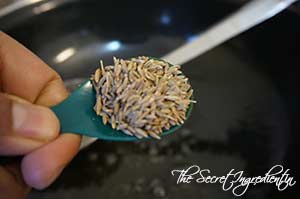 6. Add coarsely crushed coriander seeds.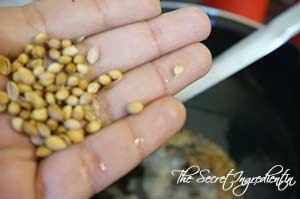 7. Now turn the flame on low and add salt, red chili powder and amchur.
8. Also add dry channa masala, Garam Masala and coriander powder.
9. The masalas will get fried in the ghee and start bubbling. At this stage add the boiled channas. I added a little water reserved from boiling them.
10. Keep tossing it on high flame till the water evaporates and the channas are coated with spices. It will take 10-15 minutes depending on the quantity.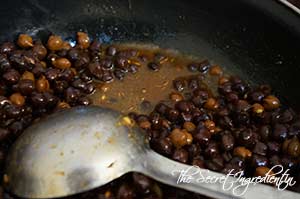 11. When the channas are ready to dry add additional channa masala and salt if you feel its less.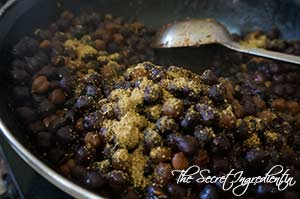 12. After little patience this is how your channas will start looking, beautifully smeared in dry spices..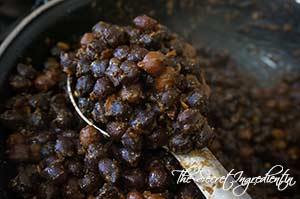 13. Garnish with fresh coriander leaves.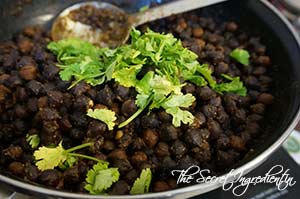 14. Serve hot with Puris and Sooji ka Halwa.
You can make Dry Punjabi Cholley Masala at home and try our Punjabi Style Pindi Cholley.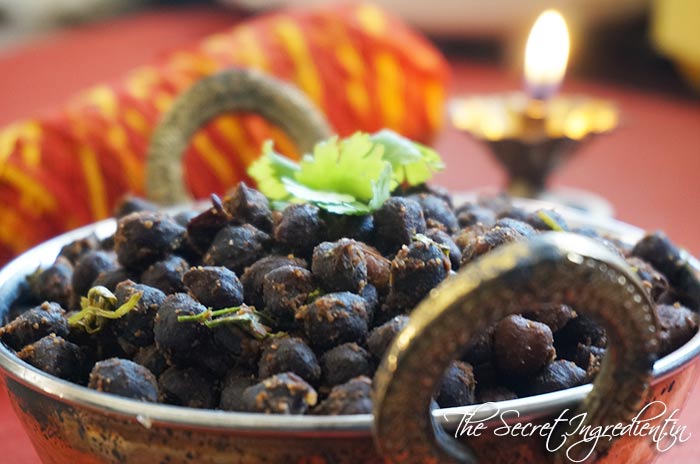 [whohit]KaleCholleyDry[/whohit]
[yumprint-recipe id='111′]