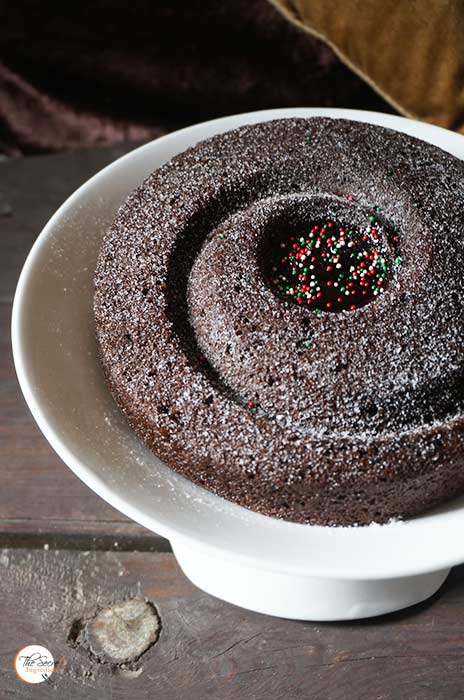 I stumbled upon this recipe on the internet which is eggless, butterless and vegan. It is a sure shot no hassle super moist cake which can be made in less than 30 minutes from start to finish. No wonder it has been rightly named Wacky Cake. It has an interesting history which fascinated me and motivated me to try this recipe.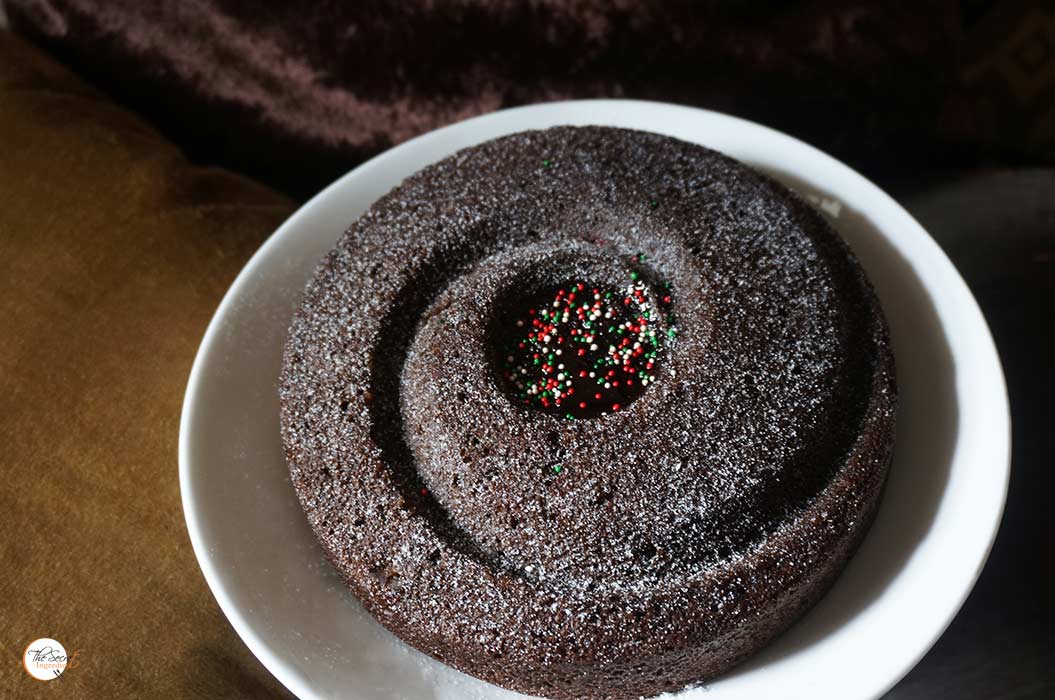 This recipe was born during war times and the economic depression when food was scarce specially eggs, milk, sugar and butter. It was during those crucial times this cake was introduced. Its fondly known as 'War cake'. If you are new to baking then this is the cake which you should try because it doesn't require any difficult steps. Its largely mix and bake. You can make this whenever you want to bake a cake using everyday ingredients without much effort.
Directions:
1. Preheat your oven to 180 degree Celsius (Learn more about Oven Temperatures and Conversions). Brush a 8 inch baking dish with cooking oil. Don't forget to brush the sides. I am using a silicon Mould which works well. You can use aluminium mould, stoneware, ceramic and even borosil flat bottom dish. These all are oven friendly.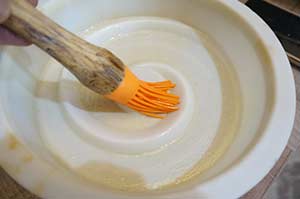 2. In a bowl put All purpose flour, Cocoa powder*, powdered Sugar or castor sugar.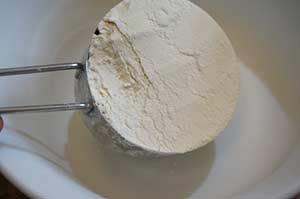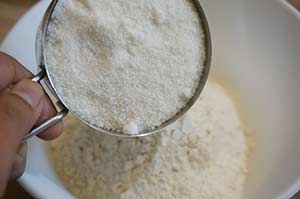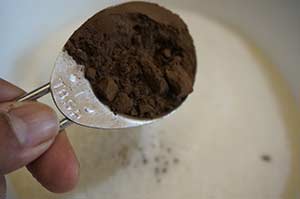 3 . Also add baking soda and salt. Basically, put all dry ingredient together. Now gently mix all the dry ingredients for an even mixture.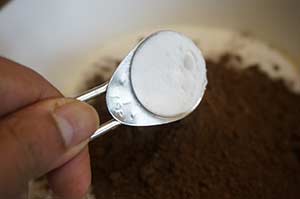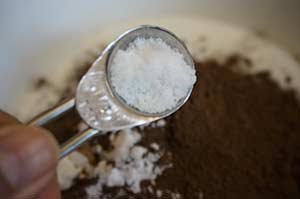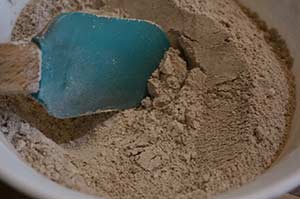 4. In another bowl add Oil and Vanilla Essence.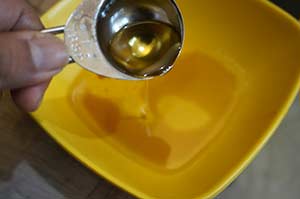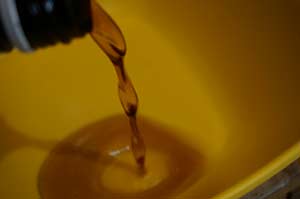 5. Also add warm water and Vinegar to the wet ingredients and combine.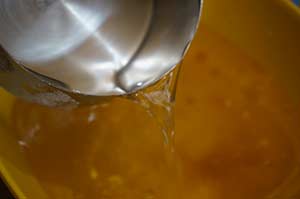 6 . Add wet ingredients to the dry ingredients and mix with a spatula. Ensure the flour is all moistened and its a lump free batter. Do not overmix**.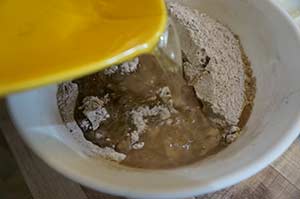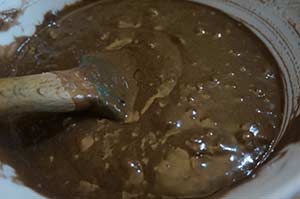 7. Pour the batter in the greased mould and tap to remove any trapped air bubbles. Immediately*** put the dish in the preheated oven and bake for 20 to 25 minutes. Insert a toothpick in the center of the cake and if the stick comes out clean, your cake is ready. If the batter sticks then cook for a few minutes longer and check again with toothpick.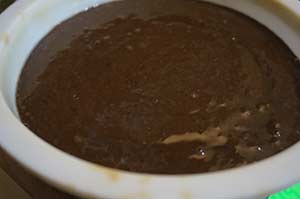 8. Remove it from oven and let it come to room temperature before unmolding it. You can frost this cake with your favourite icing. Or dust with some confectioner's sugar and slice as it is and serve with your favorite cup of tea or coffee.
Other cakes you can try are: Sorghum and Wheat Flour Persimmon Cupcakes with Cream Cheese Frosting, Fresh Mango Cake with Vanilla and Chocolate Collar, Festive Orange Blueberry Pound Cake, Vanilla Cake with Pomegranate Syrup, Lemony Pound Cake with Lemon Frosting, Eggless Orange Cake with Candied Orange Peel Filling, Apple Raisins Streusel Bread, Persimmon Rum Cake, Eggless Mediterranean Semolina Cake, Eggless Almond Vanilla Cake, Eggless Black Grape Cake with Strawberry Jam Glaze, Vegan Chocolate Banana Cake, Chocolate Vanilla Marble Cake, Surprise Heart Inside Cake, Pumpkin Cake Rolls, Wacky Vegan Chocolate Cake. Apricot & Almond Cake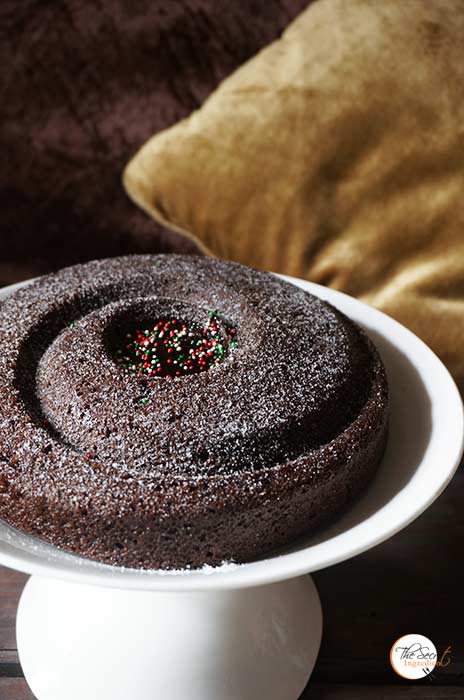 [whohit]WackyCake[/whohit]