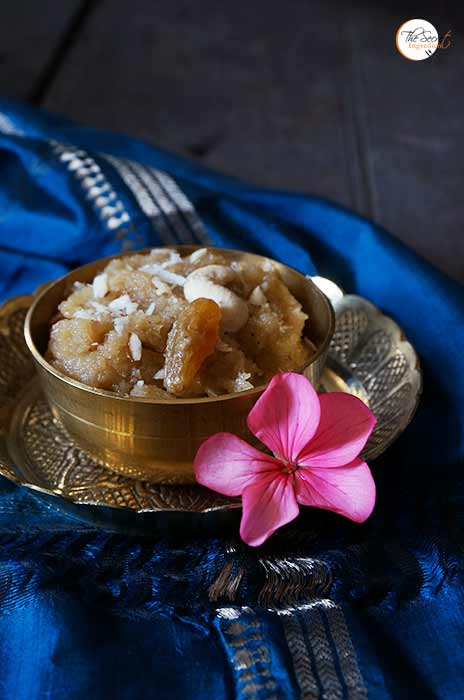 Sooji halwa, a delicious pudding made from semolina, sugar and clarified butter or ghee. Halwa is known by several names like helva, halua, aluva, etc. Halwa is made in Indian subcontinent, middle east, South, West and Central Asia, Central and Eastern Europe, Balkans and in many other countries. The recipe has numerous variation. In India semolina halwa is made for every pious occasion, be it a festival, to celebrate birth and mourn death and even in temples as prasad.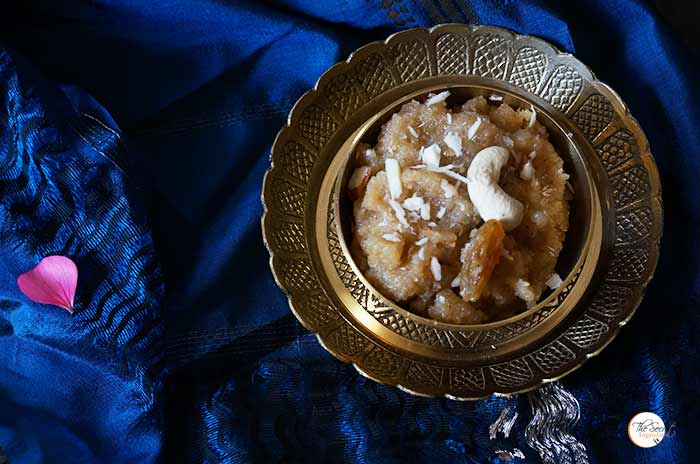 The key to make a perfect dense consistency halwa is to have right proportions of the ingredients. This recipe is my mothers foolproof recipe and once you learn you can never go wrong. Thank you Mumma 🙂
Directions:
1. Take semolina and equal quantities of sugar.
2. In a wok add ghee also known as clarified butter and add semolina. Keep roasting semolina in ghee by continuously stirring it till it turns golden brown. Keep an eye and do not let the semolina burn.
3. In a separate vessel take water which should be four times the sugar. Add two opened pods of cardamoms and sugar. Give it two to three boils till the sugar is dissolved in water. We do not intend to make a thick sugary syrup, just some sugar dissolved water. Keep it aside.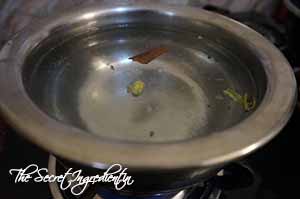 4. In the meanwhile chop almonds and cashews. If you wish to use any other dry fruits, I am with you 🙂 I simply used almonds because that is all I had. Oh I also had cashews 🙂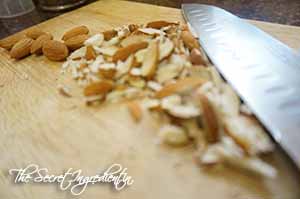 5. In a small pan put a spoon full of ghee and roast your chopped dry fruits on low flame till they turn golden brown. Set aside.
6. Now while your semolina is roasted. Add roasted dry fruits into it and turn the flame on full and immediately add the light sugar syrup. Continue to stir so that no lumps are formed. Do not worry if you see the mixture has turned watery.
7. Keep stirring on high flame till it becomes dense and semolina has absorbed entire syrup. Word of caution: when the halwa becomes dense it forms boils and starts sputtering. Ensure that you are prepared for this and take necessary precautions to avoid any burns. Keep stirring till you see halwa has left the sides and centered itself.
8. Your halwa is ready to be served. Sprinkle some roasted dry fruit on top along with few strands of saffron. Serve hot.
Other Indian desserts you can try are: Mango Saffron Phirni , Paneer Ki Kheer, Apple Lapsi, Attey Ka Halwa Gurudwara Style, Swang Ke Chawal Ka Halwa, Kaddu ka Halwa , Gajar Ka Halwa, Ragi & Khus Khus Ladoos, Swang Ke Chawal Ki Phirni, Rasgulla, Makhane Ki Kheer .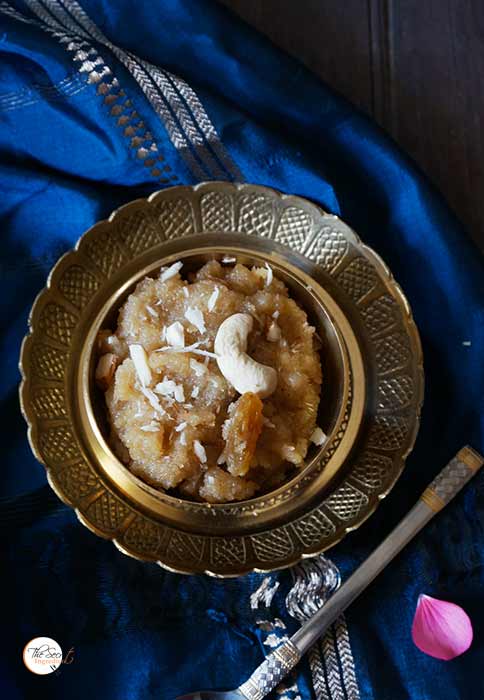 [yumprint-recipe id='31']
[whohit]SoojiHalwa[/whohit]