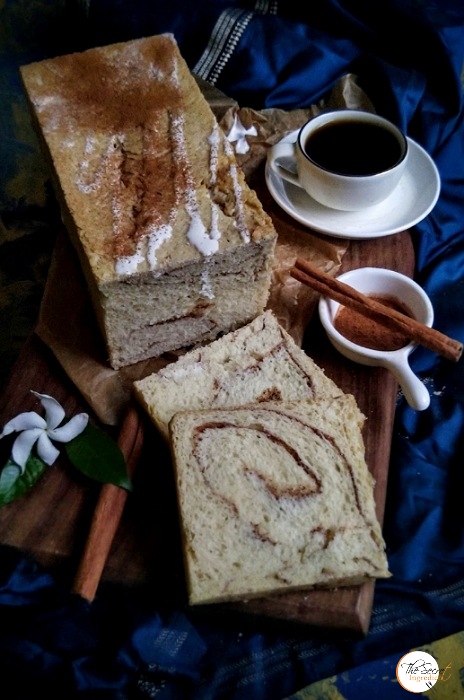 Its such a proud feeling for me when I say this is the best bread I have baked till date. Its so soft and moist, has a perfect crust and a tender crumb. The thing which makes it so amazing is the inside layering with Cinnamon Sugar and Raisins. While I was baking the fragrance of this bread took me back in Mexico's LeCaroz Panaderia or Bakery. I cant stop talking about this bread. You have to try to believe me .
You know what!! I just went back in kitchen to grab myself a slice of this bread. I was literally salivating writing description of this moist cinnamony bread.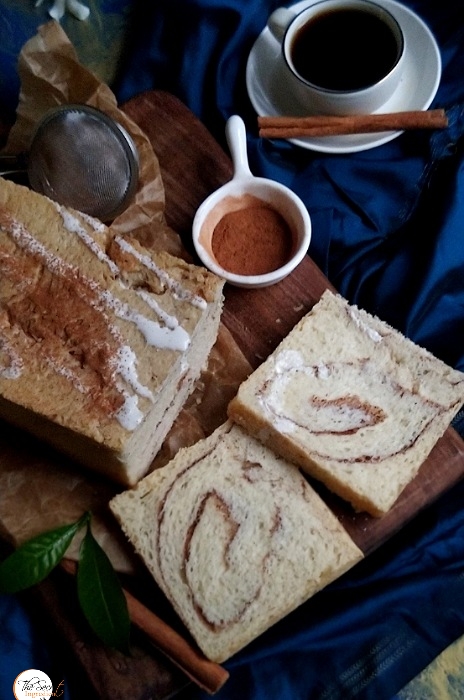 I baked this bread before in Mexico for the first time and at that time I was a new baker. Ever since then I have matured and improved my skills. Today looking at this bread has made me realise that my patience and hard work has paid off. Behind this success story are numerous unsuccessful trials but I thank them which made me learn more.
Directions:
1. In a Small bowl or measuring jar take lukewarm water. It should not be very hot and neither cold. The test is you should be able to insert your finger comfortably without burning. Add melted vegetable shortening into it. See notes to know more about Vegetable Shortening.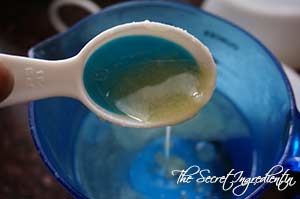 2. Add yeast. You can use either instant yeast or dry active yeast. Both will work just fine. I am using instant yeast for this bread.
3. Add sugar to the lukewarm water. And let it rest for 5-8 minutes so that the yeast activates.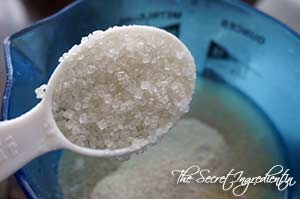 4. The water will turn milky and frothy. This is a sign of yeast activation. If it doesn't turn milky and frothy you know there is something wrong with your yeast.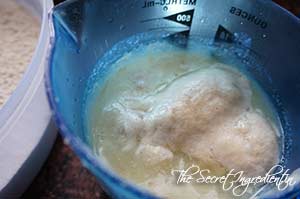 5. In a very large bowl add All purpose Flour.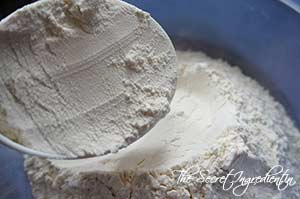 6. Add to it salt and Milk Powder.
7. Break in an egg.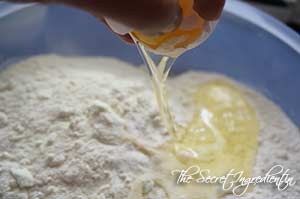 8. Add the yeasty water to the dry mixture little by little and knead using your hand.
9. When the entire dough comes together take it on a slightly floured counter top and knead rigorously. I prefer to do it in the bowl itself. The dough should become soft and supple. You can sprinkle little dry flour to make it non sticky.
10. Form a dough ball and place it in a greased large bowl. Also sprinkle the dough with some oil so that it doesn't turn dry from top. Cover with a cling wrap or lint free kitchen towel or even a lid.
11, Keep it in a warm dry place for atleast an hour and a half or even two. The proofing depends on the temperature of the place. It proofed soo well for me.
12. Punch it down using your fists and knead again for another five minutes before we roll it into a bread. Bring it on a slightly floured counter.
13. Grease a 9×10 bread load with some butter or oil and set aside.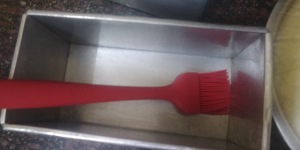 14. Using a roller pin roll it into a rectangle which should be 10 inches wide and 20 inches in length .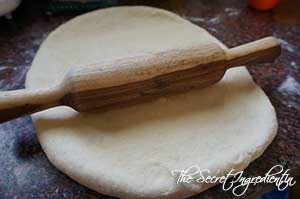 15. Smear the surface with butter.
16. Make a mix of Cinnamon Powder and Sugar. You can use any sugar powder, I used raw brown sugar. Sprinkle it over the butter.
17. Also spread out raisins.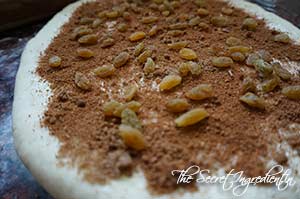 18. Now start rolling it from one end. Preferably the shortest in the far end. Make sure you roll them as tightly as possible.
19. After it has rolled, pinch the seam to lock it.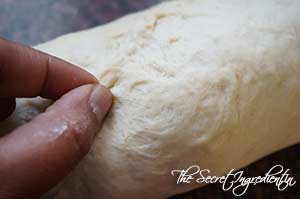 20. Fold the sides in and pinch again to seal it.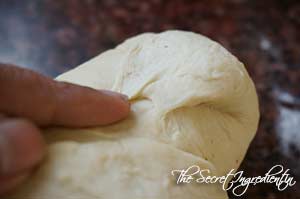 21. Place it in the greased bread pan, seam side down.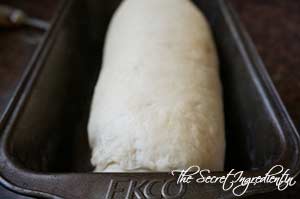 22. Cover with a lint free kitchen towel and let it proof for the second time. This should take another hour or so. Keep it in a dry warm place.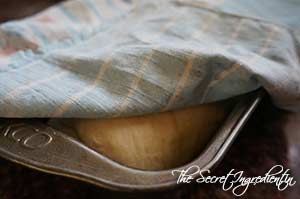 23. After it has risen, brush it with egg wash. Be gentle do not deflate the bread. Preheat the oven for 10 minutes on 180 degree Celsius (Learn more about Oven temperatures and Conversions).

24. Place it in the preheated oven and bake for 40 minutes. Changing sides in half time. If the top of the bread starts getting too dark too quickly cover it with Aluminium Foil.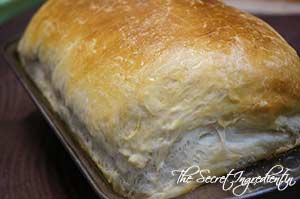 25. Let the bread cool down completely before slicing it, otherwise the bread with crumble. Serve with your favourite cup of coffee.
Other bread recipes you can try are: Italian Focaccia Bread with Strawberries , Rosemary Garlic Focaccia Bread, Garlic Cheesy Bread, Dominos Style Garlic Bread Sticks, Honey Oats Bread, Cinnamon Raisins Bread. Whole Wheat Sandwich Bread, Beetroot Bread.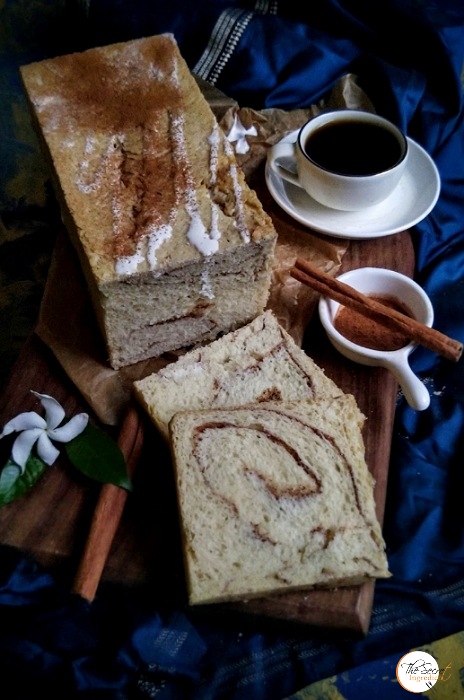 Sending this to YeastSpotting
[yumprint-recipe id='114′]