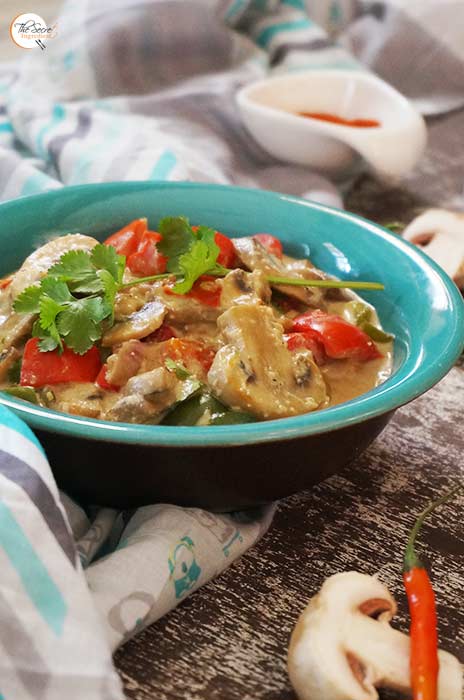 I needn't say again and again that how much I love mushrooms. My unconscious mind plans to make all possible mushroom recipes on earth 😛 . When I am surfing the net my hand stops where my eyes are fixed and my heart skips a beat, you know I am looking at a new mushroom recipe which I want to try. This happened when Suganya Hariharan a fellow blogger from Relish the Bite posted recipe of Mushroom Bell Pepper in White Sauce on a food group. Without wasting time I tried it and it was a masterpiece. It not only looks tempting it is one of my favourites now.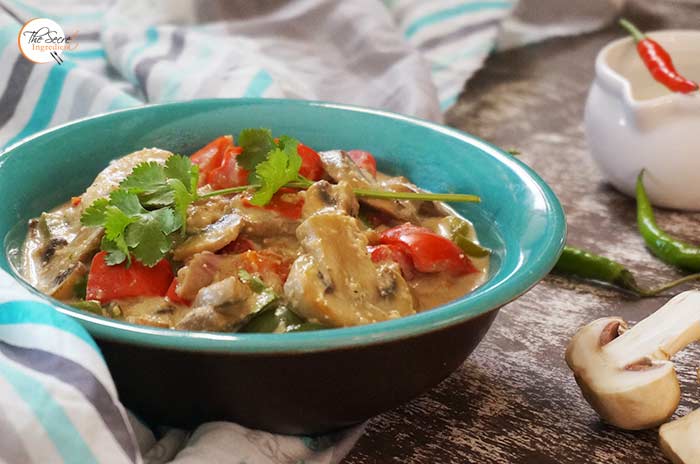 The fusion of gooey Mushrooms and crisp Bell peppers creates an interesting melody. Not to mention the white sauce is not bland but rather full of flavours. Oh! I cant stop talking about this dish, why don't you just follow the recipe and make it for your self 🙂
Directions:
1. Slice Mushrooms and cut Bell Peppers in bite size pieces. I had on hand red and yellow.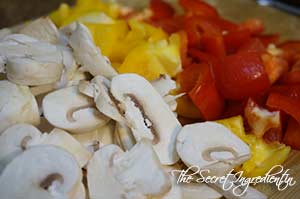 2. In a small bowl soak poppy seeds in a table spoon of water. Set aside.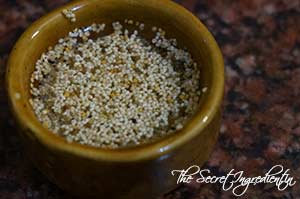 3. Also chop some onions, ginger, garlic and green chilies.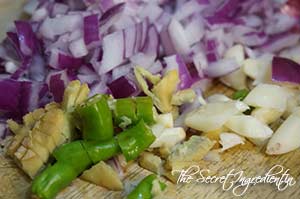 4. In a wok add some ghee.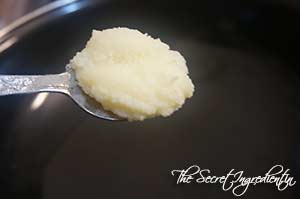 5. Add bay leaf and green cardamoms.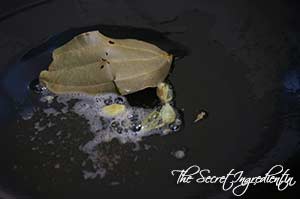 5. Once the aroma starts coming add onions, ginger, garlic and green chilies. Saute them till onion turns soft and transparent.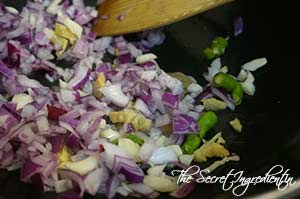 6. Turn the flame off and add cashews once the sauteed onions have cooled a bit.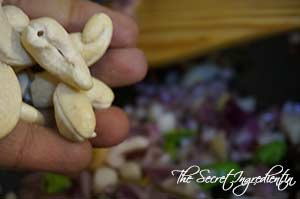 7. Add the soaked poppy seeds with its water and onion mixture to the grinder. Pulse it together to make a smooth paste. You can leave out the bay leaf.
8. In the same wok add a little more ghee or clarified butter.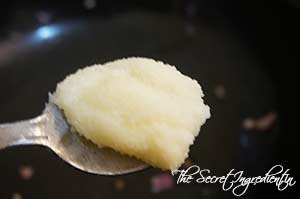 9. Add the chopped onions and mushrooms. Also add kasuri methi or dried fenugreek leaves. Saute them on medium high heat till they become little soft but still crisp.
10. Add the onion cashew paste to the wok.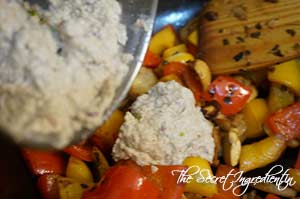 11. Keep tossing the sauce with the mushrooms and peppers on low flame till the raw aroma of the paste fades away.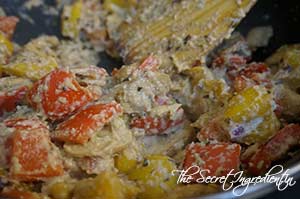 12. Add milk, salt and water. Let it simmer for about 5 minutes. The sauce will gradually thicken up.
13. When the sauce has thickened add cream or whisked malai. Let it cook for a couple of minutes more on low heat.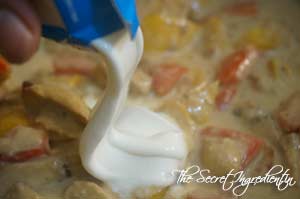 14. Garnish with Garam Masala and Chopped fresh Coriander.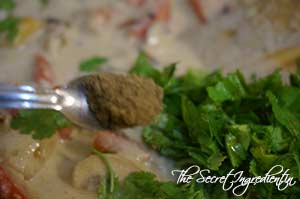 15. Serve hot with Rotis.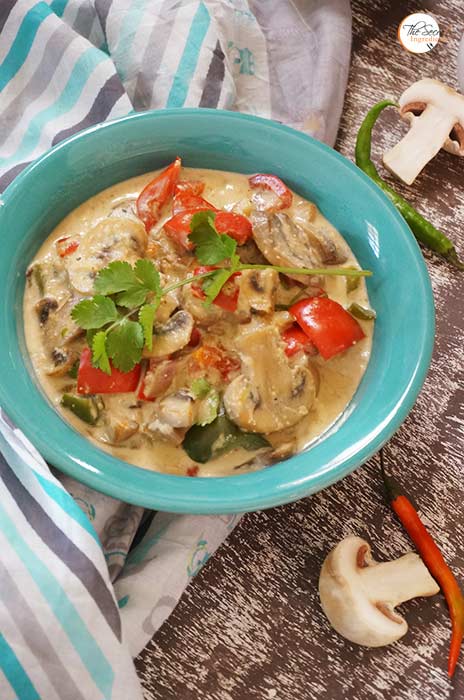 You can try other Mushroom recipes from The Secret Ingredient : Mushroom Do Pyaaza, Chili Mushroom, Vegetarian Mushroom Lasagna in White Sauce, Mushroom Spinach Frittata, Baby Corn Mushroom Masala, Classic Cream of Mushroom Soup, Mushroom Lasagna in a Microwave, Creamy Spinach Curry with Stir Fried Mushrooms, Mushroom Rice Pilaf, Peas and Mushroom Spicy Soup, Cheesy Mushroom Pull Apart Bread, Mushrooms in Dry Spicy Gravy, Italian Arborio Rice with Mushrooms
,
[yumprint-recipe id='121′]