Having Ripe Bananas and unfinished Papayas can cause equal amount of stress. All we do is throw them down the bin. Few days back I came up with a solution to use overripe bananas in the form of Whole Wheat Banana Bread with Melon Seeds.
But then I had a Papaya which was huge in size and not sweet at all. So as a result no one touched it. My husband kept insisting to throw it away. I was hell bent not to waste food. Then I suddenly remembered by Friend and Fellow Blogger Priti from Indian Khana had posted a recipe of Papaya Muffins some time back. It sounded adventurous because I wasn't sure if Papayas in muffins will taste good. But I trust Priti and her cooking. I went ahead and wola! No body could tell the muffins had papaya. It tasted great. I shared with teachers and staff in the school, they all loved it.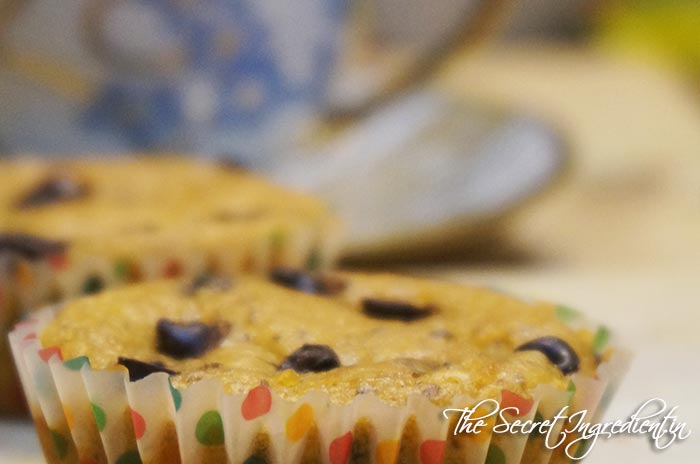 What a happy ending to Mr. Papaya. After trying them out I agree with what Priti says about these muffins, you do not smell papaya at all. The lemon zest covers it so well and tastefully. This recipe is going to take a permanent place in my kitchen. Thanks to Priti for this incredible idea and recipe. This one is for you dear friend 🙂
Directions:
1. Preheat the oven for 10 minutes on 180 degree C (Learn more about Oven temperatures and Conversions). Line a muffin tray with muffin cups or liners. Set aside.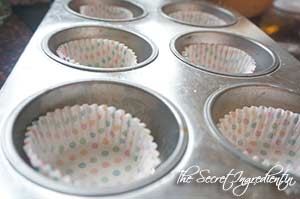 2. Peel and cut the papaya in cubes. Put them in a blender and make a smooth puree. Keep aside.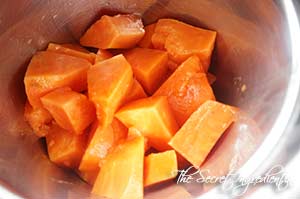 3. Coarsely grind some flax seeds in a coffee or dry grinder and transfer it in a small bowl.
4. Add 4 table spoon of water in the flax powder and let it rest for ten minutes of until needed.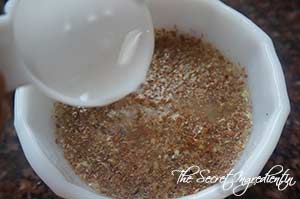 5. In a large bowl sieve All purpose Flour, Baking powder and Baking Soda.

6. Also add salt and cinnamon powder. Sieve the dry ingredients and throw the lumps away.
7. In the meanwhile Pour Papaya Puree in an other bowl and add sugar to it. I used brown sugar you can use white if you please or mix of both. Whisk it together until sugar melts.
8. In the same bowl add oil and flax seed mix. Combine using the whisk.
9. Add lemon zest, just the yellow green portion. mix well.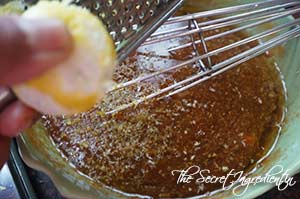 10. Mix dry and wet ingredients little by little and keep folding using a spatula. You should not beat hard just gently till the flour is all wet and moistened.

11. Add chocolate chips and fold gently. Leave a few for the topping.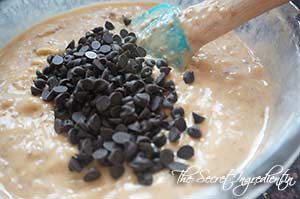 12. Using an ice cream scooper put the batter in the muffin cups. Fill them only 3/4 of the cup. Leave room for it to rise.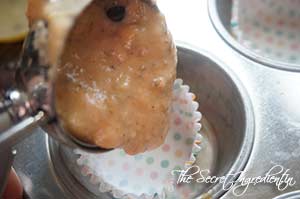 13. Sprinkle some choco chips on top and bake it in the preheated oven for 20-25 minutes. Keep an eye on them after 15 minutes. The cooking time can vary with ingredients and oven temperature. Keep checking by inserting a tooth pick, if it comes out clean its ready.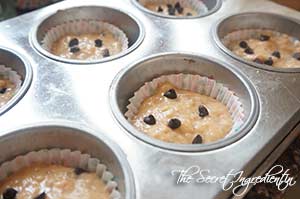 14. After baking let them rest on a wire rack for fifteen minutes or till they become cool. Enjoy with your favourite cup or Coffee or Tea.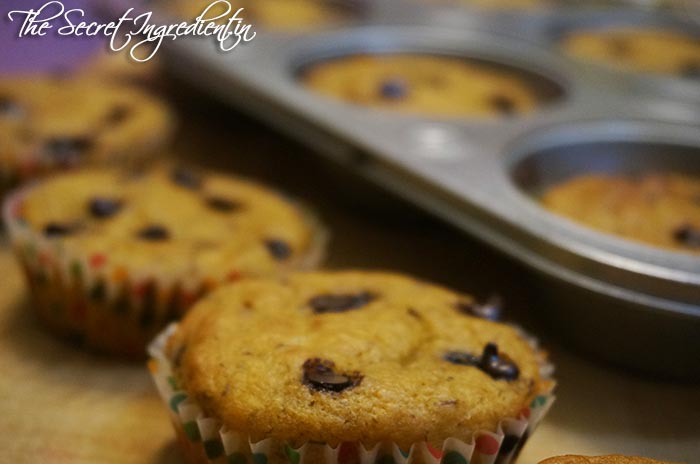 [yumprint-recipe id='122′]