Who doesn't like chocolate. And when this incredible flavour is infused with banana it becomes a divine combination. It doesn't just end here..what if this combination is guilt free and vegan? Here's new newest recipe of Chocolate Banana Cake which is eggless, butterless and also dairy free. I have used Flax seeds to make it rise and become fluffy. I had done another Eggless Whole Wheat Banana Bread with Melon Seeds earlier. But this recipe takes this bread to a new level of craziness.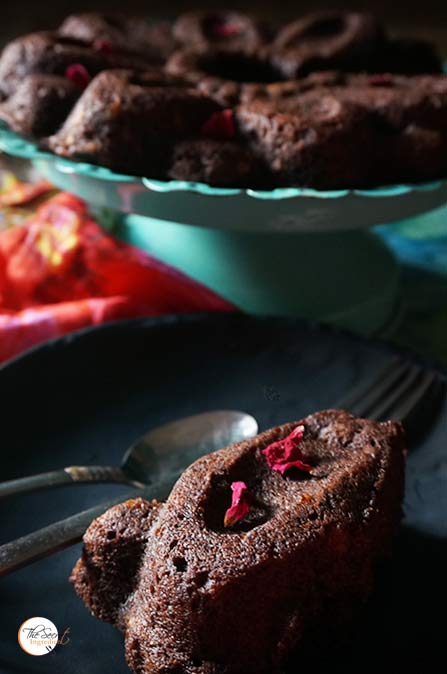 The most enticing part of this bread was its texture. It was soft and gooey and almost melted in my mouth in its very first bite. The ripe unforgotten bananas were put to right use. My little one who is a picky eater devoured this greedily and barely allowed me to take photographs 🙂
Directions:
1. Soak Flax seed Powder in water and set aside (Learn here how to make Flax seed powder). The mixture should become like a gel in some time.
2. Grease a baking pan and set aside. I am using a medium size bundt pan for this. Preheat the oven on 180 degree Celcius for 10 minutes.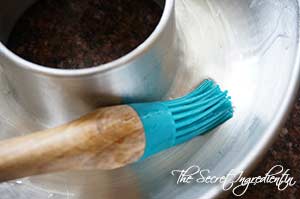 3. In another bowl sift All Purpose Flour, Baking Powder and Baking Soda. Do you see the lumps in the baking powder? That is why we are sifting everything for a lump free airy flour.
4. This is how it looks after sieving.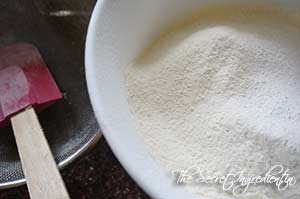 5. Also sieve and add cocoa powder to the flour and gently combine. Set aside.
6. Mash overripe bananas with a fork and place in a mixing bowl. Add vegetable oil and combine.
7. Add the flax powder gel to the bananas.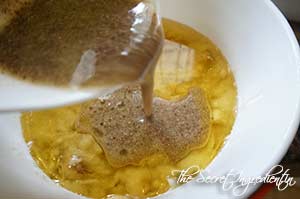 8. Add brown sugar or jaggery powder and vanilla extract. Give everything a good mix.
9. Add the wet ingredients to the dry ingredients and gently mix with the spatula. Do not over mix simple moisten the flour.
10. Pour this in the greased pan and bake on a preheated oven for 20-25 minutes on 180 degree celcius (Learn more about Oven temperatures and Conversions). The test of doneness is that the toothpick inserted will come out clean.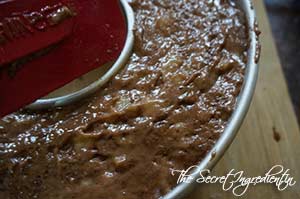 11. Let the cake cool down a little before taking it out of the pan. Invert the pan on a serving plate and gently tap to remove the cake. Slice and serve with your favourite cup of coffee or tea.
Related post: How to make Flax Seed Powder or meal?
Other cake and bread recipes you can try here : Apple Raisin Streusel Bread, Persimmon Rum Cake, Surprise Heart Inside Cake, Pumpkin Cake Rolls, Lemon Cake with Lemon Glaze, Eggless Orange cake with candied Orange Peel Filling, Wacky Vegan Chocolate Cake, Eggless Almond Vanilla Cake, Chocolate Vanilla Marble Cakecak.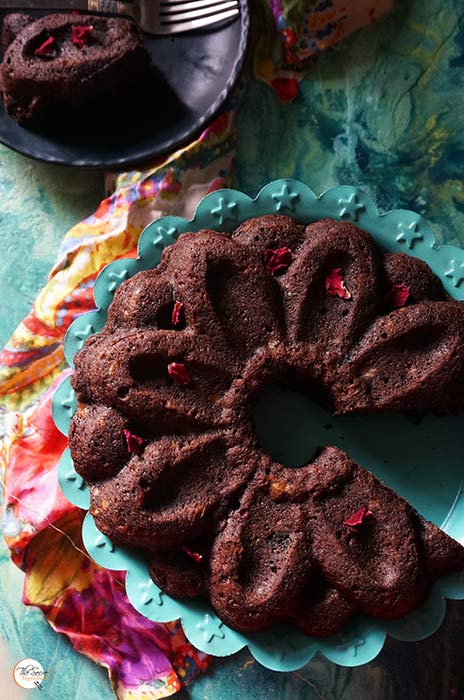 [yumprint-recipe id='160′]