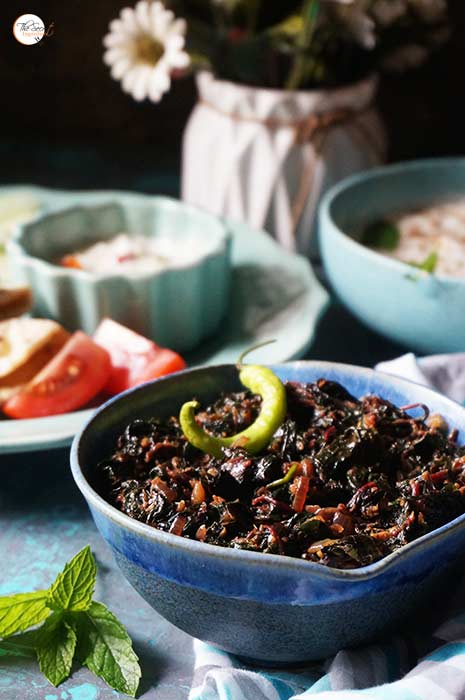 I just attended my brother's wedding last week and I realised I was much plumper than before (I don't wanna demean my self by calling fat :P). So on returning back my husband and me decided to go on good healthy diet with proper exercise. Its been a week and we still seem to be on the right track. I have been avoiding sweets and cheese and bringing in more vegetables and proteins in my diet. One such vegetable is the nutritious leafy vegetable which is known as Cholai or Chaulai in Hindi and Amaranth or Amaranthus in English. I made this stir fried Amaranth Leaves with spices.

Grains of Amaranth are also used in food and are very good source of energy. I found these leaves in the farmer's market and quickly decided to make something out of them. The colour of leaves vary from purple to red and green to gold. I have used the former types as I love these colours but you can use any variant. Amaranth leaves are good antioxidants and good source of Vitamin A and Vitamin C. If you eat amaranth in leafy form, it acts as a good roughage and helps cure constipation. It is very easy to cook amaranth. Its a simple recipe with bountiful of nutrition.
Directions:
1. Separate the leaves from the stems. Place them together.

2. Wash the leaves thoroughly as there can be a lot of grit in the leaves.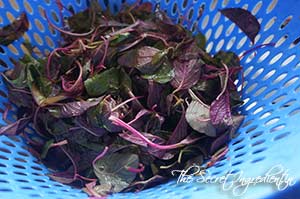 3. Chop them coarsely and set aside.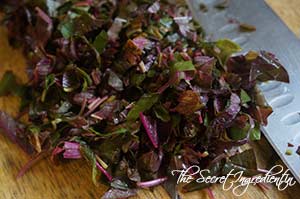 4. In a wok or karahi add clarified butter or ghee and turn the flame on. Vegan may use any other cooking oil.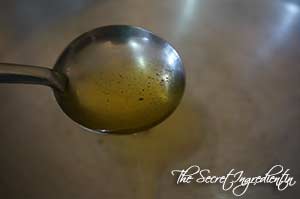 5. Add Cumin seeds and A bay Leaf.
6. Add Ginger Garlic paste along with chopped green chilies and saute them until the raw fragrance of garlic diminishes.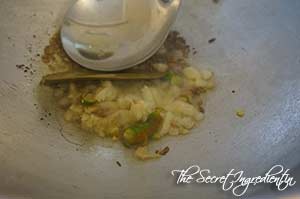 7. Add onions and continue to saute till the onion becomes soft and translucent.

8. At this stage add the chopped cholai leaves and toss them with the onions.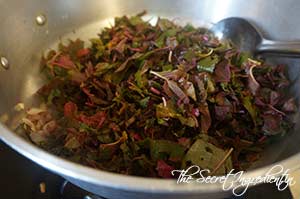 9. Season with Salt, red chilli powder.
10. Also add coriander powder and Garam Masala.
11. Cook on medium low flame, uncovered until soft and thoroughly cooked. Serve hot with Chappatis.
Other simple everyday recipes you can try on The Secret Ingredient: Tori Wadi, Masaledar Arbi, Baingan ka Bhartha, Langar Wali Dal.
Other dishes with Leafy vegetables you may try: Palak Paneer, Aloo Methi, Arbi Ke Paton Ke Patode, Pudina Pulav, Methi Matar Malai.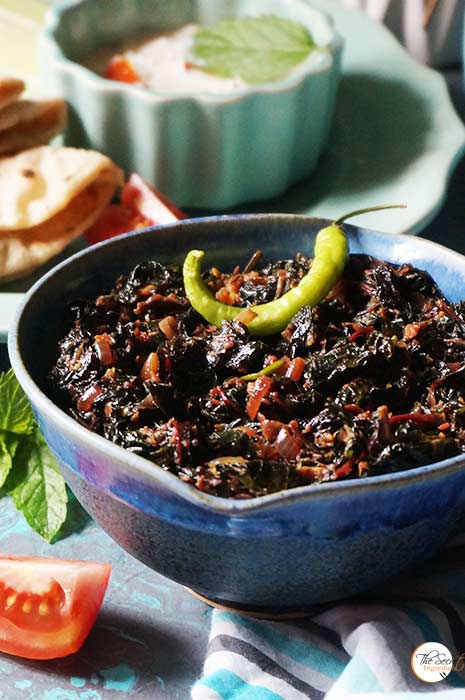 [yumprint-recipe id='159′]