I have been a social science student and history has always fascinated me. I am good with dates and events which have occurred in the past. I always like to know how our society has evolved and what events have led to certain changes in it. The other day I was looking for Honey and Dates Cake recipe and by chance I stumbled on this recipe of Honey Dates Square, which said its a historic Recipe from 1940's – the world War era when sugar was scarce and use of honey and maple syrup was the only thing used in bakes. There is a special charm to Historical Recipes. They not only make you understand the conditions and emotions of people but also invoke nostalgia. Therefore I was intrigued to try this recipe. More for the historic reason and less for the real recipe 🙂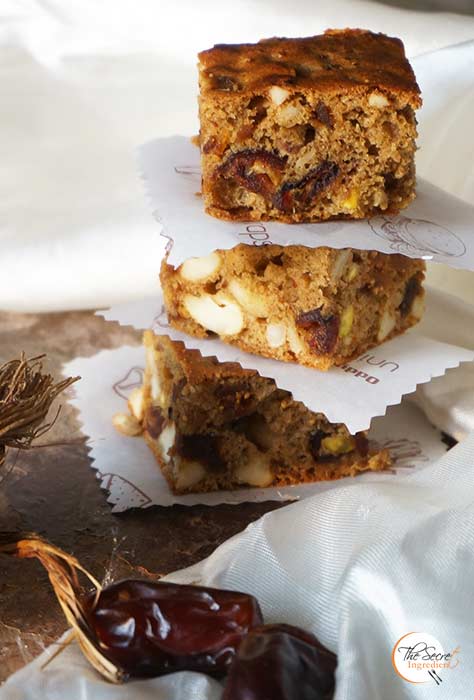 This recipe is oil free and butter free. Now in the current scenario it has become a fashion or rather health awareness to go oil free and avoid using refined sugar.. This is a perfect tea time cake which can be made in 30 minutes. The result was spectacular with minimal efforts. Would you like to try this piece of history?
Directions:
1. Soak figs and dates in warm water for an hour and set aside till they become soft.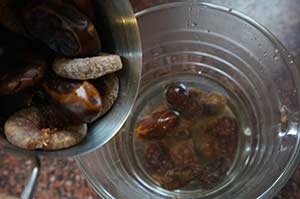 2. Deseed the dates and chop figs and dates into small bites.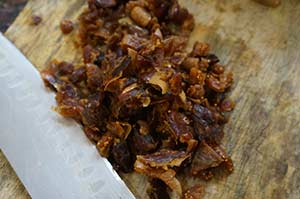 3. Also chop a mix of nuts, I have used almonds, cashews and pistachios and set aside.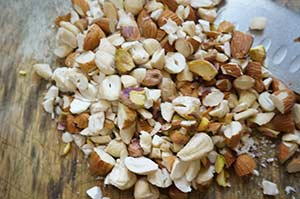 4. Lightly whisk eggs. You dont have to form stiff peaks. Look how beautiful and fresh is that yolk. I have used organic eggs from Eggee.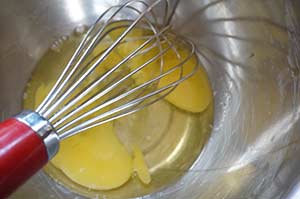 5. Add chopped nuts, figs, dates and honey and mix with the eggs.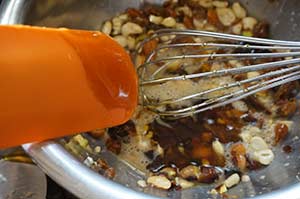 5. Stir in Gluten Free flour, you can even use Whole Wheat Flour All purpose flour if you like. I have used SOS organics Gluten Free Flour which you can order at our online store, The Gourmet Shop.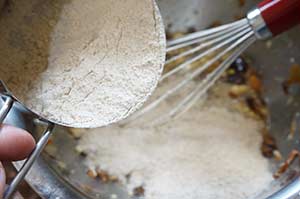 6. Also add Baking Powder and Salt and mix. Do not over mix just till everything is moist.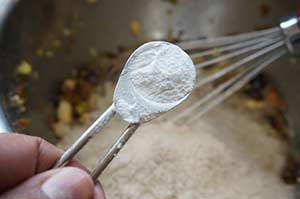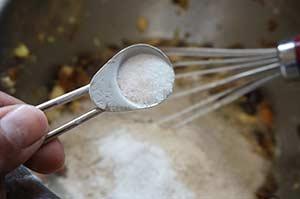 7. Line a 9×9 baking tin with some parchment paper that nothing sticks to the bottom of the pan. I have crushed the parchment paper and then opened and placed it, this trick will help it sit better. Isn't it genius 😛 You can buy Parchment Paper at our online store, The Gourmet Shop. Also preheat the oven to 180 degree Celsius (Learn more about Oven Temperature and Conversion)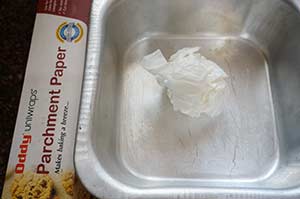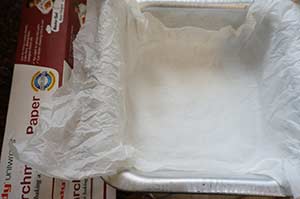 8. Pour the batter in the baking tin and smoothen the top with spatula.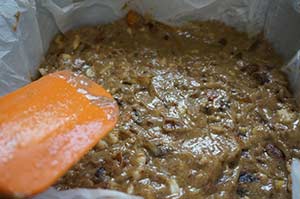 9. Bake in the preheated oven for 30-35 minutes till the tooth pick inserted comes out clean.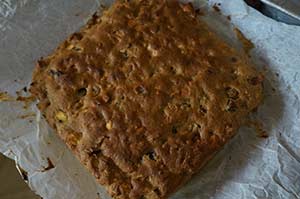 10. Remove it from the tin along with parchment paper. When the cake cools down slice it into squares.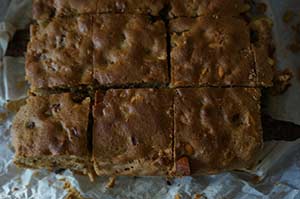 11. Serve with your favourite Cup of Coffee or Tea.
Other recipe with some history behind it were Anzac Cookies . If you are also tuned on by history you must read this post.
Other Gluten Free Recipes you can try : Amaranth Herbed Crackers, Gluten Free Chocolate Ragi Brownies, No Bake Amaranth Granola Bars, Apple Crisp, Besan & Corn Flakes Cookies, Instant Ragi Dosa
If you are looking for other Cakes and desserts with fresh fruits you can try: Peach Upside Down Cake. Fresh Apricot and Almond Cake, Apple Crisp, Mango Vanilla Cake, Festive Orange Blueberry Pound Cake, Sorghum and Wheat Flour Persimmon Cupcakes with Cream Cheese Frosting, Vanilla & Pomegranate Cake, Vegan Chocolate Banana Cake, Mascarpone Cherry Compote Cheesecake Glasses, Eggless Orange Cake with Candied Orange Peel Filling, Persimmon Rum Cake, Mango Tart with Vanilla Pastry Cream .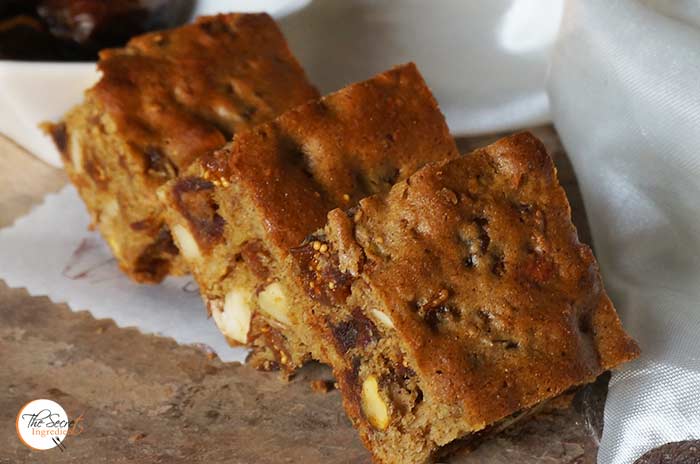 [yumprint-recipe id='283′]