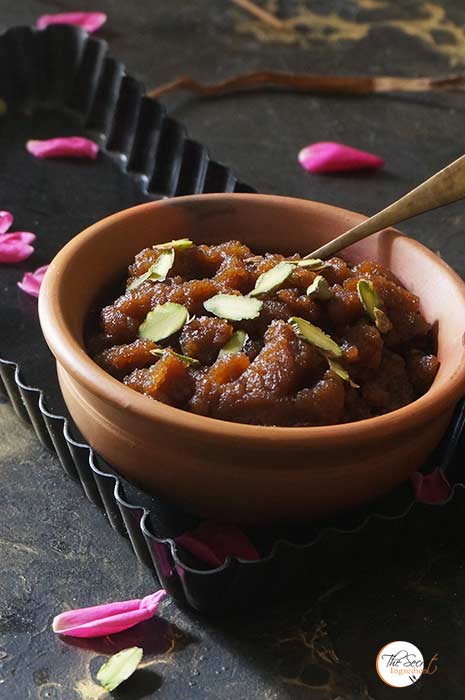 Attey Ka Halwa is a dense pudding made with whole wheat flour and clarified butter or ghee. And when this same halwa is made by Gurudwaras, Sikh Temple as an offering it becomes pious and is known as Kaddha Prasad or Babaji ka Prasad. Its offered to devotees at all Sikh Gurudwaras across the globe. It is deliciously sinful but also very easy to make. Its laden with ghee and has a lot of calories but once in a while its okay to indulge in it. Right? 😛 Like any halwa it requires the right proportion of ingredients and gets ready in no time. It is also known as degh, tribhavli for equal measures of sugar, flour and ghee.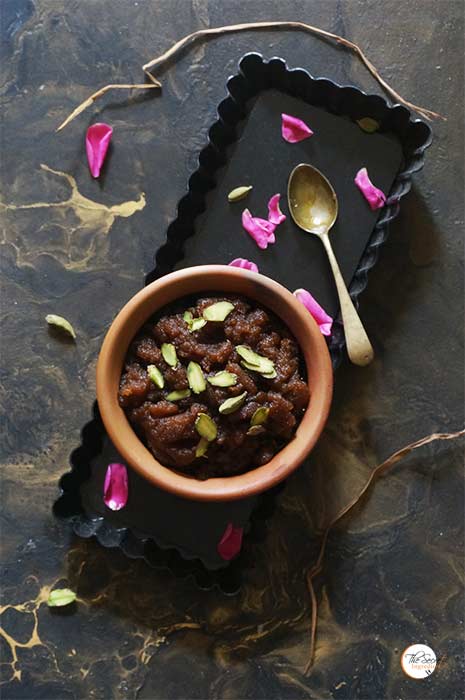 My mother has always made Sooji ka Halwa but I never had Attey ka Halwa at home except Gurudwaras. I got this authentic recipe from a friend, Sonu Mahajan whom I met on a food group on FB. We have never met in real life and talked once on phone but I feel I have some relation with her , may be prior birth :). Whenever I talk to her on web I feel she is my sister from another Mother. I thank Almighty for making us friends and for the bond we share. This post goes out to you Sonu! Love you Partner :*
Directions:
1. Add Ghee or Clarified butter in a wok or kadhai.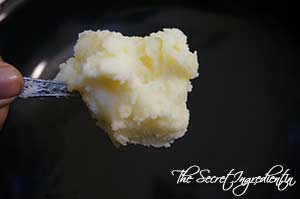 2. Add Whole Wheat Flour to the melted ghee.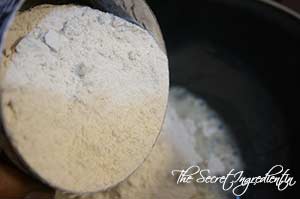 3. Keep tossing it on medium low flame till it turns dark brown in colour. You can moderate the temperature of flame from high to medium to low. But ensure to keep tossing continuously for it can burn. It should take good 15 minutes.

4. In the meanwhile heat water in a container and bring it to a boil.
5. Once the flour has roasted and achieved the dark brown colour add sugar and combine.
6. At this stage add water and turn the Flame OFF. No sim no low but OFF.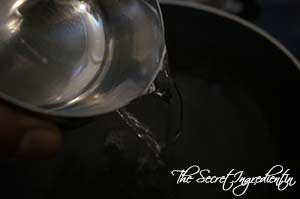 7. Now keep stirring it till the water and flour has become dense into a semi solid, gooey form. Ensure there are no lumps. The test of doneness is when the halwa has centred and leaves the sides.
8. Serve hot and enjoy.
You can even try the Langar wali Dal served at Sikh Gurudwaras.
Try other Halwa recipes of Sooji Halwa, Kaddu ka Halwa, Gajar ka Halwa, Swang ke Chawal ka Halwa, Seb Dalia Halwa.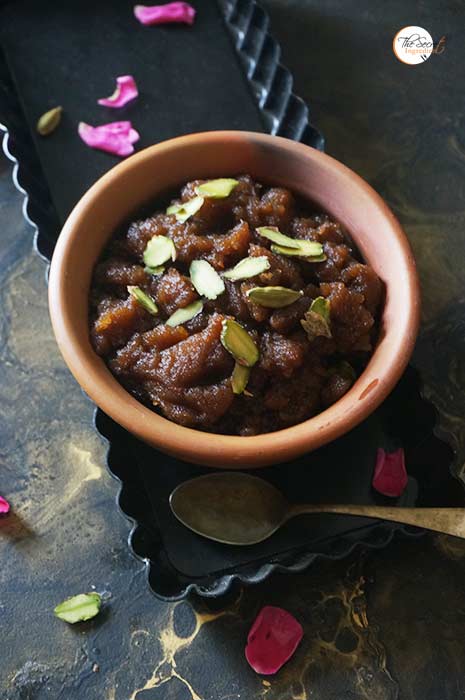 [yumprint-recipe id='116′]