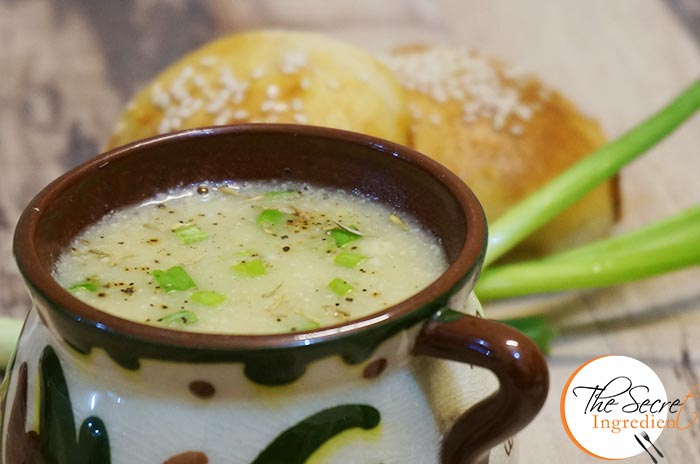 Its the same time of the month when Spatula Force member and my fellow blogger Stuti Baxi challenged us to do French Cuisine. I wanted to do something fancier but then this Classic Potato Leeks soup was on my to-do list for a very long time. I grabbed the opportunity and hurriedly made this soup.
In India you do not find Leeks, so I used the close kin to Leeks which is green onions. Leeks are sweeter and have a subtle flavour but on the other hand Green Onions are a little strong in taste. This did not stop me from making this french classic and that too Julia Child's recipe. The soup turned out much more delicious than I have initially thought. The incredible taste of thyme with soft creamy potatoes and butter sauteed green onions gave this soup an amazing texture and divine taste.
Directions:
1. Wash Potatoes and boil them in a pressure pan for 10 minutes or for three to four whistles depending upon the size of potatoes. Peel the skin and set aside.
2. In the meanwhile wash * and chop green onions or leeks if you are using.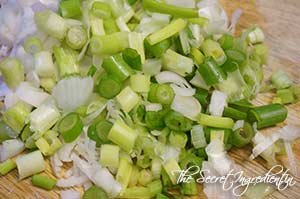 3. Finely chop Garlic. Set aside.
4. In a pot add some butter and add chopped garlic and saute for a minute.
5. Add chopped green onions to the butter. Reserve a few greens for the garnish. Let it cook for 8-12 minutes until they sweat, soften and acquire some colour. Stir occasionally.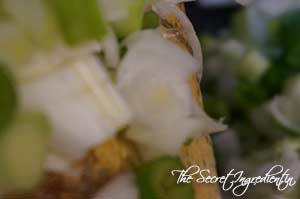 6. Add slightly mashed potatoes to the pot.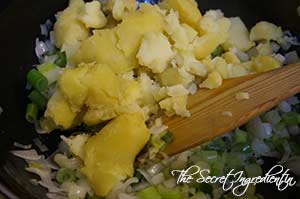 7. Add Bay Leaf, Salt and Pepper.
8. Add vegetable stock. I have used stock cube and have added water.
9. Add thyme. I used dried thyme. And cover with a lid. Let it simmer for ten to twelve minutes on medium high flame.
10. Remove the bay leaf and turn the flame off. Puree the soup with hand held blender when it has cooled off.
11. Turn the flame on and cook for a few minutes more. Add a little Cream and turn the flame off.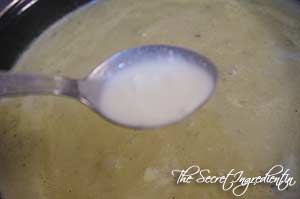 112. Serve hot and garnish with some reserved greens or fresh chives. I paired this soup with some paneer stuffed oven fresh buns. What a meal it was 🙂
Other soups you can try on The Secret Ingredient are: Borsch: Classic Russian Beetroot Soup, Tomato Soup, Mexican Chicken Soup with Rice, Mexican Black Bean Soup, Zucchini Garlic Soup with Zak Cheese Shreddings.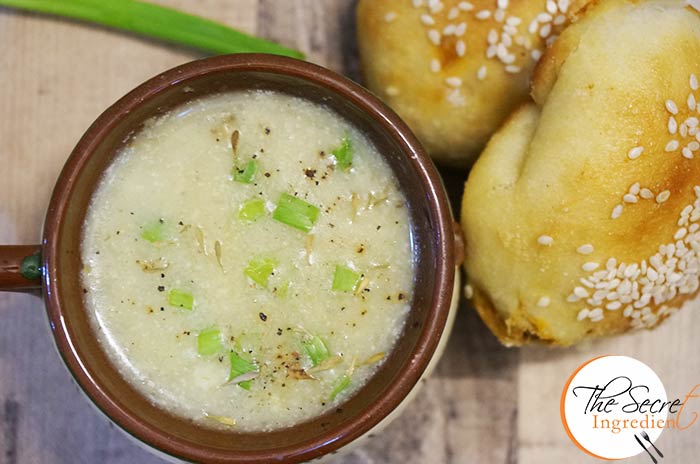 [whohit]potatoLeekSoup[/whohit]
[yumprint-recipe id='151′]