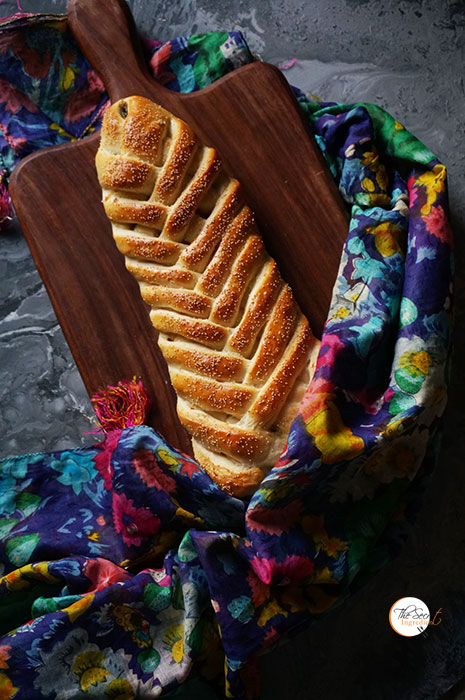 Ever since I have perfected the art of baking a simple sandwich bread I like to experiment with my bread dough. I love to braid it, stuff it and do all sorts of crazy things with it. It is not just fun but the experience is both pleasing and delicious . I had been eyeing this braided bread – Stromboli for a long time but the last time I had mushroom and spinach on hand I simply went ahead and baked this beauty.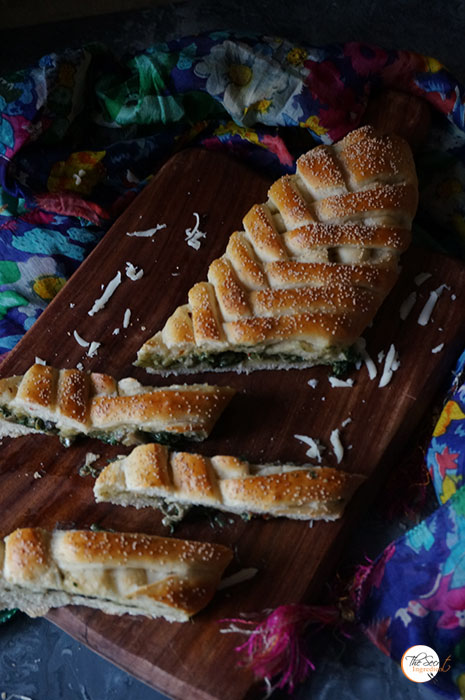 As I said you can do anything with your bread so you can choose any stuffing of your choice. You can braid it or shape it like a Bread Loaf with inside layering, just as I did it with Cinnamon Raisins Bread. Its your Bread you are the master. Simply give it a pinch of love and loads of patience and you will have a beautiful bread making experience.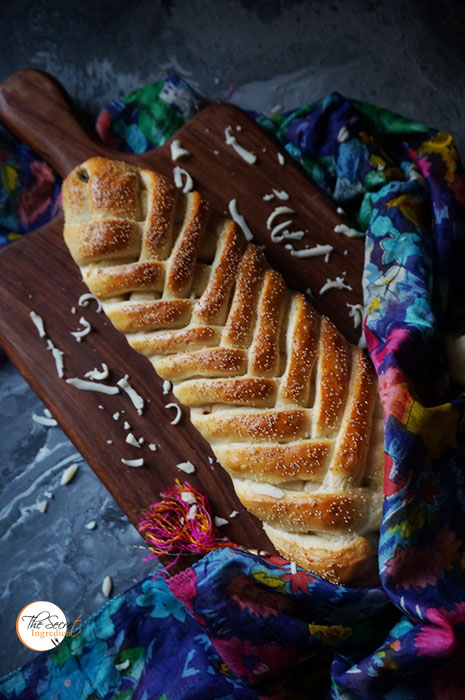 For this recipe I have used the bread dough for White Sandwich Bread. Its extremely light and has a beautiful texture. If you like you can substitute Half all purpose flour with whole wheat flour to make it more healthy.
Directions:
1. For the dough, take some lukewarm water in a vessel. It should neither be hot nor cold, just hot enough to comfortably put your finger into it . The right temperature of the water is very important for yeast to activate. Put yeast into it.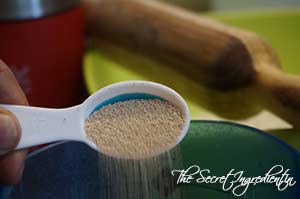 2. Along with yeast add some sugar.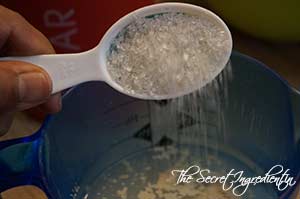 3. Give it a gentle stir with a fork and let the mixture sit and activate for 10 minutes or until you see some bubbles on top and mixture has become frothy and milky.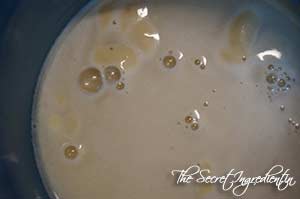 4. Take all purpose flour in a bowl and add salt and olive oil.
5. Add the proofed yeast to the flour little by little and mix till it comes together.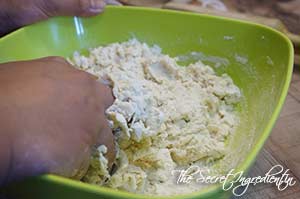 6. Bring the dough to a flat counter or your kitchen platform and knead for good 10 minutes till it becomes soft and supple. Read more about Bread baking techniques in "Basic Steps to Bake a Perfect Bread"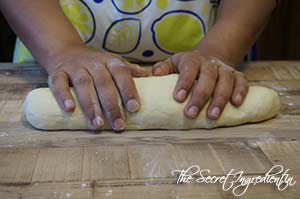 7. Transfer the dough to a greased bowl. And cover with a kitchen towel or cling wrap. Let it sit for an hour or so to double up in size.
8. Punch it down and deflate the dough. Knead for another 5-7 minutes.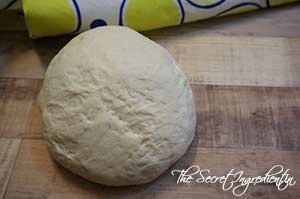 9. Chop some spring onions along with their greens and Garlic and set aside.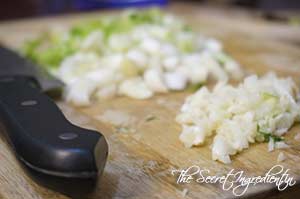 10. In a pan heat some butter and olive oil.
11. Add garlic and onions and saute them till they are soft and translucent.
12. Add Red chili Flakes and saute.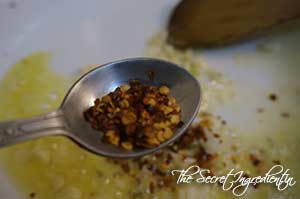 13. Add sliced Mushrooms and chopped spinach. Saute the mushrooms till it releases its water and cooks.
14. Season it will salt, freshly ground black pepper and dried oregano.
15. Add whisked cream cheese to the mushroom spinach mixture and combine. Turn the flame off and let the mixture come on room temperature.
16. Divide the dough into two equal parts. Work on each dough one by one.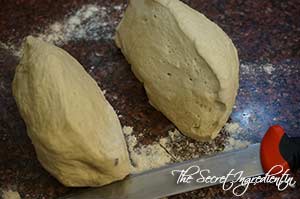 17. Roll the dough with a roller pin into a rectangular circle. Place the rolled dough in a baking tray lined with aluminium paper or parchment paper. I did it after braiding and it was difficult to transfer at that stage. Don't commit the mistake I did 🙂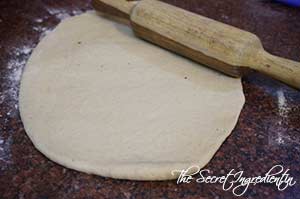 18. Place half of the mushroom cheese filling in the centre. Leave out place to braid the bread. Take a sharp knife and make inclined cuts about 1 inch wide on either sides of the filling. Ensure there are equal number of cuts on both sides.
19. In order to braid the bread, take one strip and cross it over the filling and press it on the other side. Alternatively take the adjacent strip and cross it over the previous one and press on the other side. Keep doing this until your full bread is braided. Cover the bread with a lint free towel and let it rest for 20 minutes or so on room temperature. It will rise the bread.
20. Brush the braided bread with Egg wash or Milk. Sprinkle the top with poppy seeds or sesame seeds or you can completely leave it out.
21. Bake it in a preheated oven on 180 degree Celcius for 25 minutes or until the crust is golden. Let the bread cool down completely on a wire rack and then slice and serve.
Other Bread recipe you can try on The Secret Ingredient: White Sandwich Bread, Russian Bublici, Whole Wheat Sandwich Bread, Chinese Black Sesame Steamed Buns, Cherry Focaccia Bread with Rosemary and Sea Salt, Rosemary Garlic Focaccia Bread, Cinnamon Raisin Bread, Beetroot Bread with Garlic and Thyme, Honey Oats Bread, Domino's Garlic Breadsticks, No Knead Light Wheat Bread.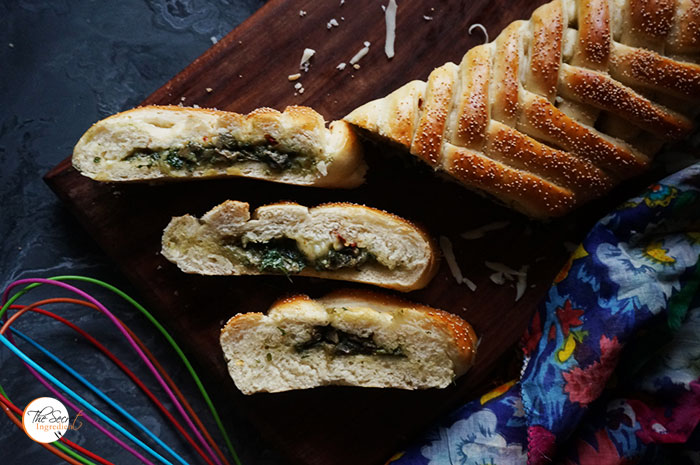 [yumprint-recipe id='163′]Sending this Bread to YeastSpotting