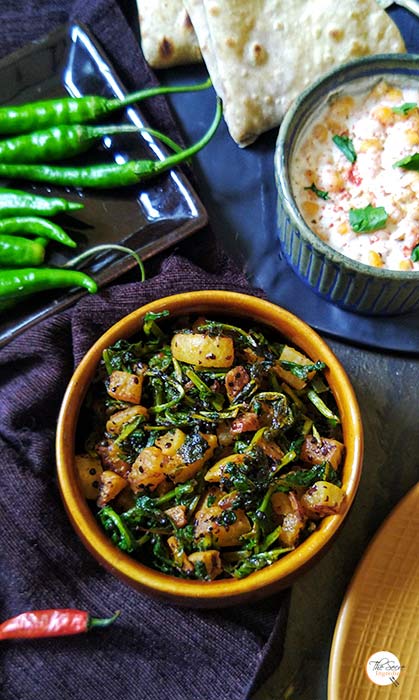 Mooli aur Mooli Ke Patton Ki Sabzi is a winter delicacy. Winters are here in full swing and the most inviting winter produce we get in India are white long radishes. In mexico I have seen red colour variation of these. But nonetheless both are delicious in their own ways 🙂 The radish which are sold now often come with the leaves on. If you are lucky to visit the market in the morning you might find the fresh radish with their greens on. That what you must pick for this recipe. The tender the leaves the more delicious they will be. This is an interesting way to cook radish than to have it just as a salad or stuffed in a parantha.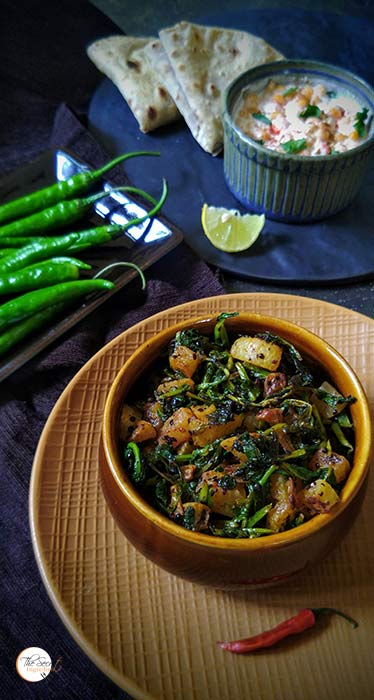 It is my maternal aunt Neena's recipe which she often makes with ground poppy seeds and mustard seeds. I tried this first time fearing my fussy husband wouldn't like it. He simply detests radish and its close kin turnip. But I was hellbent to impress him. The dish came out delicious and it was proved without doubt when my husband took a second helping 🙂
Its not only delicious but very nutritious. The fresh greens and radish are a rich source of roughage and helps to regulate blood pressure. It fights constipation and is extremely good for asthmatic patients. Who doesn't wanna like this humble vegetable with such health benefits.
Directions:
1. Take some firm radish with fresh tender leaves. Wash the radishes. Cut the neck of the radish and separate the leaves. Do not throw them away. Peel the radish.
2. Cut the radish into small cubes and separate the tender leaves.

3. Wash these leaves well so that no grit remains. Chop them finely, set aside.

4. In a dry grinder or coffee grinder add poppy and mustard seeds and grind them to a powder. Set aside.

5. In a wok or kadhai add mustard oil and smoke it. Add the mustard, poppy seeds powder and saute for a minute.

6. Add turmeric powder, salt and red chili powder.

7. Add chopped raddish and mix well with the spices. Cover with a lid and cook on medium low heat for 7-8 minutes or until your see its partially cooked.
8. Add the chopped radish greens to the wok and mix well. Cover it and further cook for another 5 minutes.

9. Serve hot with Roti and with some Bathua raita on the side.
For more everyday recipes you can try: Gobhi Danthal ki Sabji, Aloo Methi Punjabi Style, Swanjhane ki Sabji, Methi Matar Malai.