Winters are the best time of the year when you enjoy feasting and gorging on rich food. The body requires certain food to keep it warm. As a result we end up hogging so much that as the summers approach we are up by a few kilos. I know you are nodding in agreement. But this year I have decided to keep a strict watch on my diet. I am staying away from fatty, greasy, fried food by all means. In order to keep the body warm I have started making warm soups every evening, which are healthy and my family enjoys.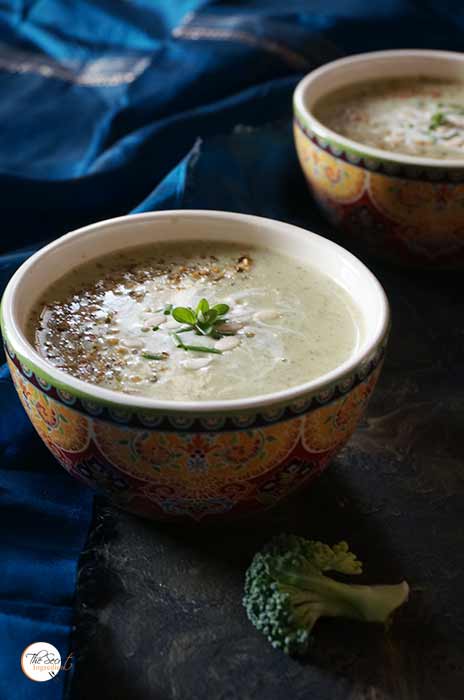 Last week when my mommy sent me broccoli from the plains (yeah unfortunately we don't find this in our hills :() I knew I had to make this soup. Its the best way to ingest broccoli specially when you despise its flavour. I also made Broccoli Pasta which is creamless and a big hit in my family. The soup is made creamy not by adding whole lot of creamy fat but by adding potatoes. It gives it a smooth creamy texture and rich flavour.
Directions:
1. Take two heads of broccoli and cut out their stems. Cut it into florets.
2. Wash the florets under running water for any grit.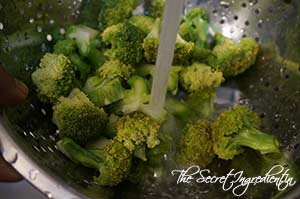 3. Chop some Garlic and Onions finely. Peel Potato and cut it into cubes.
4. Add Butter in a large pot and let it melt. Add garlic and onions and saute them till they turn a little pink.
5. Add broccoli florets and potato cubes to the pot and mix them well.
6. Add Salt and Water.
7. Add a cube of broth. I used vegetable broth if you like you can use chicken. Cover with a lid and let it simmer for 15 minutes or until the potatoes have cooked.
8. Open the lid and let it cool off a little. Puree the soup with a blender and make it into a smooth soup.
9. Season with black pepper powder and a little cream.
10. Garnish with freshly chopped Chives and serve hot with soup sticks.
Other Soups you can try here are: Tomato Soup, Zucchini Garlic Soup with Yak Cheese Shreddings, Classic French Potato Leek Soup, Peas and Mushroom Spicy Soup, Russian Beetroot & Vegetable Soup, Chicken Soup with Rice, Sopa De Frijol .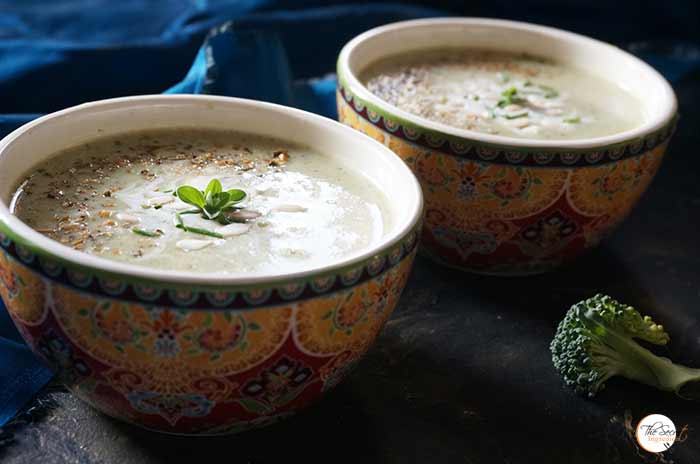 [whohit]CreamOfBroccoliSoup[/whohit]
[yumprint-recipe id='184′]