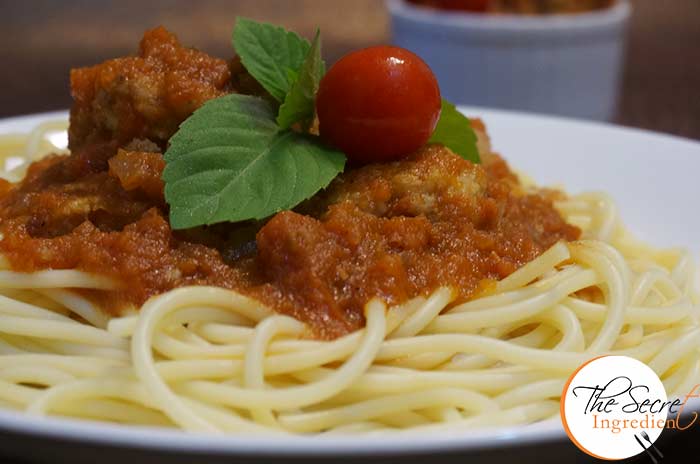 After Thanksgiving its time for Christmas. Festivity in true sense is spending ample time with family and loved ones. What can be more cherishable than eating together a meal with your family. I love those family reunions. During such get togethers I personally like to serve food which is easy to put together and can be made way in advance. Of course I don't want to end up cooking in kitchen while rest of the family is having fun together. 😉 Casserole dishes like Lasagnas are best for such holiday get togethers. Sometime back I made Cheesy Chicken Lasagna and Mushroom Lasagna in Bechamel Sauce. But there is another interesting dish Italian Meat balls, which can be made well before time and served with freshly boiled spaghetti pasta.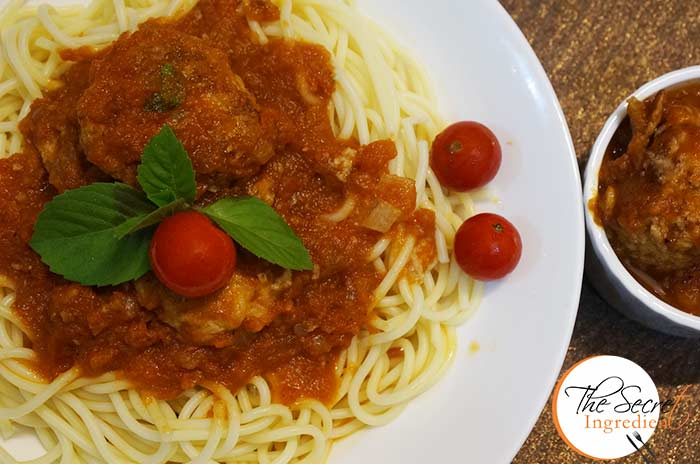 Its a classic Italian dish which is flavourful and loved by everyone. It requires just a few basic ingredients and you can pull it off with ease. Traditionally meatballs is done with some kind of meat but I am sharing this recipe which uses chicken, which is lean and has less calories. You can replace the chicken with any red meat of your choice.
Directions:
1. Finely chop Onions, garlic and Fresh Basil.

2. In a large mixing bowl add fresh bread crumb* and milk.

3. Add to it an egg and finely chopped basil and grated garlic.

4. Add chopped onion and parmesan cheese.

5. Garnish with Salt and Pepper and mix everything well with a fork.

6. Add minced chicken or any other meat you are using. Mix everything with your hand to form a homogenous mixture but do not over work the meat or you will end up getting tougher balls.

7. Take little mixture in hand and form golf size balls.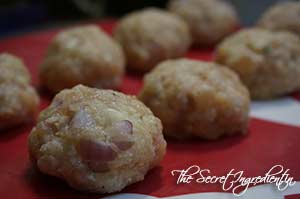 8. Add Olive oil to a flat bottom non stick pan and heat it over medium heat. Add the balls into it carefully ensuring not to break them. You can cook them in batches. Cook them for a couple of minutes on both sides. They must get that golden brown colour. Be careful when you flip them.
9. Place them in a tray until you finish cooking all the balls.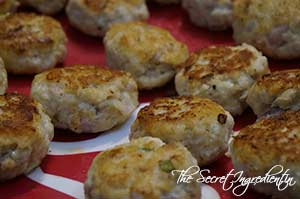 10. In a blender add ripe tomatoes and make a smooth puree. You can use canned tomatoes as well.
11. In the same pan add a little more oil and add onions. Saute them for a while and then add wine and cook for a minute more.

12. Add the tomato puree to the pan and give it a good stir. Carefully drop meatballs to the pan ensuring the meatballs are completely covered in the sauce. Put the lid on and let it cook on low heat for good 1 hour and 45 minutes. Keep stirring in between to ensure the bottom doesn't get cooked quickly
12. Season with Salt and Pepper and top it up with torn basil.

13. Serve hot with boiled Spaghetti or any pasta of your choice. Learn how to boil pasta perfectly.
Other Pasta dishes you can try here are Pasta Alla Vodka, Avocado Parsley Pasta , Healthy Broccoli Pasta, Sautéed Red Bell Pepper and Olive Pasta Salad, Spaghetti Vegetable Pasta, Sundried Tomato Pasta Salad.
Other Italian food you can try : Mushroom Risotto, Frittata with Mushrooms and Spinach, Garlic Rosemary Focaccia Bread, Cherry Rosemary & Sea Salt Focaccia Bread, Italian Almond Biscotti, Roasted Rosemary Garlic Potatoes.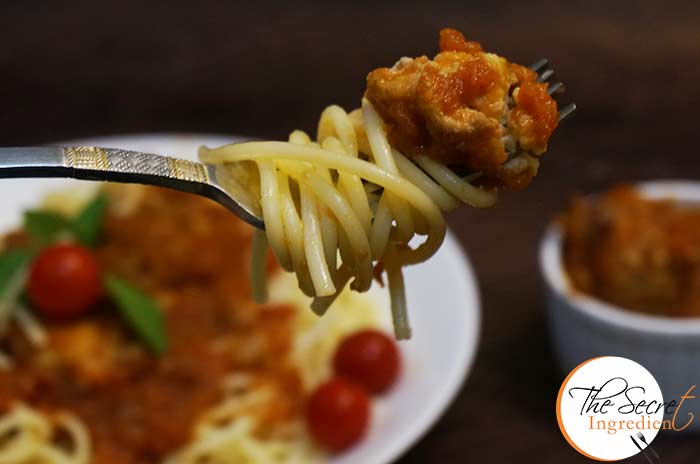 [whohit]ChickenMeatballs[/whohit]
[yumprint-recipe id='185′]