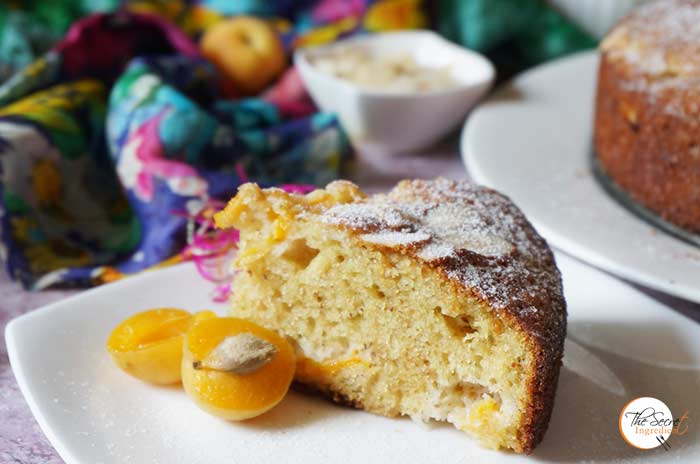 The advantages of living on the hills are plenty. One of them being you get to taste the fruits first which grow around us everywhere. When I saw fresh Apricots, I bought them greedily. Yes I am a compulsive buyer. I end up buying so much produce and which all ends up in my bakes or I have to gift them to my friends. But yes I dont mind doing that because the pleasure of buying is always greater 😛 I hope my husband is not reading this or else I know a big lecture is coming my way 😛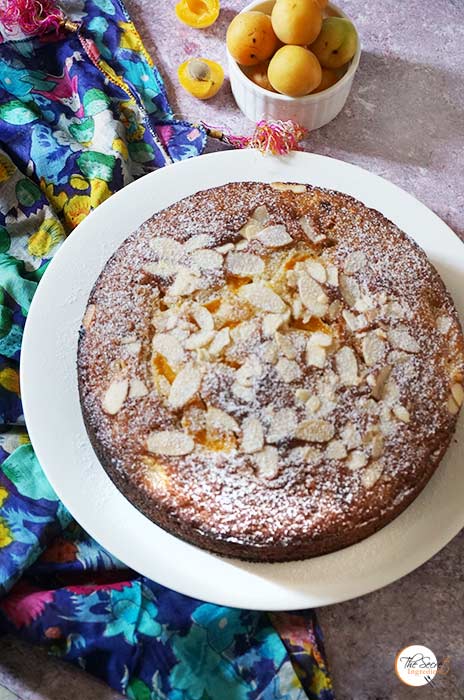 I love to play around with fruits. I find excuses to bake with them or make something fabulous with them. I feel fruits give a lot of character to the dish. It makes them special and so very fresh and vibrant. In the past I have used pomegranate, papaya, peaches, apples, black grapes, persimmons, oranges, cherries, bananas, blueberries and what not in my food and recipes. This time I knew its going to be apricots and when I looked for this recipe with Almonds and Apricots in a cake the idea kinda clicked and then there was no looking back. I was here baking a cake with these pretty little apricots. The cake was moist and very spongy I loved its dark crisp crust which was perfect for tea time.
Directions:
1. Wash some ripe apricots and deseed them and cut them into quarters and set aside.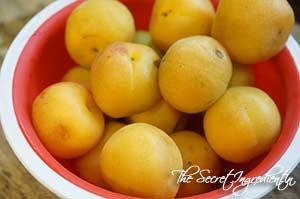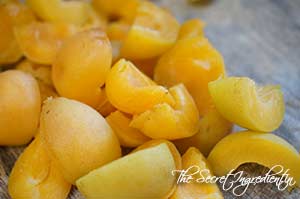 2. In a blender add some almonds and grind them into a powder. Set aside.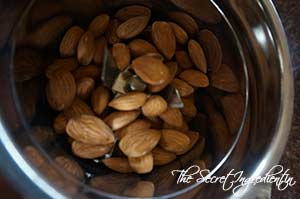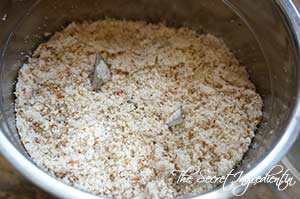 3. In a saucepan add milk and sugar.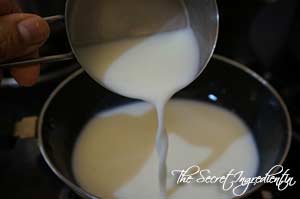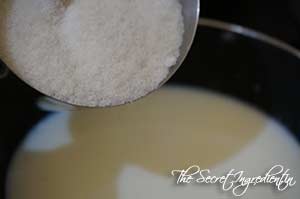 4. Also add zest of a lemon and vanilla extract. Bring everything to a simmer till sugar dissolves in milk. Do not boil. Remove from the stove and let it cool down.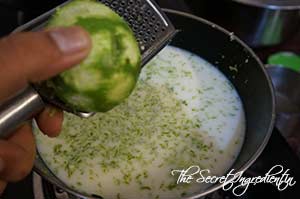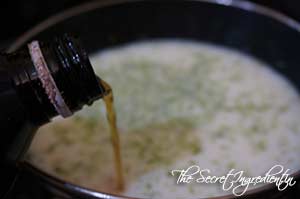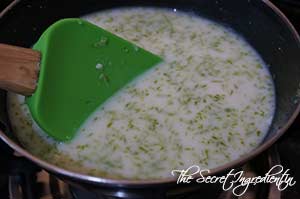 5. Grease a 9 inch Springform baking tin with oil and sprinkle some flour all over. You can buy this tin at our online store, The Gourmet Shop. Preheat the oven to 180 degree Celsius (Learn more about Oven temperature and Conversion).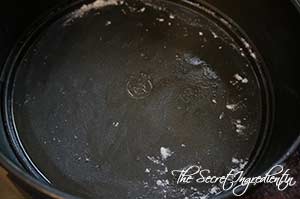 6. In a bowl sift All purpose flour, baking powder and baking soda.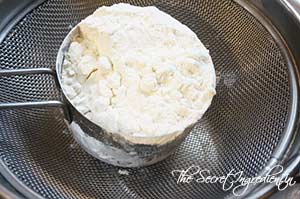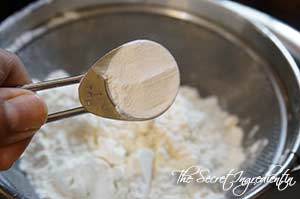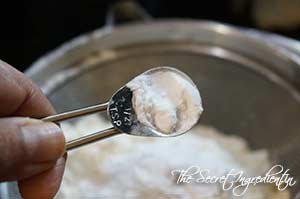 7. Also add salt and almond meal which we had reserved before. Keep the dry ingredients aside.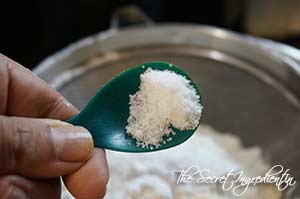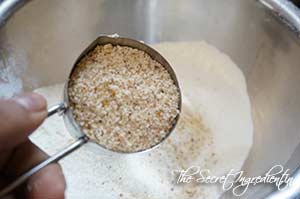 8. In another bowl add some eggs and whisk them till they are light and fluffy. And add oil to them and whisk again.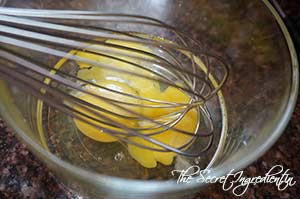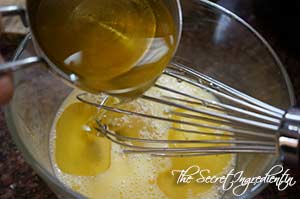 9. Add the egg and oil mix to the dry ingredients. Also add the cooled sugar milk we had made before. Combine everything together till everything is moist. Do not over mix for you will end up making a chewy cake.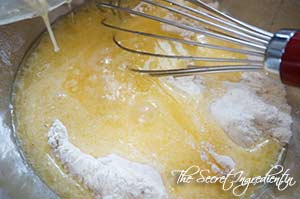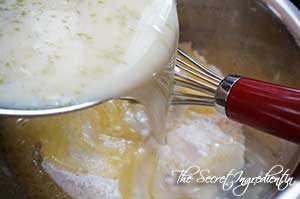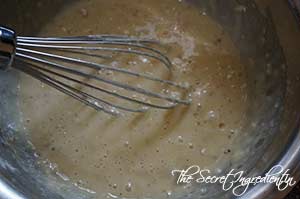 10. Pour this cake batter on the greased tin. And tap couple of times to remove any trapped air bubble.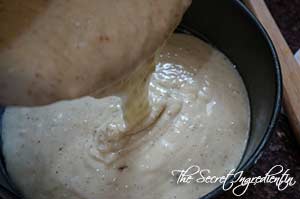 11. Randomly place apricot quarters all over the surface of batter. It may not be in a designed pattern because eventually nothing will show and they will spread all over the cake. Add some almond flakes over the batter.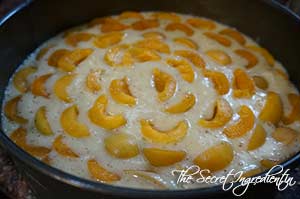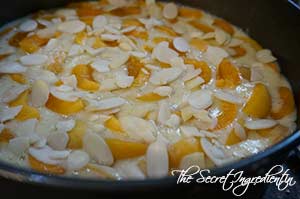 12. Bake in the preheated oven for 40-50 minute or until the toothpick inserted in the center comes out clean. If at any stage you feel the cake is getting too browned tent it with an aluminium foil. Once baked remove it from the oven and let it sit on the counter for 10 minutes. Remove from the tin and keep it on the wire rack till it has come to room temperature. You can dust it with some confectioner's sugar, slice and serve.
Other cakes you can try are: Sorghum and Wheat Flour Persimmon Cupcakes with Cream Cheese Frosting, Fresh Mango Cake with Vanilla and Chocolate Collar, Festive Orange Blueberry Pound Cake, Vanilla Cake with Pomegranate Syrup, Lemony Pound Cake with Lemon Frosting, Eggless Orange Cake with Candied Orange Peel Filling, Apple Raisins Streusel Bread, Persimmon Rum Cake, Eggless Mediterranean Semolina Cake, Eggless Almond Vanilla Cake, Eggless Black Grape Cake with Strawberry Jam Glaze, Vegan Chocolate Banana Cake, Chocolate Vanilla Marble Cake, Surprise Heart Inside Cake, Pumpkin Cake Rolls, Wacky Vegan Chocolate Cake.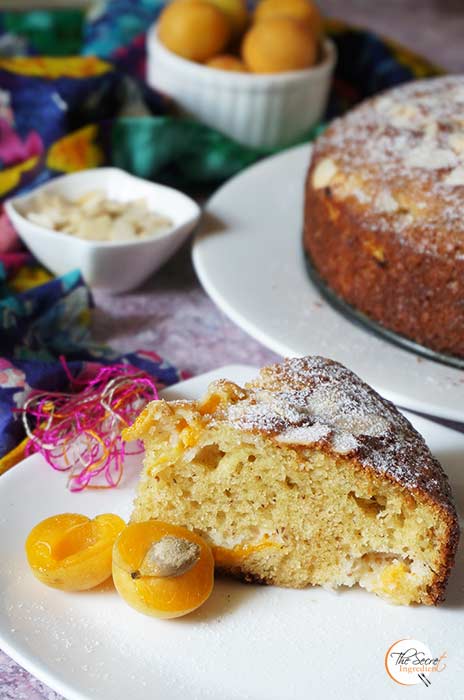 [whohit]ApricotAlmondCake[/whohit]
[yumprint-recipe id='280′]