This eggless chocolate rum coffee mousse has a story behind it like most of my recipes. But this one actually made me realise that life is a celebration and every moment, every occasion should be rejoiced, even if it means intake of some extra calories 😛 So it was late evening and I was trying to find some pictures (all recipes and food around 7000 pictures) which I had transferred to one of the laptops in a jiffy some 20 days back before my bitter half left for a trek. I combed each and every possible place where I could have possibly transferred them. It wasn't there in our respective laptops, neither in the PC not even in the two portable hard disks. Suddenly I felt sweat rolling down my spine. I knew my one year of hard work went down the drain. I was in tears and ready to explode.

And then my husband came back from work. I pounced on him with my anxiety. He asked me a few questions and then tried his ways to find the missing pictures. I dont know what magic he did but he found the folders where the pictures were located. Stupid me had copied them to a location which was usually not accessed. I was happy like a little puppy and then my husband suggested I should treat him with something for doing this herculean task (now I am rolling my eyes that time I was Yes Yes!! :P) I immediately went inside the kitchen and tried my hands on this eggless chocolate rum coffee mousse. It was simply divine and relished by my boys. While the elder one got the kick from the rum the younger one went gaga over the mocha flavour. At the end it was all in all a happy family. You can make this for your loved ones for this festival season. It takes only a few ingredients and also it can be made ahead of time.
Directions:
1. Chop dark bitter chocolate into small chunks and place them in a microwaveable bowl.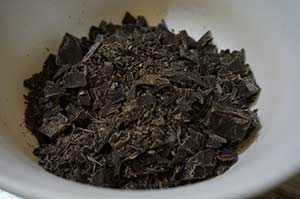 2. Heat some water and pour over the chocolate chunks! yes yes! trust me on this 🙂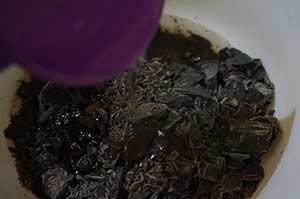 3. Let it sit for a minute and then mix together to see if the chocolate has melted. If it hasn't you can microwave for 2-5 minutes intermittently so that it melts.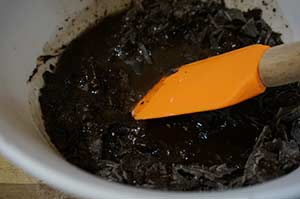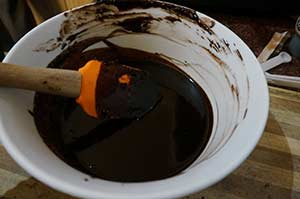 4. At this stage at rum or brandy or any liquor of your choice. You can skip it if you dont like the taste of it. Set aside the chocolate to come to room temperature.
5. In the meanwhile whip chilled whipping cream to stiff peaks. Add instant coffee and whisk well.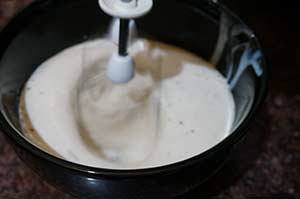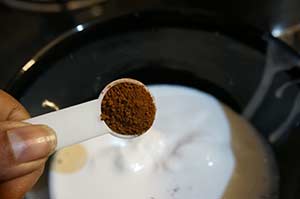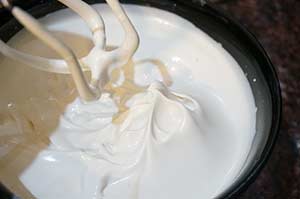 6. Mix half of the whipped with the melted chocolate and fold with the spatula.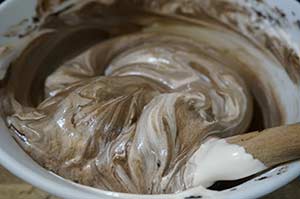 7. Then add rest of the whipping cream with chocolate leaving out a little for topping while serving, if you like. You will see the chocolate mixture has become thick and smooth.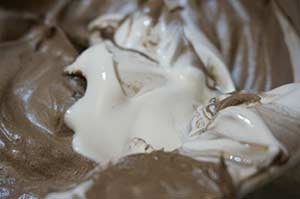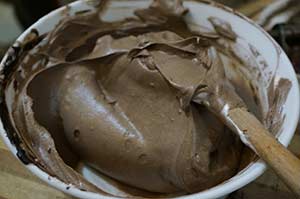 8. Divide them into portions in serving bowls. I have used a piping bag to ease out transferring them. It also makes it neat.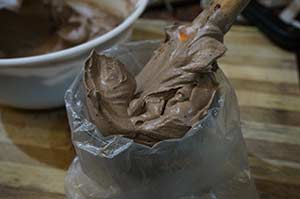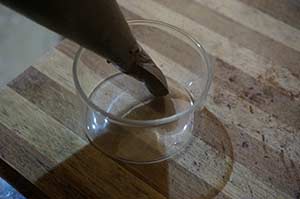 9. Pipe it with remaining whipped cream to give a contrast and let it set in the refrigerator for a few hours before serving. This was really amazing which was loved by both my boys.
Other easy desserts you can try are: No Bake Key lime Pie, Brigadeiros, Coconut Macaroons, Eggless Fresh Peach Cobbler, Besan Rava Laddoo, Sweet Jaggery Carrot Rice Pudding , Gajar Ka Halwa, Kaddu Ka Halwa, Mango Saffron Phirni, Mascarpone Cherry Compote Cheesecake Glasses, Paneer Ki Kheer , Sabudana Kheer, Sooji Halwa , Swang Ke Chawal Ka Halwa, Swang Ke Chawal Ki Phirni, Ragi & Khus Khus Ladoos , Tapioca Coconut Milk Pudding with Strawberry Preserve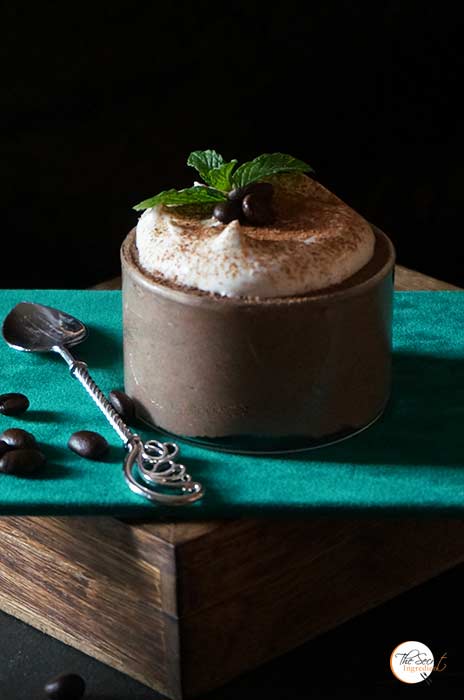 [yumprint-recipe id='306′]