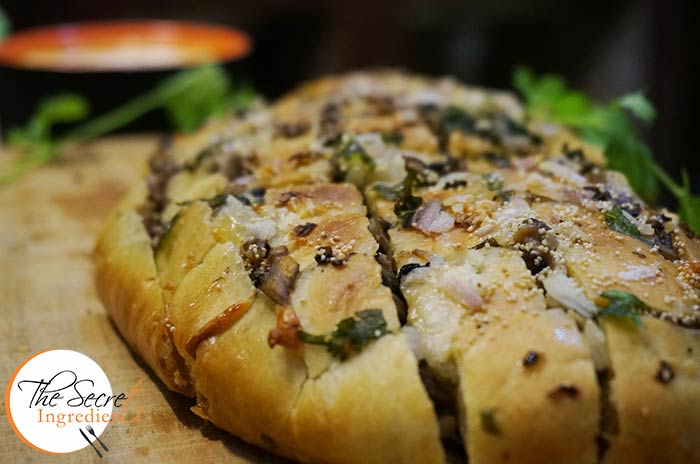 I needn't say more about my obsession with mushrooms and breads. Clearly it is getting out of control. At least twice a week I want something mushroomy something bready in my meals. After doing the Mushroom Spinach Stuffed Braided Bread I bring you this Cheesy Mushroom pull apart bread. This was not planned but on my search I found this recipe which was like Love at First Sight. I happily baked a bread in the evening and stuffed it with Mushrooms and Cheese. Ohh man! It was pure indulgence. I served the bread with my mommy special Tomato Soup. I happily skipped my dinner for the sheer love of this bread.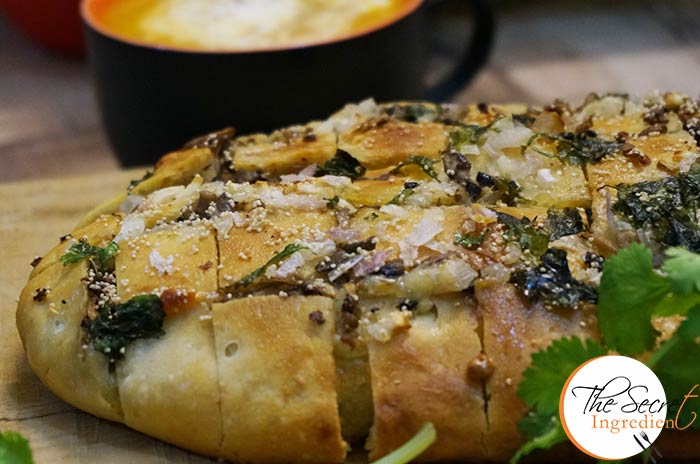 This is more like a idea than a recipe to make something incredible with bread specially for Super Ball or Cricket Matches or may be catching up a flick late night on recliners with comfy cushions. I am just saying! Or be like me. You don't need a reason to eat Mushrooms and bread..do you?
Directions:
1. Take a loaf of french bread or any bread other than sandwich loaf. I have used the same recipe as White Sandwich bread for this but simply placed it on a baking tray without using a pan for second proof and baked it. You can also use Sourdough bread for this. Using a bread knife cut the bread lengthwise and widthwise without cutting through all the way. You will notice cavity between the bread pieces. Place it on a Baking sheet lined with Aluminium foil. Set aside. Preheat the oven for 10 minutes on 180 degree Celcius.

2. In a pan melt some butter.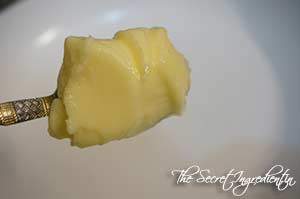 3. Add finely chopped mushrooms and saute them them till they release their water. Let the water evaporate.

4. Add Thyme, I used dried. Add salt and combine. Set aside.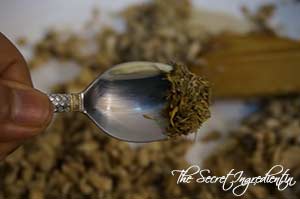 5. Finely chop some onions and add them to a microwavable bowl. Add butter to the onions. Microwave for 2 minutes or until the butter melts. Set aside.
6. Cut strips of cheese. I have used Mozzarella because that is what is easily available here. You can use Provolone if you lay your hands on it. Insert Cheese sticks or strips inside the cuts or cavity both horizontally and vertically.

7. Top up the cheese laden cavity with sauteed mushrooms.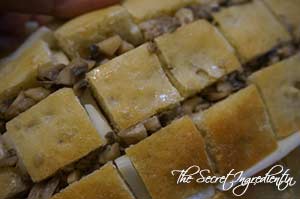 8. Drizzle the bread with the onion butter all over. Sprinkle the top with some poppy seeds and garnish with fresh Coriander leaves.
9. Now cover the bread with the aluminium foil and bake it in the preheated oven on 180 degree Celsius (Learn more about Oven temperatures and Conversions) for 15 minutes and uncovered for another 10 minutes or until you see the cheese melting.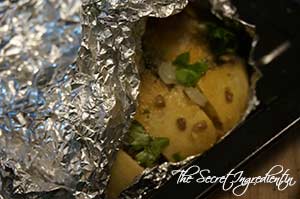 10. Serve hot and relish each bite.
Other recipes with bread you can try are: Cheesy Garlic Bread, Stuffed Mushroom and Spinach Braided Bread.
More Bread recipes you can try on The Secret Ingredient: White Sandwich Bread, Russian Bublici, Whole Wheat Sandwich Bread, Chinese Black Sesame Steamed Buns, Cherry Focaccia Bread with Rosemary and Sea Salt, Rosemary Garlic Focaccia Bread, Cinnamon Raisin Bread, Beetroot Bread with Garlic and Thyme, Honey Oats Bread, Domino's Garlic Breadsticks, No Knead Light Wheat Bread.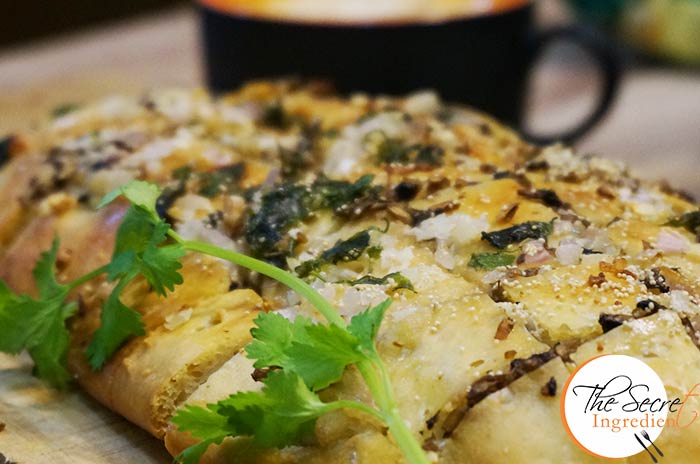 [whohit]MushroomCrackBread[/whohit]
[yumprint-recipe id='178′]