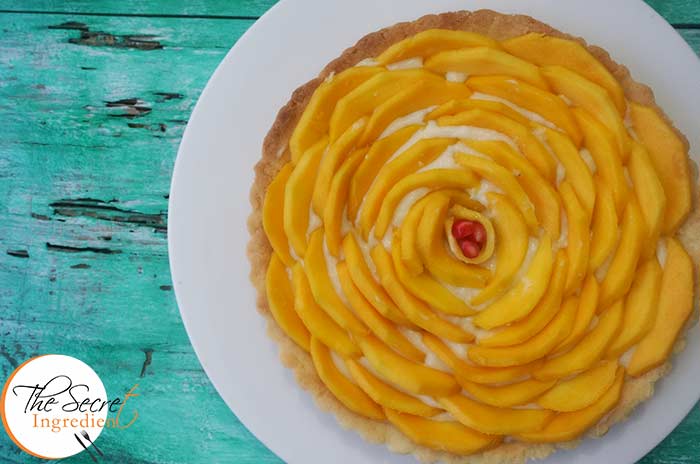 The summers are here and so are mangoes which brings a big smile on my face 🙂 I was looking to make some mango dessert. Last year I had made Coconut Milk Mango Pudding and it was a hit. But when this season I spotted Mangoes in market I had my mind started thinking what crazy thing I can do with the King of Fruits. The plan got a shape as I reached home and after an hour it was executed to perfection. Yes yes I am giving modesty a little break for a while 😉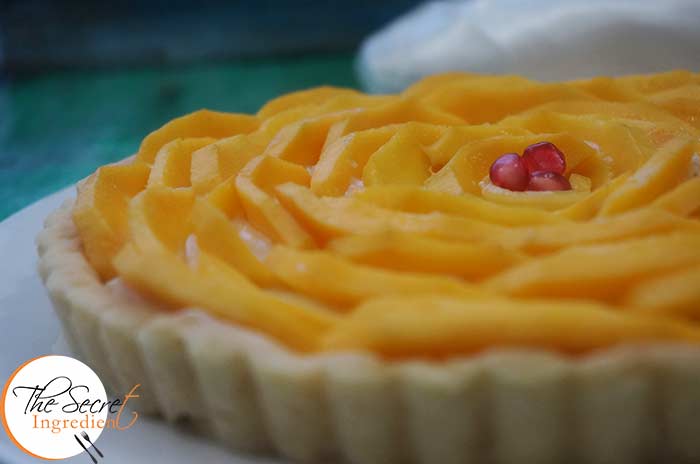 I barely clicked the pictures hurriedly as it was getting dark and after half an hour there were no traces of the tart as my husband ate the entire tart for dinner and you are asking me to be modest 😉 You must must try this. Oh I also made another similar thing with Mangos and Vanilla and this time it was in the form of a Cake. It was for a client and it was one of the best cakes i have done till date.
Directions:
1. For the pie crust, in a bowl add All Purpose Flour, Salt and Castor Sugar. Combine together.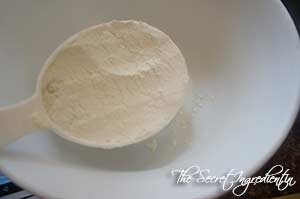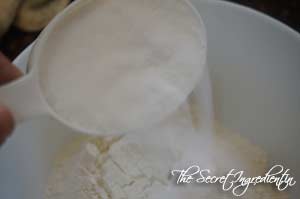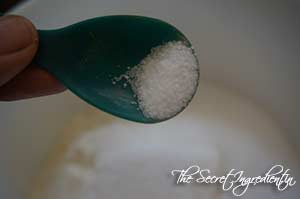 2. Add cold butter cubes and mix with your finger tips or fork till you get a coarse mixture.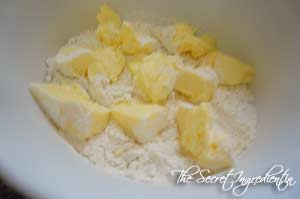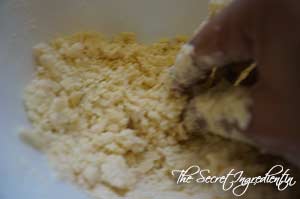 3. Keep kneading till everything comes together in a dough mass. No adding water please. Refrigerate the dough for 15 minutes so that it becomes easy to roll.

4. Grease your pie pan with oil or butter.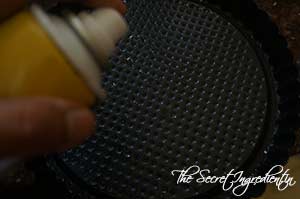 4. Place a sheet of Parchment Paper on your kitchen counter and roll the dough on top of it with rolling pin. Parchment paper helps you to lift the rolled dough easily. If the pastry sheet tears, put it back in the refrigerator for a little more time.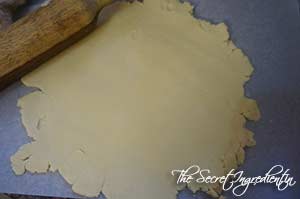 5. Place the rolled sheet on the greased pie sheet carefully and set it with your fingers. Remove the extra trimmings. If you see a little portion of pastry has teared you can patch it up with a small piece of trimming. Extra trimmings can be used to make smaller tartlets. Place the pie pan in freezer for 15 minutes, till then preheat the oven on 210 degree Celsius (Learn about Oven Temperatures and Conversions)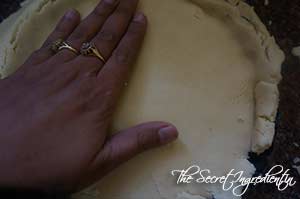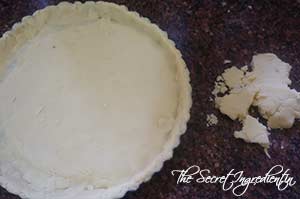 6. Prick the pie pan with fork all over. Bake it in preheated oven for 15-18 minutes on 210 degree C till you see it has golden colour. Set aside to cool. Once its cold, gently remove it from the pie mould and set aside.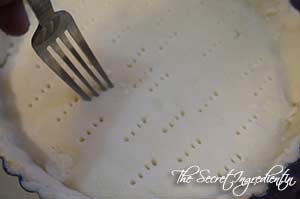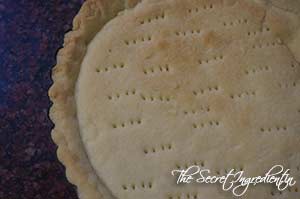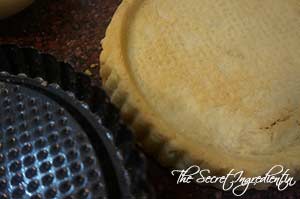 7. For the custard dressing, whisk together eggs and caster sugar. If you are looking for eggless Custard check notes below.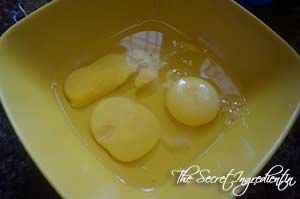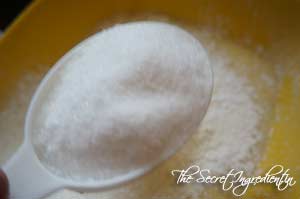 8. Sieve in Corn Cornflour and All purpose Flour and whisk well.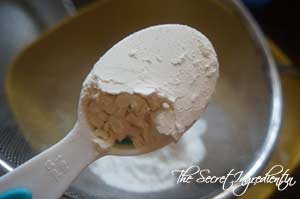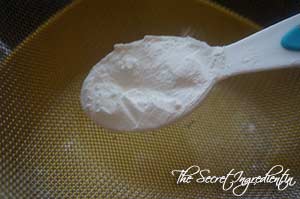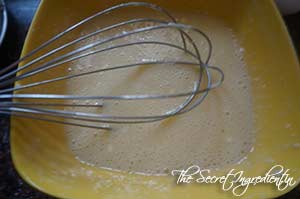 9. Add milk in a saucepan and put it on stove. Add Vanilla Essence*. When the milk just starts to boil that is when you notice some bubbles on the sides, turn the flame off.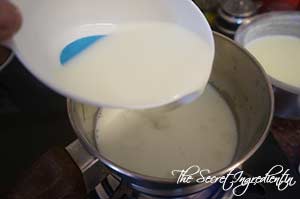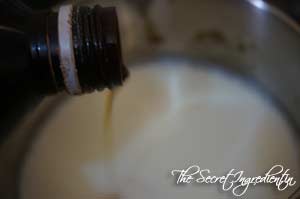 10. At this stage add the whisked eggs mixture little by little to the milk. Make sure you keep whisking continuously or else the eggs will get cooked and the mixture will curdle.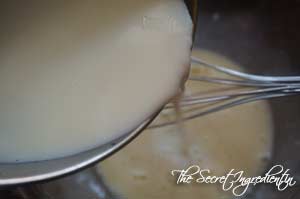 11. Put the saucepan back on flame on medium slow and bring it to a simmer. Keep whisking for another 30 seconds till it starts to thicken.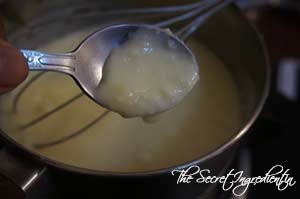 12. Immediately transfer the custard in a bowl and cover with cling wrap. Make sure the cling wrap touches the cream. This will prevent a skin formation on the cream. Let the custard come to room temperature and then place it in refrigerator to cool down.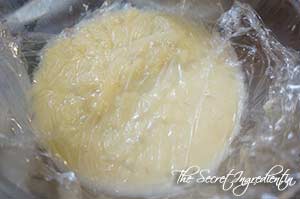 13. After 15-20 minutes of cooling down whisk it again to remove any lump.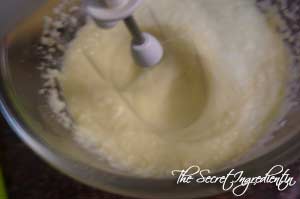 14. Spread the custard on the prepared pie crust. Even it with spatula.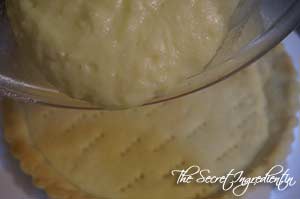 15. Now for the top mango garnish, peel the skin and cut it into half, removing the seed. Then further cut halves into thin slices.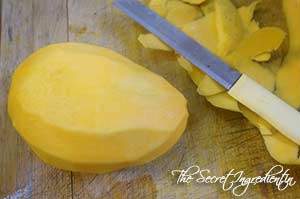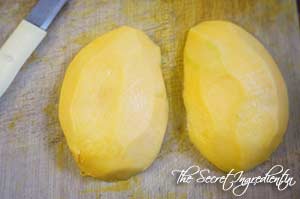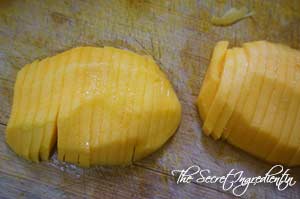 16. Arrange the mango slices on top, starting in the outside circle and then taking it inwards to mimic flower petals.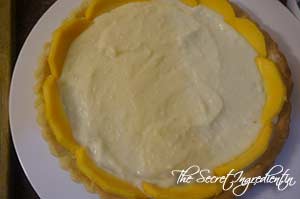 17. If you like you can add pomegranate seeds for the centre of the flower. Serve as it is or cover with cling wrap to serve later.
Other Fruit based bakes you can try here are: Apple Raisins Streusel Bread, Blueberry Bars, Coconut Chocolate Cookies, Persimmon Rum Cake, Eggless Orange Cake with Candied Orange Peel Filling, Papaya Chocolate Muffins, Vegan Chocolate Banana Cake, Whole Wheat Vegan Banana Bread with Melon Seeds . Cherry Rosemary & Sea Salt Focaccia Bread, Italian Focaccia Bread with Strawberries.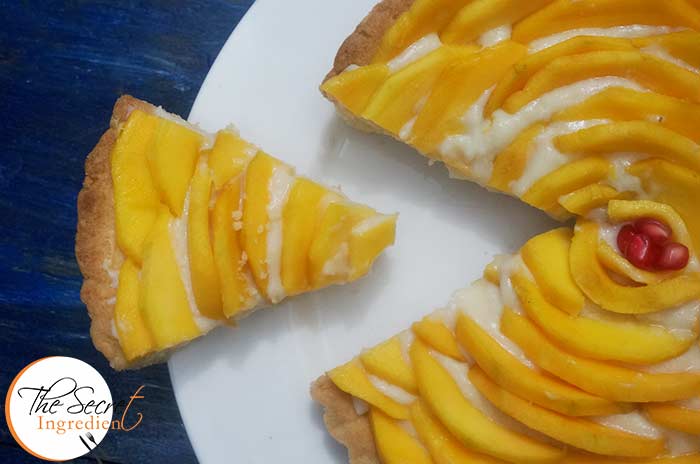 [whohit]MangoTart[/whohit]
[yumprint-recipe id='210′]